Plywood is an engineered product, made from strips of wood, procured from various logs by cutting it in a rotatory manner. Few tips and tricks to identify the good plywood
No Core gaps
Shouldn't have too many core gaps (small gaps in between layers of core). Look for these in the side profile along the length & breadth of a panel. It should look like the picture attached below with layers running straight in parallel lines without much gaps.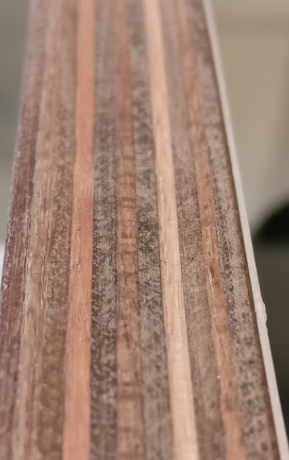 Nail Holding Capacity
The strength of a plywood panel is predicated on its capacity to hold a nail while being used in furniture. Before buying a ply, ask your dealer to hammer in a nail (1.5inch #14) into the side profile of a plywood sheet. If the layers split on nailing, the bonding isn't strong enough and will not work for furniture work.
Batch Number
Look for CM/L numbers stamped on top of the plywood sheets which you can look up online to get the factory details. CM/L numbers are the license numbers of the factories for different grades they are certified to manufacture according to the ISI norms. If the sheet doesn't have a CM/L number on it, move on.
Weight
Higher weight indicates better quality.
Thickness 
Measure using a vernier caliper. Measure the four edges of the ply to understand if any variation in thickness is present. This anomaly makes the finished product shoddy with the craftsman having to either buffer the ply or shave of the excess at other places.
WATER RESISTANCE Test ( BWP)
if you are buying waterproof plywood, cut a small piece of the actual sheet (not trade sample) and put it in a pressure cooker in water and boil. Let it 'cook' for say five whistles and then take it out. Its layers should remain structurally intact. This means that the resin used is of good quality.
By visual examination itself we can tell that the ply is poor if you spot any delamination or blister formation
Credits: https://www.quora.com/How-do-we-check-the-quality-of-plywood-And-which-plywood-is-good-to-use-for-home-furniture
comments