Living in the same area with noisy neighbors can be a pain in the neck. This is because such neighbors may play loud music and sometimes quarrel among themselves at the top of their lungs. The problem is the same if you live close to a main road. At times you will be woken up by the hooting and sirens of passing motorists. Since you can't stop your neighbors from playing loud music and the motorists that hoot the horns of their cars, it's advisable that you consider soundproofing your home with wallpaper. This will help in ensuring that you are not disturbed by noise that originates from external sources. However, most homeowners don't know much about this amazing product. Here is a list of the things you should know about wallpapers that are used for soundproofing.
1. It's Affordable
Soundproof wallpapers are very affordable. You therefore don't have to strain your finances when purchasing them. When you shop for the materials at soundproofpanda.com, you will not be required to pay for the shipment fee. The other advantage is that the wallpapers are durable when compared with other materials that are used for soundproofing. A single installation can last for several years without calling for replacement. With the other materials of soundproofing, you will have to spend an arm and a leg, considering that you will still be charged for the shipment of the materials to your doorstep.
2. Adds Beauty to your Home
Apart from blocking noise from external sources, soundproof wallpapers add an element of beauty to the interior of your home. In fact, they can be used instead of wall-to-wall carpets. Since the wallpapers come in various designs, you can pick one that blends with your interior décor. A wall that has been covered with wallpapers for soundproofing doesn't need any hangings because the patterns of the material in warming the ambience of a room.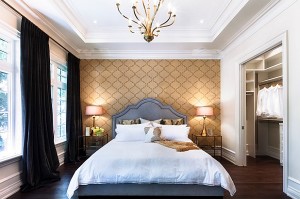 3. Easy to Install
Installing soundproof wallpapers is not like rocket science. You can actually install them on your own. This is because you don't need to have special tools or skills to be able to pin them on the wall, which means you save money that you would have spent in hiring a professional. To make your work easier, simply measure the width and the length of the walls that you want to soundproof. This helps in ensuring that you don't buy wallpaper sheets that are either too small or large.
4.  Resistant to Fire and Smoke
Soundproof wallpapers are designed to withstand the damages that are caused by fire. This means that even if your home burst into flames, the wallpapers will remain intact. In fact, they can help in stopping the fire from spreading from one room to another. Since the material that's used to manufacture them is durable, you can clean their surfaces with a piece of dumb cloth to remove dirt that might have accumulated over a period of time.
5. Guarantees High Quality Sound
Wallpapers help in cancelling the noise that comes from outside your home. This leaves you listening to what you want to hear. Even if someone screamed in your backyard, their wailing would fall on deaf ears. That's why soundproof wallpapers have become common in recording studios. Without these wallpapers, it would be hard to record something at the studio or watch your favorite movie.
comments