Water damage can be generally prevented except in certain events, such as flooding, which are out of your control. Also, a water pipe can unexpectedly get loose or break while you're away, allowing water to seep into your property. Unfortunately, when water gets loose, it knows no boundaries. It flows in every direction it can. As a result, a property owner is left counting losses that might be challenging to recover from.
Your carpet is one of the main items that would be easily affected by water damage. And even if you can repair the root cause of water leaks or flooding at your home, a wet carpet is difficult to clean up and dry. Another challenging issue resulting from soaked carpets is mold growth. Mold growth can lead to health issues and damage the carpet's fiber.
Besides mold, browning is a common issue affecting wet carpets. This issue causes the tips of carpet fiber to turn dark after drying. If you're dealing with such an issue, consider reading this article to learn the disadvantages of carpet browning.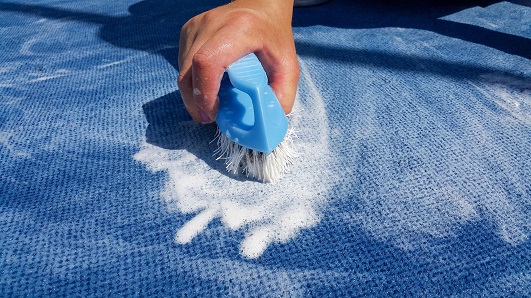 You may also read below to learn the best tips for drying a carpet after water damage.
Remove The Standing Water
Once your carpet is affected by water damage, the first step to rectify the situation is to remove any accumulated water. The type of equipment you need depends on the amount of water accumulated and how wet the carpet is. Suppose you're dealing with a completely wet carpet that has accumulated lots of water. In that case, you might need to use a submersible pump or a shop vac.
However, if you're dealing with a partially wet carpet with no standing water on it, a shop vac will do the magic in absorbing moisture. Compared to a typical vacuum cleaner, a shop vac has more suction capabilities; hence it does a better job. On the other hand, while a vacuum cleaner can absorb moisture, it isn't designed to do so; hence it isn't that reliable in performing this task.
Use An Absorbent Towel To Absorb The Remaining Moisture
Absorbent towels also come in handy when drying wet carpets. Once you've suctioned as much water as possible using the equipment mentioned above, place and press a thick absorbent towel on the carpet. Allow the towel to sit for about 30 minutes. Changing the towel before it gets soaked is ideal for excellent results.
During this procedure, it's important to study the carpet and evaluate the wetness level. After using a shop vac and a towel, if the carpet is still very wet, it might be better to have it cleaned professionally before it gets ruined.
Ensure Enough Air Flow Is Accessing The Carpet
As you continue eliminating wetness on the carpet, it's vital to ensure enough airflow is accessing the carpet. Therefore, you should open the windows and switch on your fans. Increasing your interior airflow helps eliminate extra moisture on your carpet while preventing a musty smell from building up.
Take Advantage Of A Dehumidifier
A dehumidifier is an excellent equipment used to eliminate excess moisture from the air, allowing your carpet to dry faster. With the help of this equipment, you can eradicate the chances of having too much moisture in the air; hence you shouldn't be worried about mold growth. Homeowners living in flood-prone regions are advised to invest in dehumidifiers to ensure their interior air is always dry.
Use Baking Soda For Trapped Moisture
After absorbing excess water and moisture using absorbent towels, you should sprinkle baking soda on the wet patches and allow it to sit for about 30 minutes. Once the time is up, use a vacuum to get rid of the remaining baking soda. At this point, your carpet should be dry and fresh.
Have The Carpet Padding Assessed
Now that you've gone through the entire procedure and think you've done a great job drying your water-damaged carpet, it won't hurt to have it assessed to determine if it's scorched and whether the padding is still in good condition.
It's vital to understand that your carpet was soaked, and the padding integrity might have been interfered with. While you might think all is well with your carpet, it might not be the case. Fortunately, professional carpet cleaners can assess the carpet and determine if it's safe or requires replacement. If you leave your carpet wet, it might encourage mold growth which can be challenging to deal with, posing a health hazard.
Conclusion
Drying a water-damaged carpet can be daunting. However, if you understand the process and your limitation when dealing with a soaked carpet, this procedure might be easier than it sounds. Consider these tips if your carpet has experienced water damage or hire professionals to handle the task.
comments