If you have a garden, the summertime (or a dry winter day for the brave!) gives you the opportunity to extend your inside living space outside.  To properly enjoy it and get the most out of spending time out there can take some investment.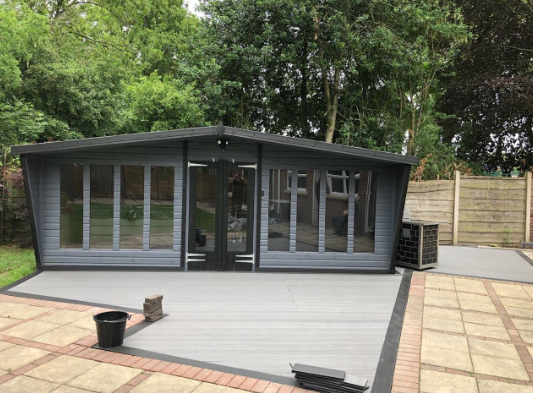 What's the deal with gardens anyway?
Historically, gardens were all about the grass. Until the 19th century, only the affluent were in a position to decorate their land with lawns for sport and aesthetic purposes. The commoners were much more utilitarian, needing their land for growing vegetables. Since that time, property owners have been keen to show off their well-maintained lawns as a subtle broadcast of their ability to buy food instead of having to grow it. The invention of the lawnmower made a tidy lawn even more accessible.
There are many options available for creating your perfect outdoor space; concrete, pressed concrete, patio stones, crazy paving, block paving, decking or composite decking.
There are advantages with each of these depending on your requirements, whether it be ease of installation, longevity. Composite Decking Boards are the top choice though for a number of reasons.
Here are our top 5 reasons why Composite Decking is the best!
1. It will probably last longer than you will be in your home
Composite decking is very durable and comes with extensive warranties – often as long as 15 years for residential installations. In addition, the expected life expectancy of composite decking is between 20-30 years. What you won't need to do is invest in the costly and time consuming annual cleaning, sanding, staining and waxing required to maintain timber decks. Similarly, with concrete installations, the question is when, not if, the cracks will start to appear. Concrete is especially susceptible to weather changes and settling.  Unlike composite decking, making repairs to timber, concrete or patio slabs can be almost impossible to maintain surface and colour consistency so any repairs will always be noticeable. If any damage occurs to your composite boards, you can simply replace the board with a replacement of the same colour.
2. Composite Decking doesn't harm the environment.
Considering the environment is becoming a major factor for consumers, from car emissions to recyclable packaging. Composite decking is manufactured from a mixture of recycled wood, recycled plastic and various additives (colours and bonding agents). This process proves to have no impact on deforestation and every deck produced prevents some plastic ending up in a landfill.
3. Animals won't damage composite boards
Young children especially love being outdoors. Learning about the world and environment by crawling around and investigating all the things we would often like them to not be investigating is a great stimulation. The implications of owning pets should be considered with decking. However well they are trained it is inevitable that your dog will use the decking as a toilet at some point. The non-porous nature of composite boards means that urine won't soak in and leave smelly patches. This is a common problem with timber and concrete. A quick spray with water will have it removed from composite boards. Gardens also invite wild animals that are also relieving themselves on our lawns and decking. Knowing this can be simply washed off without worrying about little hands and feet creeping through the residue is reassuring.
Aside from their toilet habits, dogs are inherently messy and if you have a lawn area in addition to a deck you are likely to be challenged by muddy paw prints. Composite boards are much more resistant to moisture than timber boards. A full clean with a pressure washer every time you are planning to entertain in the garden is therefore not necessary. A simple wipe with a mop and water is all you need to make it pass the rigorous inspections of your guests.
4. Composite decking boards are safe.
A composite decking installation is generally safer than timber and reduces the risk of accidents. This is especially true where children and animals are concerned. Composite boards have no exposed fixtures, resulting in a clean and seamless finish. There is no potential for loose screws to pop up above the board which can be a hazard for little feet, big feet and paws. Splinters can be a nasty surprise and are an unavoidable feature of timber boards.  When it rains, the wood fibres get wet and expand as water is absorbed. They then contract as the water dries out. This constant wet/dry process causes the timber boards to crack, warp and splinter. Especially around screw holes where the wood can be more exposed to the elements. This is unavoidable with timber, even with regular sanding, sealing and coating with a UV protective substance. Vets have reported a number of cases of broken limbs caused by the timber decks. If you have a dog who is a 'chaser' and bolts at the sight of a cat, squirrel or random shadow they can easily lose their balance on a damp timber board. Careering directly into a wall, table or off the edge of the deck is often accompanied by an expensive vet bill.  Composite boards are designed to have anti-slip properties allowing your pet a fair chase. Good news for your dog, but maybe not so much for the neighbour's cat!
6. Composite boards come in a wide range of colours.
Everybody's idea of colour coordination is different and it's important that you can choose a product that will suit your surroundings and personality. There is an array of colours to choose from with composite boards. You can ensure you get exactly the finish that will complement your space. What's more, the anti-fade formulation of composite boards means you can be confident the colour you love at the time of installation will not change throughout the years as you are enjoying your deck.  But how can you choose the best colour for your own garden? Sample packs are generally available on request so you can see exactly what you will be getting before you commit.
comments