The home improvement includes all manners of beautifying the home or strengthening the structure of the home. It is so beneficial to increase the functionality of the home. It is a must for increasing the property value of your house for sale or remodeling for better structure and beauty. But before doing that you need to consider a lot of things. You need to correlate between your budget, aspects, time and demands. We are here to help you to make the right decision based on your budget and requirements. We are representing some of the most important schemes for home renovation.
First of all, fix the budget according to your salary and savings as well as stick to it. Don't underestimate the costs. It is very common to cross the budget due to inefficient planning. So it is wise to reserve some cash for unexpected expenses. Make a spreadsheet and enlist everything required to buy and change.  Adjust some costly materials with similar inexpensive items. Then try to reuse different materials and buy costly items from sales. Includes all projects you want to apply on your home. Set their priority in an ascending or descending order to perform the most important task before the others.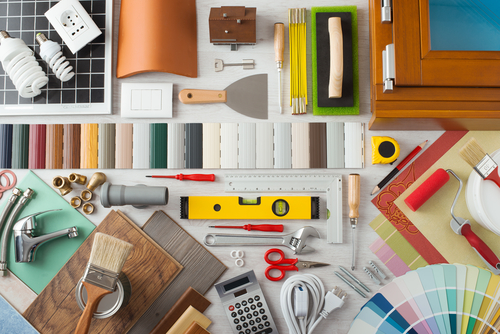 Now create a blueprint of the desired home design or room settings. Decide the activities you can do yourself using some tools. It will save a lot of money. With moderate skills and proper determination, you can easily do them within a short time. Many of them require the help of other working peoples. Some of them can be risky if you are not experienced. Select a reliable contractor if you want to implement large remodeling projects. Do not forget to check out a lot of reviews before hiring a contractor or skilled workers to help you in home improvement.
Always give priority to fixing and management activities. If any part of the home breaks, you have to do it before anything else. Repairing gas systems and electrical systems or implementing advanced version is also part of it. Provide better insulation where it requires. Then choose the improvement projects which leads to safety. It includes fire extinguisher, alarm system, security doors or backup equipment, etc.
If you want to increase the beauty and decorate the house, follow these tips. When we think about interior decoration, the first thing which pops up in our mind is painting it. It gives a new and fresh look to the home. Some paintings can protect the home from damages by climate, dust, water, sunbeam, and mold. One of the most amazing ways to increase the beauty is setting up colorful Cement tiles as wall and floor tiling. They are inexpensive and available in many excellent patterns. The color schemes and design of these tiles can be the same or vary from room to room. You can also use decorative wallpapers to decorate the walls. They are cheap, less time consuming and give a new dramatic look to a room.
Don't set up bulky furniture or other big items in a small space.it will make the room congested. You can polish the furniture to give them a new look. Maintain the settings in such a way that, it will allow proper ventilation and air flow. Remove or sell all old and unwanted accessories. Different rooms have different kind of features. Before remodeling, keep those in your mind. While renovating the kitchen, you must think of hygiene and ventilation. The drawing room should be decorative and spacious.
Some items should be kept up-to-date. New construction windows, door, knobs and handles or lighting system are a few examples of them. If they are not upgraded, the home will look dull and old in spite of a lot of investment for improvement. Some home improvement projects can be expensive but very useful. For example, upgrading the electrical system or setting up a hot shower tube in the bathroom. Setting up a water filtration system or a good water drainage system can be also part of it. They will make your life easy and comfortable. So if you have a budget, go for them.
Now it is the time for exterior designing. You can renovate the front entrance by decorating it with a flowerpot on both sides. With a little cost and some effort, you can set up a swimming pool, garden or outdoor kitchen. Before doing any of them, think about their maintenance. For a swimming pool, you just need to have a water extraction system. You need to set up a water sink, stove, under-counter fridge for an outdoor kitchen. If you want, you can construct a fence to increase the appeal of your home or other protections.
Home improvement is an essential part of our daily life. Proper planning and a lot of effort will help you to improve the condition of the home and keep it good for a long time. The home improvement projects make your home strong, durable and comfortable. They also add more value to the house. We hope, you can easily renovate the house by following our guidelines.
comments