Throughout history, collecting and harvesting rainwater have been used as a water conservation measure, especially in regions where water is scarce. It has many benefits, but foremost is that collecting rainwater is a sustainable practice that can be done by anyone—from a simple rain barrel to a comprehensive rainwater harvesting system that incorporates an irrigations system or household plumbing.  
Homeowners can collect rainwater from their roofs easily enough. A 2,000-square-foot roof can collect as much as 1,200 gallons of runoff from an inch of rainfall. That much rainwater is enough to supply a family of four for two weeks.   
Beware, though: The Centers for Disease Control and Prevention (CDC) warns that rainwater may not always be safe for drinking. Rainwater itself may be fine, but what's collected in your storage may not be. If you're planning on collecting rainwater, make sure you have safe water tanks to ensure that the water is safe from any contaminants. If you're from Brisbane, you can visit https://www.watertankfactory.com.au/water-tanks-brisbane-qld/ for water tank options that can suit your property. 
Take note that there have been cases where drinking untreated rainwater caused disease outbreaks. Rainwater can bring with it harmful chemicals, bacteria, viruses, and parasites, not to mention the different contaminants that can seep into the water you collect.  
What Affects The Quality Of Rainwater?
There are several factors that could affect the quality of rainwater: your location, frequency of rains, the season, and how you collect and store rainwater. Air contaminants like dust, soot, and smoke can be dissolved in rainwater before precipitation. Materials used for the roof, gutter, piping, and storage are sometimes the cause for the water's poor quality. And if you collect water from your roof, dirt and germs can be washed into your collected water. 
Contact your roofing manufacturer first if you want to collect potable water. Confirm whether the roofing materials in your roof are suitable. Check also if your gutters, pipes, and fittings are similarly suited. 
What Roofing Materials Are Ideal For Collecting Rainwater?
Roof materials for harvesting rainwater should be smooth and non-porous. Water collected from roofs with copper or lead components should not be used if there is a possibility that it could be ingested. Recommended roofing materials for rainwater harvesting are aluminum, tin, clay tiles, ceramic, and cement. Membrane roofs, however, create an ideal surface for rainwater harvesting and it doesn't add harmful contaminants to the harvested water. 
While some materials fare better than others, rainwater harvested from roofs would still have to be treated to meet the Environmental Protection Agency (EPA) drinking water standards. If you collect rainwater for drinking, you should have a private water system and make sure that your water is safe. Have your system tested regularly and maintain the system properly.   
Use these guidelines for rainwater harvesting from roofs: 
Ensure that your roofs and gutters are free from overhanging vegetation. Use pre-tank filter to prevent various debris from entering your storage tanks. 
Harvested rainwater for use indoors should be treated with disinfectants like chlorine, ultraviolet light, etc. Use appropriate water pumps.
Try to keep the maintenance for your rainwater harvesting system simple and easy to do.  
Your harvesting system should be designed for site conditions. If there is a possibility of freezing, drain all pumps. Bury small pipes below the frost line or keep in a climate-controlled enclosure.  
Seal or screen inlets and outlets to keep insects like mosquitoes from entering the storage tanks.  
Everybody Benefits From Collecting Rainwater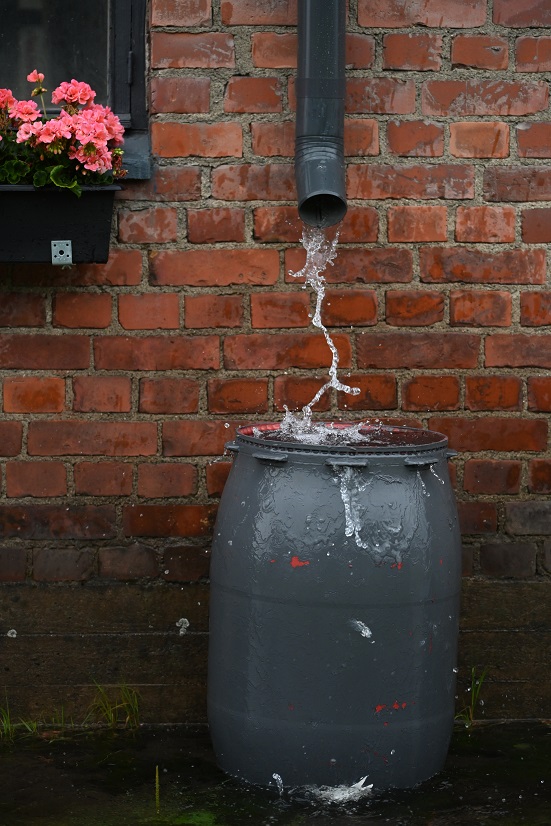 Rainwater collection would greatly benefit the ecology, not to mention savings in the water bill. For example, toilet flushing accounts for up to 27% of household water usage. Add the amount of water used for washing clothes, watering lawns and gardens, and water bill savings could become substantial. 
These savings become higher for businesses and industries. Rainwater collection can also mean less load for the drainage systems. Also, depending upon the tank size and climate, collecting rainwater reduces public water supply system usage by up to 100%. 
Rainwater harvesting not only benefits the individual homeowners, but the local community, too. It reduces erosion, flooding, and pollution runoff that comes with heavy rainfall. It could also be used as a simple and effective method for meeting a community's stormwater management requirements for individual properties. And since rainwater does not contain fluoride or chlorine, it can be used for plants and landscape irrigation.      
Storage containers for collected rainwater like rain barrels have many varieties and are available for home installation. The simplest one is a rain barrel placed under a spout. A hundred-gallon rain barrel can save up to 1,300 gallons of water during the summer months. Buying one pre-made is more convenient, though. But enterprising homeowners can build their own. Remember, the main concern of the storage tank is safety. Stored water should be safe to use and secure enough that children or animals cannot access the tank.
comments