Deciding on furniture for a shared bedroom may be tricky however, there are certain things to consider when shopping for items or searching for inspiration.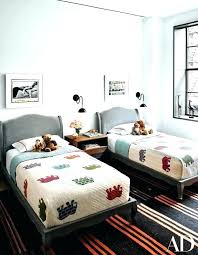 1. Ensure that the space is not cluttered as this invites a calm atmosphere – one of the concerns people have with shared bedrooms is that they be feel cluttered and over decorated. Keep the décor and items in the room to a minimal and preferable in warm tones.
2. Organize the space so that each person ahs enough space. Introduce cubicles in the room where people can neatly organize some of their belongings.
3. You can even colour code the various zones in the room, so each person knows which colour belongs to them.
4. Give each person a bit of wall space near their beds so that they can add personal touches like photos, posters or flags of their choice.
5. You can have little dividers in the floor to clearly demarcate each person space. It may be necessary in some spaces if you feel that issues may arise. These dividers can double up as storage units for the occupants.
6. If you have dwellers that are already friends or siblings, you can offer them a bunk bed as this will save room space for all occupants.
7. Try to get each occupant a headboard as this will offer them more storage for things like their spectacles and night-time reads.
8. Less is more so try to use a neutral shade and add accents of colour from small items. You can change these items to suit the changing seasons.
9. Be smart when organizing and try to put people in places relevant to them. For example, someone who goes to the toilet often at night should be closer to the door. Someone who doesn't mind the sun shining in on them early in the morning should be closer to the window.
10. You can have shared items that all occupants can take turns to use like a table and chair set. This is useful if you have students or people that regularly work from home.
Why choose shared living?
Shared living is an economical way of living in comfort and having all the extra benefits you need. You will often get free internet, cleaning services, access to libraries, parties and gymnasiums. Co-living is not a new concept and has been offering rooms for rent since 2012. It is an attractive offering for young people and people who have just relocated to the city. It is a huge benefit to those searching for apartments in NYC as the process can be quite daunting. Co-living is much cheaper than conventional renting as all costs are included in your monthly rent. You also have more flexibility with your contract, and you will not be tied down to a lease. Co-living can be broken down into three categories: high-end full service, boutique and budget friendly.
About the company
Outpost Club was established in 2016 by a team of people who have experience with moving. We have spent many years of our lives travelling around the world. We aim to build relationships between people by linking them up with entrepreneurs, investors ad experts. When you become a member of the family you get access to a host of professionals like web designers, marketing developers and many more. We understand the stresses of finding accommodation in a new area, working remotely and building new businesses. We aim to grow a tightly knit community who have similar interests, and vision for the future.
comments