If you're preparing to remodel your home, you probably have a lot on your mind. Budget, supplies, action plans—how do you do it all? But remodeling gives us a chance to make our homes the places we love most. But we also see remodeling as a chance to commit to a greener and healthier lifestyle. Here are some top green remodeling trends to inspire your next renovation.
Seal In Savings
When it comes to insulation and windows, settling for a low-quality option will result in the loss of heat and A/C. Wasted electricity drives up your monthly utility bills, and it takes a toll on the environment.
Replacing your windows is a smart way to upgrade to a greener home. Single-pane windows don't lock in hot or cold air as well as multiple-pane windows. Switch to double- or triple-pane windows with low-emissivity coatings. That low-e coating cuts back on air pollutants inside and outside of your home. Seal your windows well, and enjoy natural light without wasting A/C.
Your insulation may need attention as well. An insulated home is a happy home, but there are greener ways to seal in hot and cold air and prevent leaks. Wool, denim, cork, and recycled plastic are all greener alternatives to traditional foam and fiberglass insulation. These alternatives eliminate the health risks of fiberglass and spray foam, and help protect the environment as well.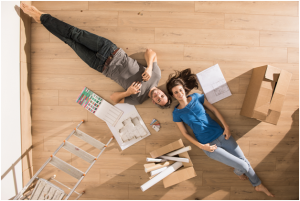 Resource Renewable Materials
Upcycling is the new "new." Why spend money on something new when you can upcycle old furniture into something beautiful? If you're like us here at Modernize, you love to watch home makeover shows—so why not have a little makeover show of your own? Perhaps an entertainment center no longer works in your home, or your sofa's fabric is outdated. Break down unwanted furniture for wood, and reupholster outdated fabrics with greener organic options.
You can also purchase reclaimed wood from vendors, thrift shops, or even scrapyards. This wood can be crafted into a beautiful new piece, and it may even cost less than buying new.
When it comes to flooring, bamboo is the greenest hardwood option. Bamboo plants reach maturity in just three to five years, so the plant is more readily renewable than cedar or oak. Bamboo has a natural beauty, and it's easy to maintain and clean. More and more homeowners are installing bamboo floors and ripping up carpet to eliminate allergens and pollutants.
Recycle anything you can when it comes to decor. Browse thrift shops and help prevent waste. Save tea canisters or interesting jars to plant your own herbs for cooking. Always stay vigilant of what you can reuse!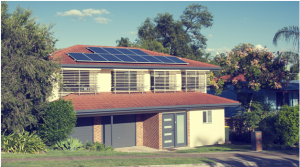 Solar is Smarter
Renovating the home gives you the opportunity to rethink the way you live. Install solar panels and enjoy converting to a renewable energy source. The initial investment may seem hefty, but after you save monthly on utility bills, you'll see a profit. You may also qualify for federal or state tax deductions or rebates, and you can often sell extra energy back to the grid for a great price.
Solar panels include a long-term warranty, so you won't have to worry about expensive repairs. They are also easy to maintain and clean, which makes them a worry-free option.
No matter where you focus your renovations, look for greener alternatives like low-VOC paints, organic fabrics, eco-friendly building materials, and recycled wood and plastic. Have fun creating your dream home—and helping to create your dream environment!
comments