Regular shades of blue, green, hue of white, black, tints of yellow, cream etc. sounds bit boring at times for the bathroom walls. Now it's time to come out from the old and monotonous color schemes or color combos of bathroom walls. Make them more bright, refreshing and colorful to get the most happening and mesmerizing bathroom settings and designs. Installation of modern equipment's, trendy hardware, latest tiles collection, amazing accessories is all a waste if walls go with the dull and regular combination. Inspire yourself to do something different, unique, creative and refreshing forever. Give your bathroom a quick and inexpensive facelift with a new coat of paint and a fresh dose of color with bright effects and refreshing mood.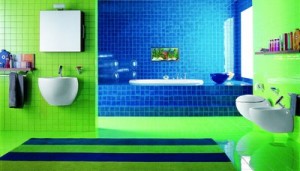 Make your bathroom settings more impressive and inspirational by just putting up new range of colors like bright green in combo with pure blue, sober pink blended well with aggressive and sweet red, bubbly purple in combination with purity of white, sunshine yellow to go more brighter with warm and bold orange. These are the few secretive but most impressive color combos to get the best of bathroom setting with a refreshing and everlasting appeal.
It's high time to make some brave and bold color choice to reunite the lost charm of your bathroom settings and design. Colors have the most high visual impact so before opting for the respective color combination do not forget to consider :
Size of your bathroom: Small size bathroom may not be able to digest more of the bright and very dark combinations. It may give bathroom a cramped and messed up look. Better to go in contrast rather than putting up all the bright colors in the same place.
Shape of your bathroom: If you have bathroom with more of the straight edges, straight walls, and rectilinear work you may go for bold combinations as it gives more strength and better visual effects to the rectilinear space. Curvilinear spaces starve for feminine and soft colors to get well blended and poured in. You may pick colors like pink, purple, light green etc. blindly without any second thoughts.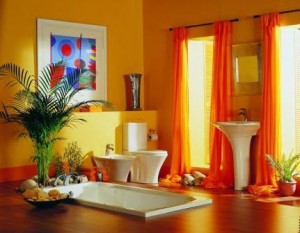 Sanitary hardware style and color: It is important to match up well with the present sanitary hardware style and color. Just for the sake of putting up new colors on the wall one can't change whole of the sanitary settings. So opt for the bold combination which works well with your present set of hardware style and color.
Over all decors (accessories) of the bathroom: Even a bathroom is incomplete without some of the accessories so, you need to match up well with over all accessories styling and design to get the wonderful combination and aesthetic visual impact.
Source of light inside bathroom: Window placement with adequate sunlight is important to show up the work of bright colors and refinement. Colors and light are inter-related to each other and light plays a vital role to glow up the color affects.  So, proper artificial and natural lighting helps bright colors charm more and in a better way.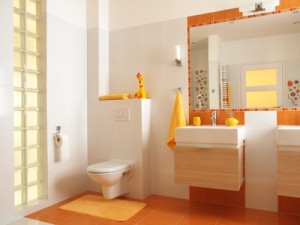 Delete the old fashion and old look of your bathroom walls. Replace the new bold and sophisticated look with just rare and minor jumble play of colors and brave choices. Painting walls with bright colors directly creates an aesthetic impact to the visual concepts and low impact on your wallets. It is like getting a makeover without much of the expenses and mess.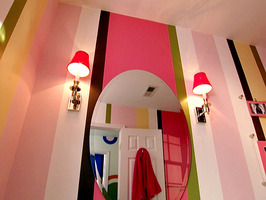 comments