Bathroom mirror is not only an essential element to be placed or accommodated in the bathroom just for grooming purposes but it also plays as a secretive friend for many. Several people do admits spending hours in front of bathroom mirror. They just love to communicate, talk to the mirror, groom themselves to be the best one and simply love to admire themselves in front of the mirror. As they are an essential and one of the most aesthetic element of the bathroom then why to keep it just simple or at times ignored. It is high time to change your bathroom mirror settings; give it more of the importance and the original look. For the real mirror friend, amazing grooming up feel you should opt for illuminated bathroom mirror or backlit bathroom mirror.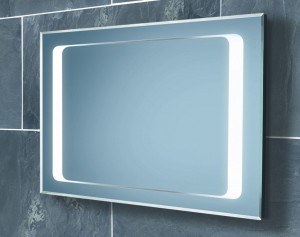 I know you must be thinking why to go for backlit or illuminated mirror over simple and well-designed bathroom mirrors. Here I have few solid reasons or say benefits which can make your discussion more strong and confident for opting backlit mirrors:
Attractive looks: Firstly, it's aesthetic appeal, the look and the impression. Traditionally, beauty of a single piece of mirror glass was enhanced through superior carvings, engravings or by adding color and decorative material, wooden frames etc. Undoubtedly they were one of the best ways to design up your bathroom mirror settings. But with the change in time, technology and needs you need to  switch to the mirrors which have more of the aesthetic appeal, gives a pleasant and elegant look to any kind of bathroom (traditional or modern).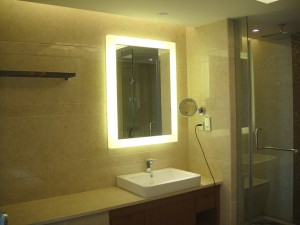 Extremely useful: Over and above the sizes available in these kind of mirrors they too offer great reflections while getting ready in the morning time with the assistance of back lighting which illuminate the mirror, so even in the darkest of bathrooms you can have a clear reflection which is easy to see when putting on your make up, shaving, getting groomed up etc. No need to put on extra lights if not required. You are just done with the illumination effects of backlit mirror.
Compact and modular size: Backlit or illuminated mirrors comes in a very slick, slim and modular compact size to fit in your bathroom settings. Illuminated mirrors are usually made slimmer to accommodate additional features. Bathrooms tend be to compact in some houses, hotel rooms, office bathroom etc.  Therefore illuminated mirror or backlit mirror is a perfect accessory that utilizes less space and enhances the beauty of bathroom decor. In addition to slim bathroom mirrors, large illuminated bathroom mirrors are also available in various shapes and sizes that can fit in to the big bathroom spaces comfortably and give it more of the elegant looks.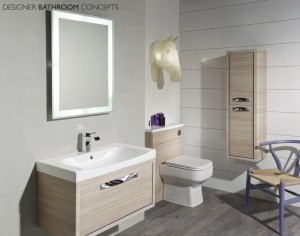 Anti-fog properties: Most illuminated bathroom mirrors have an in-built anti-fog characteristic that allows quick de-mystification. These types of mirrors are fitted with de-mystifying filling that de-vaporize the fog the moment it is formed keeping the mirror clear of fog at all times. In short, your bathroom mirror is always ready to give you a clear and clean reflection and help you out to groom well within few minutes.
These backlit mirrors are illuminated with led lighting strips. Even a normal mirror of 5mm or 6mm thickness can be transformed to a  backlit mirror for your bathroom styling, purpose and designing. Such bathroom backlit mirrors is a modern design of vanity mirror for hotel rooms, your home bathrooms, office bathrooms etc. They add an elegance and class to your bathroom designing and styling. These mirrors are available in different size and shape in the market depending upon the requirement of your bathroom designs. Customize your bathroom looks with the available backlit mirror styling.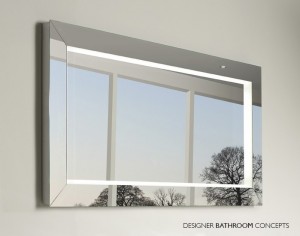 Etched Vertical Block Back Lit Bathroom Mirrors, Etched Jumbo Mirror and Cima Illuminated Mirror are few of the latest and most desired backlit mirrors for bathroom designing. Backlit bathroom mirrors are the need of today's modern requirements, designing and styling. They can also be used to reflect the style and mood of your bathroom designing and décor. So, lift up your bathroom designing with the useful, aesthetic and sensational backlit bathroom mirror to get a clear, clean and well illuminated reflection.

comments