Today bathrooms are just not a place to take bath in fact they are so much more than a place to have a shower and rush off to your office, get back to your work at home etc. They are now little small relaxing nook of comfort, which takes you away from the world of stress, work and negative thoughts. These are places where you recharge your senses and get back to your normal world with a refreshing start and new energy. So, you need to give your simple bathroom a feel of spa; make it more relaxing and flexible for you requirements.  Your bathroom is an area that needs a flexible lighting scheme. The bathroom space should feel bright and fresh in the mornings and restful and rejuvenating in the evening's hours. The lighting should also let you perform tasks comfortably and without any distraction like shaving or grooming up, easily. For this you need to have a good combination of indirect general lighting and shadow-free task lighting around areas like your mirror. Eliminate shadows, get more of the impressive lights to glam up your bathroom and most importantly install such lights which give your hassle free atmosphere to work in and enjoy your personal time.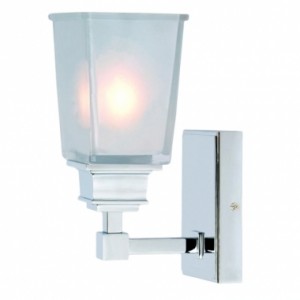 Your bathroom needs a combination of general lighting and local task lighting, according to the different activities in each area.          Different areas of your bathroom also have varying safety levels that are specified by the moisture exposure in that particular area. With the help of bathroom lighting make your bathroom better by adding:

Enhancing the ambiance and mood
Make your bathroom look open, airy and spacious with illumination effects.
Create  a soft ambiance  by using indirect general lighting and eliminate shadows.
Compliment reflective surfaces like water, glass and mirror to get a glowing bath settings.
Enjoy better visibility and clarity for grooming purposes
Have bright and shadow free lighting.
Have task lighting around areas like mirror, vanities etc.
Use such light that shows your skin color accurately.
Ensure safety: Merely just installing bathroom light fixtures and lighting is not done, you need to ensure safety and glowing illumination effects in your bathroom. So be sure about:
Use moisture and water resistant lighting which are packed tight inside to fight water and moisture effects
Use corrosion resistant fittings.
Make sure your fitting are safe during power cuts or power fluctuations.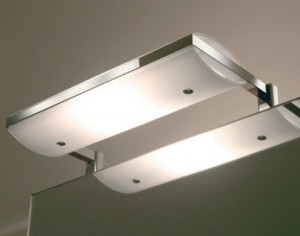 Tips for bathroom lighting
The best way to light a mirror is from the top and both sides. Mirror lighting should shine light on the face to eliminate all shadows and provide you accurate range of lighting required for grooming or other purposes.
For shaving or applying cosmetics it's best to complement general lighting with task lighting.
For refreshing and smooth ambiance, a wall light can add pretty accents and open up the room space.
The shower is a secondary area for task lighting. Include one or two recessed spotlights within the shower and near the bath area to eliminate shadows and dullness.
Installing dimmer switches gives you full control of the amount of light that you want or need at any given moment.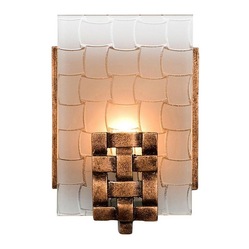 To light up your bathroom area its better to know all the types of bathroom lights:
Ceiling light: Eliminate shadows, spread light all around the bathroom, let each corner glow up with light effects.
Wall light: Create wall effects with different wall lights. Grace your vanities, open racks, shelves etc. with wall light fixtures.
Task light: An absolute necessity to be installed by mirror wall and bathroom sink wall for a smooth progress of work, grooming, shaving etc.
Wall light for mounting behind mirrors: To give a complete and wow effect to your mirror settings.
So, bathroom lighting has an important role to play isn't it? Make your bathroom space much easier to work in, accident free             due to darkness or dullness, give it a royal touch of spa and last but not the least provide you a class of bathing range and bath            area with sophisticated illumination effects.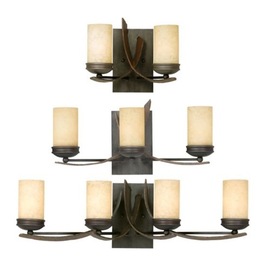 comments