Inherently, clutter has a way of getting in the way. Old clothes, magazines, and bedding tend to pile up, creating a typhoon-esque effect in your bedroom. Old furniture with its bumps and bruises gets left lying around, choking the life out of your sleeping space. So, what can you do to remedy the situation?
It doesn't take a lot of huff and puff to get your bedroom back in shape. A little bit of decluttering and tidying up will set you on the path to a neat space. Get rid of all the stuff you don't need and embrace things that you need. The road to having a minimalist bedroom isn't as bumpy as you think.
Sheets Are a Good Place to Start 
Old bed sheets are culprits at creating that clutter effect. They just lay there without much to do and could even end up tripping you if you're not careful. So, find a box or bag and stash those old sheets away or, better yet, donate them to Goodwill.
Out with the old and in with the new. When looking to replace your old sheets, find the best bed sheets to suit your needs as well as your room's décor. You'll want something soft and comfy made from 100 percent staple cotton. Also, go for something with a high thread count and something elasticized for a snug fit onto your mattress.
Use Functional Storage Options
Most people have a bunch of accessories, ranging from rings and bracelets to pendants and sunglasses. If left littered all over the place, these accessories could create quite the mess. So, for that minimalist approach, get a small tray or a bowl where you can put all your stuff. This approach not only eliminates the mess but it also saves you time when trying to locate your favorite accessories. Plus, it keeps you from stepping on those precious chains (Ouch!).
Bare Walls Aren't Always the Worst Idea
Maybe you're the artsy type and you have a whole bunch of art pieces you've collected over the years. Chances are you want to be able to fit a good number of them onto your bedroom wall, but that might not be the best idea. Take a minimalist approach by choosing one or two walls max to hang your favorite pieces and leave the other walls bare. This approach will leave lots of open space, giving your bedroom a clean look.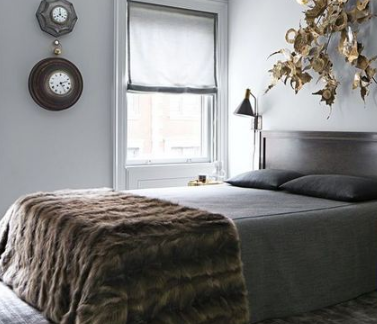 Source: Elle Decor
Consider a Platform Bed
Get rid of that panel bed and embrace a platform bed for that extra bit of space. Platform beds offer simplicity while also being sensible and functional. It consists of a solid frame with a couple of rows of flexible wooden slats that are perfect for supporting just your mattress. Throw in a few toss pillows, and voila, you're done.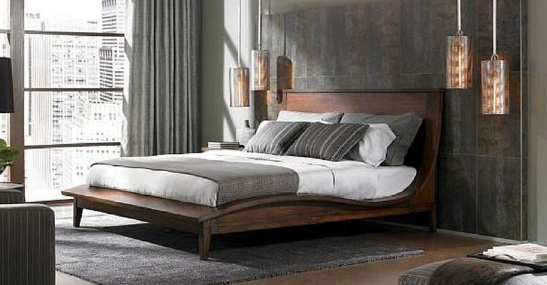 Source: The Spruce
Go for a Limited Palette
When selecting your décor, go for something simple. There's always the urge to mix and match colors, but for the ideal minimalist outlook, go for a white, black, or gray palette. If you must indulge in colors, then go for a maximum of two hues. These toned-down colors will give your bedroom a calm ambiance, perfect for that minimalist style.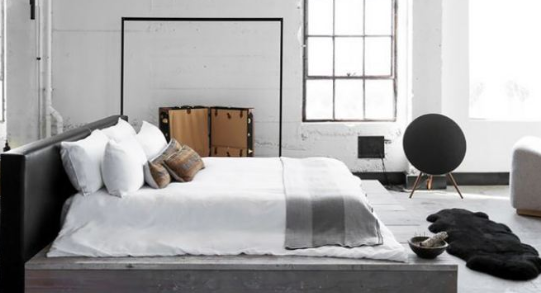 Source: My Domaine
Achieve Balance
Keep an eye on the scale when planning your minimalist bedroom. For instance, if you have a large room, larger pieces would bode well in such a space. Similarly, a smaller room necessitates smaller articles such as smaller pieces of furniture. Achieve an arranged look for that trademark minimalist layout.
Incorporate Multipurpose Furniture
The minimalist bedroom is all about using less while trying to achieve the same level of comfort. Multipurpose furniture can shrink and expand depending on your needs and seamlessly serve two purposes simultaneously. Multipurpose furniture allows you to save on space without giving up a valuable piece of furniture. That means you get to have a functional bedroom space without feeling like you're missing out on something. 
Embrace Warm Textures
Just because you're aiming for a minimalist layout doesn't mean you have to sacrifice on the warmth of your bedroom. Incorporate a few cozy textiles such as pillows or drape blankets to add to the room's comfort levels. Throw down a rug or perhaps create some soft lighting to elevate your bedroom's feel.
Bring in Some Plants
Indoor plants are the perfect little partners to add some energy and life into your bedroom. Bringing the outdoors indoors creates harmony with nature as well as providing some much needed clean air. For the ideal minimalist indoor plant, go for something easy to care for. Also, choose a plant that compliments your bedroom's color while also filling your space with soothing energy.
Paper Lanterns and Shades
Paper lanterns are a gentle way to add life to your bedroom without all the brightness of other lighting options such as LEDs. Historically, these lanterns and shades were used during special occasions, but now, they've made their way into living spaces. For that soft glow in your bedroom, embrace one of these fantastic additions. Paper lanterns are an excellent way to create a calming ambiance for your minimalist space.
Bring in Some Natural Light
Lighting is a huge factor when it comes to any space. Embrace a natural source of illumination by drawing back the curtains and allow swaths of light into your bedroom. Natural light opens up your bedroom by creating an open atmosphere and overall minimalistic impression.  You can also set electric generator for your home 
Stick to One Dresser
A few bulky dressers won't do your bedroom's image any good. They'll not only mess up your bedroom's aesthetics but also occupy a vast amount of space. So, for the sake of keeping your bedroom decluttered, get a single dresser or perhaps a set of drawers to stash away your items of clothing. If that's not possible, then keep your current dressers further away from your bed to free up some space.
The key to achieving a minimalist bedroom is understanding that less means more. So, if you're looking to embrace a minimalist approach to your bedroom, then adopt a few of these tips. You'll attain that minimalist layout for your bedroom in no time.
Resources – My Domaine, Elle Decor, House Beautiful, The Spruce
comments