Leather has been a valued material since people used animal skin to make winter clothes. Nowadays, products made of leather are luxurious and highly desired. Although there are plenty of fabrics and materials, leather remains a high end choice for furniture material. So how many types of leather sofas? Let Kenli help you figure it out! 
Different types of leather sofas
Similar to other products, customers have different options to choose from when it comes to leather sofas. The main types of leather sofas are as below:
Aniline Leather
Aniline leather is a type of leather with almost no surface coating. Therefore, the sofa won't be protected from spills and scratches. One advantage of aniline leather is that it looks extremely natural. If you don't have children or pets in the house, this type of sofa can be very aesthetically pleasing. If you are going to use an aniline leather sofa, it might be best to keep the natural visual qualities of the animal hidden rather than dye it with color. 
Semi-aniline Leather
Compared to aniline leather, semi-aniline leather has a thicker protective coating. Also, because it has a small amount of pigment, semi-aniline leather is more resistant to staining. Furthermore, the colour dye of the sofa will also be more consistent.
Leather sofas bring luxury to your home
Pigmented Leather
Pigmented leather has the thickest protective coating compared to those two above. The main reason is because it has a polymer coating to protect the leather more. In fact, the majority of leather sofas in the market use pigmented leather so that they can be protected well against scratching, scuffing and fading. Therefore, they are more durable. Besides, pigmented leather sofas have different types with different thickness and look of the leather surface. 
The first type is full grain pigmented leather: This type of leather has its protective coating applied without any alterations to the grain of the natural leather surface. 
The second type is corrected grain pigmented leather: This type of leather has its imperfections sanded or buffed before applying the coating. If you don't have much knowledge about leather, it is hard to differentiate this type with the full grain pigmented leather because they have the same look and feel. That is because a grain pattern is embossed onto the corrected grain pigmented leather.
If you prefer a more weathered look, "antique grain" will be the perfect option because it uses a darker-toned top layer of colour coating. The layer will then be rubbed away to give it a worn appearance.
Faux Leather Sofas
There is no doubt about the quality and look of real leather. However, it is expensive and not everyone can afford. Therefore, some people opt for faux leather. Not only is it cheaper, but it is also the best animal-free alternative. It is obvious that genuine leather comes from animal hide. So if you love animals and still want a leather sofa in the house, faux leather is a great choice. Furthermore, faux leather doesn't age so authentically, therefore, it won't crack or fade as quickly as a real leather sofa.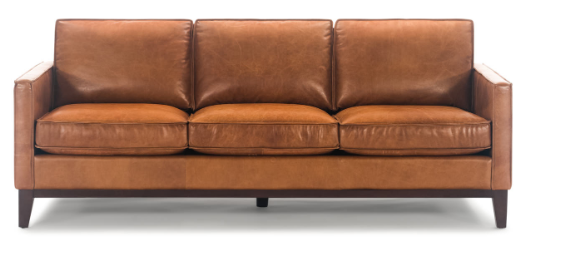 Faux leather doesn't last long
However, as faux leather sofas are cheaper and not made of real materials, they are far less durable and prone to rips and scratches. In addition, they also don't feel as comfortable as genuine leather sofas but stiffer. 
Why are people using leather sofas?
The popularity of leather sofas is undeniable. Although it is more costly, people are still in love with the look and the feel. So what are the advantages of leather sofas?
Quality
When it comes to furniture, leather is always associated with the most luxury and high-end products. Leather offers a classic look to every home or space. In fact, when you see a space (can be office or home) where the main furniture items are leather, it makes an unforgettable impression on you. There were worries about leather cracking, peeling or sagging, but with modern tanning processes, leather is resistant to those. Leather sofa has a rich look, feel and smell.
Comfort
If you have used fabric sofas before, you notice that when they age, they will get faded. As a result, they lose their shape and don't look as good as they did in the beginning. With leather sofas, you don't have to worry about that. Because leather sofas have unique natural fibers and qualities, when you use them for a long time, they become softer and more supple. They even look more inviting and still provide comfort.
Leather can breath, therefore, it dissipates heat and cold quickly. It can provide comfort for sitting no matter how the weather is. Unlike vinyl or plastic-based imitations, leather absorbs and releases moisture, so it feels less sticky and clammy.
Durability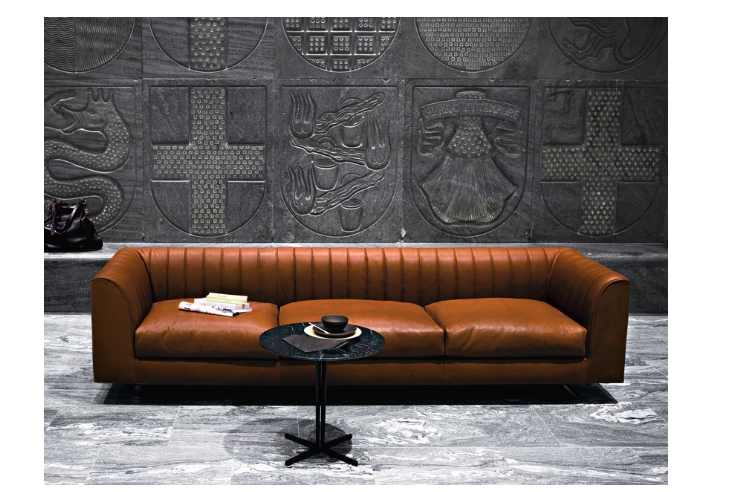 Leather is a super durable material
The average lifetime of a leather sofa is around 12-15 years, which is much longer than a fabric sofa. Leather is tough and durable, but it also has the ability to resist punctures and tears. Another advantage of leather is that it resists spills and dirt well. The cleaning part is also simple, you just need to wipe it with a damp cloth.
Appearance
Although the natural material has a good look, some people prefer leather that is dyed. Dying doesn't affect the appearance of the leather, in fact, the color is absorbed into the material and it doesn't fade. 
Most of the time leather is sold in natural and neutral colors. So when you want to change your interior design, you don't need to worry about replacing your furniture because it still matches and lasts long. The natural color of leather fits well with walls painted in rich, dark colors or even a lighter look. Besides, as leather is made from animal hides, each piece of your furniture will have unique and natural markings, grain and blemishes. 
Cost
Usually you have to spend more for a leather sofa than a fabric one. And it might be the only disadvantage of leather furniture for some people. But don't forget that leather is super durable, it lasts much longer than any other type of materials. So would you prefer to spend more at the beginning for a leather sofa and use it for over 12 years, or to spend less and have to replace your sofa every 3 or 4 years? A wise buyer would consider the cost and its lifetime. Leather sofas are a much better value and a good investment.
If you are considering buying a leather sofa, make sure you check out https://noithatkenli.vn/sofa for your options!
comments