Previously receptions were only known for attending guests, getting help for any respective problem or simply a working front desk of any office, hotel, restaurant etc. But now a day's reception is lot more than that, It's a "success key" and a "secret design tool to create amazing office ambience" for any kind of commercial organization. Well-designed reception should always welcome guests with pleasure, peace, warmth and love. Not just the designing matters but also the ambiance created through the feel of hospitality and devoted duty gives in the complete touch to a reception designing. For different organization we have to design reception area according to its needs and requirements. For example, hospital reception has its own designing needs, hotel reception needs to be aesthetically sound and beautiful, office reception requires special touch of company's logo, colors, etc.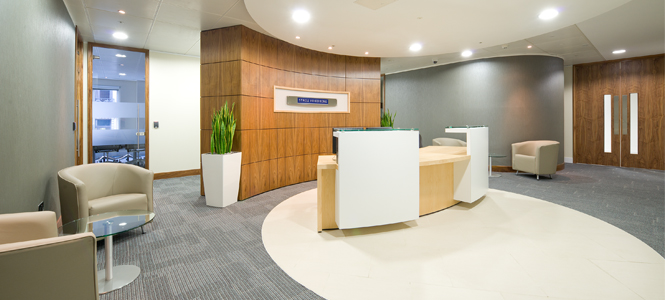 As they walk into your office interior premises, your reception area is the first point of contact that visitors and clients will have with your company. So, make an impressive mark with the very first step of the client and visitors with amazing, aesthetically sound, sophisticated, formal yet comfortable reception area. Good, well designed and sound reception design not only come with good material, perfect colors, amazing textures etc. but it is complete and perfect when it is accompanied by a well-designed waiting zone or waiting area escorted by center tables, side tables and decor accessories. As the clients, visitors or guests coming to the office desk needs to wait for few moment before they go for a meeting with the concerned person, so always comfort the guests with good ambiance, bright & soft color theme, peaceful comfortable seating arrangement and effective yet sober illumination.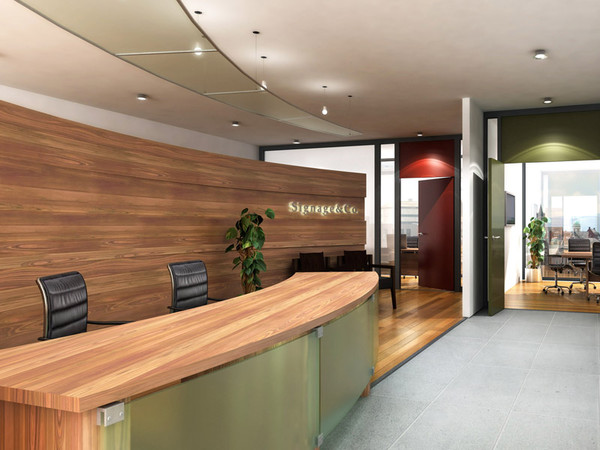 The arrangement should be cozy as well. The couch, soft set or seat designs should be made to make the guests feel at home and should be relaxing enough to wait for few hours even, this will make a good impression and visitors would remember that. And as it is said that fashion and comfort go hand in hand, the reception couch should be up to date and the design should match that of the interiors of the office. For reception desks, since this is where most of the transaction takes place (most important element of the area), it has to be presentable, eye catching, amazing and at the same time durable. It has to accommodate visitors most of the time so it should look elegant, yet ergonomically designed for the receptionist to be able to fulfill his or her work properly. It must have storage and shelves for guest books, log books or visitor passes and other slips that need to be signed time to time according to the work progression.  If required by the company design lines, one should fabricate reception area in combination with company's "logo".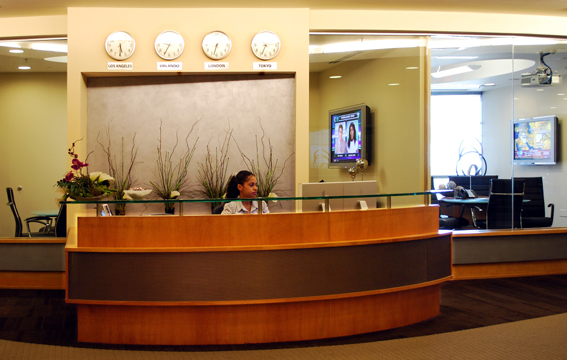 Make an impression with patterns and prints that might be traditionally considered a staple of home interior design, the design of your reception area can benefit greatly from them too. Whether adorning furniture, cushions, floor coverings or wallpaper, patterns can uplift a reception area design in an instant and inject a fun factor that makes your business appear more human and more connected to your clients. Just remember not to go too wild and buy in patterned versions of everything as just mentioned! It can prove really overwhelming and even induce headaches, especially when brighter colors are incorporated. You need to keep good balance among all the design elements and keep it well harmonized in smooth manner to make the area look comfortable and sober.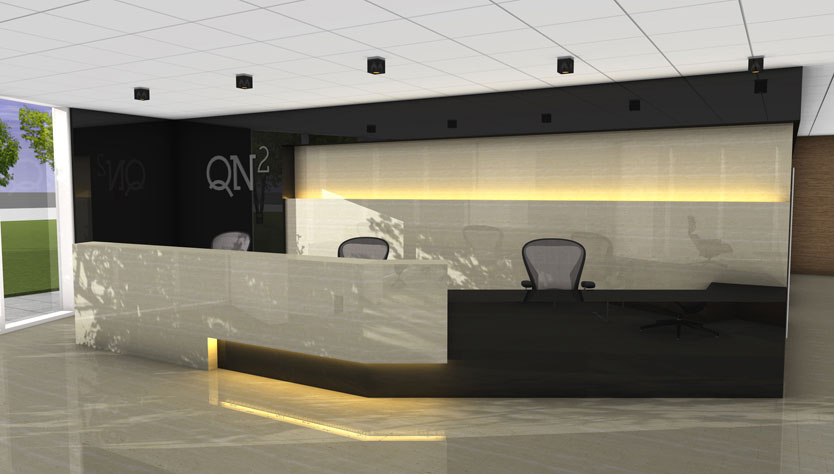 Lack of space or improper designing of the reception area may lead the receptionist to irritation and lack of interest in work. For good output from your staff you need to give best input through designs and décors, proper planning, good layout and understanding your space area. Make them feel important as well. So, for successful office days bring in the best to your reception designing as it's the "only master key of success" for every office or commercial complex.

comments