Glue down vinyl is essentially its own subset of the luxury vinyl flooring market, complete with its own set of advantages. You're probably contemplating luxury vinyl because of its low cost, durability, and versatility; however, you should know that current glue down vinyl still has all the advantages that make luxury vinyl easy to manage, pet-friendly, and perfect for spaces like bathrooms and kitchens.
The use of glue to install vinyl tiles has various benefits. Who knows, maybe that's why they've been around for so long and still remain so popular. They work great in the bathroom, kitchen or laundry room because of the frequent foot activity and the need for water resistance in such rooms.
Of course, modern vinyl tiles aren't like the ones in your parents' houses because of advancements in technology. That could explain why this practical flooring option is gaining popularity.
Vinyl flooring is a popular option, but figuring out how to put it in might be a bit of a headache if you've never done it before. Vinyl tile is popular among homes because it can be easily installed by the homeowner themselves.
To install the dryback luxury vinyl flooring using the glue down technique, you will need to utilize an adhesive. By providing dimensional stability, adhesives allow flooring to keep its authentic look and feel. Both hard set as well as pressure sensitive adhesives are used in the glue down process. Follow the link for more https://www.wikihow.com/Install-Vinyl-Flooring. 
Hard set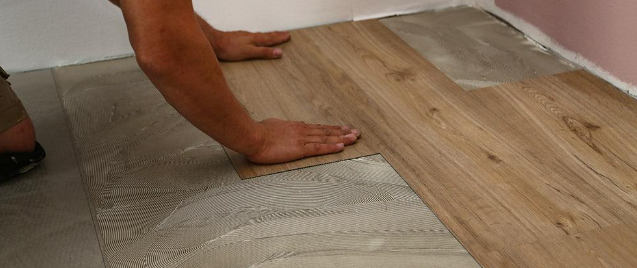 Hard set glue, which is placed down the subfloor like broadloom carpet adhesive, secures the vinyl flooring in place. This is of paramount significance in settings that often see considerable traffic from wheeled devices like gurneys, wheelchairs, shopping carts, and dollies, as in the retail and healthcare sectors. Hard set adhesive is a comparatively recent adhesive solution on the luxury vinyl flooring market. 
It enables your glue down floor to withstand a significant point load, so furnishings and accessories are far less likely to create visible dents when removed. Sheet vinyl is the intended application for hard set, however vinyl tile and plank flooring also benefit from its use.
Pressure sensitive
Pressure sensitive adhesive has been used for decades and is now the standard method of application since it makes floors durable while also being simple to repair if necessary. The hospitality and retail industries, as well as other businesses that frequently switch up their branding, are ideal candidates for pressure sensitive adhesive. 
Spread rate installation instructions are typically included with a flooring product's adhesive or installation handbook, and they are comparable for the hard set as well as pressure sensitive adhesive methods. Read more here. 
What else to know? 
There are two types of adhesive available for use with glue-down vinyl tiles: one that is purchased separately and put onto the floor with a trowel, and another that is reapplied to the back of the tiles and just needs to be peeled off before installation.
Using a separate glue that you'll have to put across the floor may sound complicated, but it's actually rather simple. In addition, it offers advantages that could make the effort worthwhile.
These tiles attach to themselves and don't require any additional adhesive. Once they have made contact with the subfloor, they are difficult to reposition. Numerous homeowners choose vinyl tiles due to their perceived low maintenance, however this might be a drawback. People who have purchased these tiles have expressed "frustration" at how easily they can be damaged by even the slightest of touches.
In contrast, working with glue-down vinyl plank floors that you spread around the room requires patience because the glue must dry before the tiles can be walked on. This will allow you to experiment with different tile placements before committing to a final design. The adhesive can take up to 24 hours to fully set, so you have plenty of time to get it right.
It's also more common for self-adhesive tile to curl. Incorrect installation of self-adhesive tiles can lead to edge curling several weeks or months following installation. Vinyl tiles adhered to a wall or floor are much less likely to come away and curl up on their own after installation. When the potential for catching an edge is considerable, as it often is in high-traffic areas, this can be crucial.
Adhesive vinyl tiles that don't need to be nailed down need a similarly flawless subfloor. They are thin and utilize a regular peel-and-stick mechanism to stay in place, so you'll want to make sure the subfloor is smooth before installing the flooring. Difficulties can quickly escalate from even minor imperfections.
Such glue-down tiles are more forgiving of faulty installation than those that require a separate adhesive. This type of tile is more forgiving of less-than-ideal subfloors due to the adhesive's variable viscosity.
comments