It's high time to relax back and watch your favorite movie with your family or friends that too at home. Forget fighting out with long congested traffic just for a movie and a family time. It's time to install a "Home Theater" for your family friends and yourself.  Experience the fun and atmosphere of movie hall at home by installing the big screen.. huge and sweet sound boxes home theater at home. Small home theater design works equally well as huge or big home theater rooms and designs.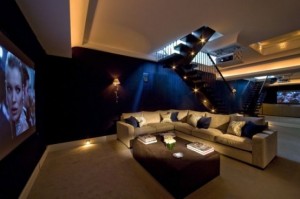 Before installing the home theater design and home theater.. it's better to browse the types of home theater available in the market with different range and qualities which is best suitable for your design and room. Different home theaters have different kind of sound and picture quality which deliver you the best of movie or games experiences.  You can choose from four basic types of home theater audio systems 1.Home-theater-in-a-box (HTIB) systems 2.Sound bars  3. Component systems 4.Separates.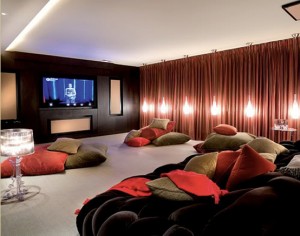 Home-theater-in-a-Box (HTIB) Systems: Usually five surround sound speakers, a subwoofer, and a disc player/amplifier. Sold as a unit, in one box (hence the name). It includes all the wiring. Sound Bars : A long, thin bar containing several loudspeaker units. It offers virtual surround sound. They are usually designed for mounting on a wall below a flat-panel TV. Component Systems : Your choice of an audio/video (A/V) receiver, speakers, and any source components (such as a disc player). Separates: They are component systems with separate preamplifier/processor and power amplifiers that replace the receiver. So, after browsing the systems it would be easy for you to install them and make your own home theater.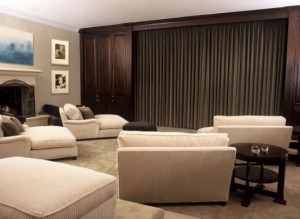 Apart from systems and their technical aspects few more things should be considered before you buy and select your home theater design like : your budget, requirement for the home theater (to watch movies, play games, watch games) etc. and the most importantly.. room size and number of audience to be seated.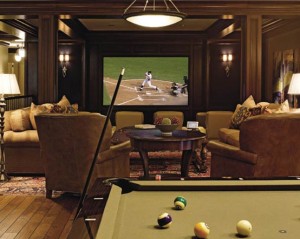 Ultimate home theater design gives you an extra ordinary experience of watching movies, playing games, spending quality time with your family and friends under one roof. Make it more comfortable and healthy by installing comfortable and relatable seating to your home theater design idea. Escort your fun time with visual impact productions, big chairs, cushions, sofa's, movie chair (if in your budget), floor cushions and mattress etc.  Let even your senses take the pleasure of enjoying movie at home with some comfortable and soft seating's.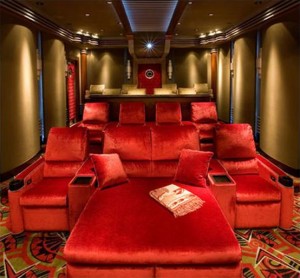 Secondly, let the illumination of the room create the atmosphere of theater. Dress up the room walls, false ceiling with dim lights, spot lights or recessed lighting. Create that hall type drama to your home theater design for the authentic and real feel of theater.
Are you unsure how to get started with your home theater? Perhaps you can't decide on the best type and placement of speakers? Maybe you need help in other areas of home theaters? visit ultimatehomecentre.com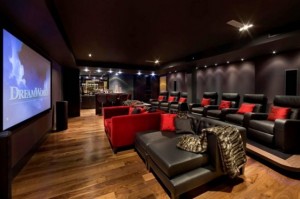 Image Credits: http://www.zillow.com/

comments