The living room is one of the most essential spaces in your home. It serves as the reception room for your guests, and it is a recreational space where you spend much of your time watching television, reading your favorite books, and or gaming on your personal computer.
However, using the room regularly can turn it into a monotonous, annoying, and less-appealing eyesore that would discourage you from using it.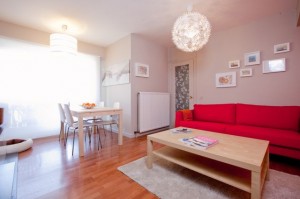 Have you been fighting the urge to stay away from your living room? If yes, the following budget-friendly ideas would help you freshen up your living room into an attractive and comfortable space where you can spend more quality time.
1. Rearrange the room
Rearranging your living room is an excellent way to revamp its monotonous appeal without spending a single penny.
You would want to de-clutter the room, as well as pull down old unattractive decorations that could be compromising its ambiance. Moreover, you would want to changeround your upholstery into a visually pleasing arrangement.
We recommend this priceless idea to homeowners who are low on budget, or tenants who have no rights to make permanent modifications to the the living room.
2. Repaint the space
Home decor experts say that re-painting is an excellent way to transform your living room's tired and stained walls, ceiling, and floor. It costs a fraction of the expenses you would spend on a major remodel.
Repainting will improve the room's curb appeal, as well as its real estate value. Into the bargain, repainting would protect the living room's exterior surfaces from wear and tear occasioning from extended exposure to weather elements like humidity.
Make sure that you repaint the living space with attractive colors that can further your mood. For instance, you can use light colors to make the room appear large, or bold colors to invite a soothing feeling into the room. The choice of paint colors depends on your unique taste.
3. Use your favorite pieces of art to create a more personalized look
Do you love art? If yes, it is time to use your favorite framed charts, neon signs, Star spangled flags, photo collages, painted signage, stenciled motifs, tapestry, sculptures, and other pieces of art to incorporate a customized taste into your living room. 
Art breathes a touch of uniqueness to your home, and it is available in an assortment of colors and designs that could an attractive pop of hue to your room's original decor. Also, various pieces of art would command attention in your living room.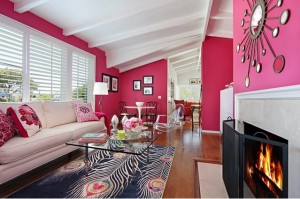 4. Go bold with high-impact upholstery covers
If your pieces of upholstery are looking worn out, use high impact upholstery covers and scintillating silhouettes to lift the upholstery appearance as well as the room's grand-gesture. You would want to shop around for attractive, easy to clean, and durable fabrics that can withstand the test of time.
Besides the upholstery covers, you can use contrasting fabric bands, pillows, and fabric lampshades to spice-up the looks of your upholstery.
5. Get fancy wallpapers for your living room's walls and ceiling
Wallpapers are an excellent alternative to repainting your living room's walls or ceiling. They are available in a myriad of designs, prints, textures, and patterns that would add a unique touch of character and glamour to your discolored ceiling or wall.
Why would you invest in wallpapers? Wallpapers can last up to 15 years, and you can use them to hide imperfections in your interior. Into the bargain, the wallpapers' ease of mounting would save you from the cost of hiring an expert to help you.
6. Showcase your collectibles
Just like the pieces of art, you can use your valuable or cheap collectibles like chrome pitchers, urns, and curios to breathe life into your living room. How? You naturally exhibit the collectibles on an open shelve in your living room.
We suggest that you group the collectibles according to color, shape, and finishes in order to establish an attractive gallery-like exhibit.
7. Light up the living room
Proper lighting can enhance your mood, and it can increase your living room's perceived size. Moreover, proper lighting can enhance the ambiance and glamour of colors used in your living room's interior decor. Also neon lights for dorm works perfectly. These are less expensive, safer, eco-friendly, and risk-free for those who require the glow of neon light in their lives.
You may consider installing a combination of beautiful overhead lights, as well as floor and table lights that are interesting to look at when they are switched on, or even when they are off.
Take Away
Decorating your living room is an excellent way to enhance the comfort, and quality of time you spend in the room. However, you don't have to break your bank to upgrade the room's aesthetic appeal. Instead, you can use less expensive ways like improving the lighting system, rearranging your upholstery, showcasing your collectibles, and using wallpapers to revamp the room's monotonous appeal.
comments