A popular headline suggests that sitting and smoking are similar. There is an increasing number of office employees who spend an average of 8 hours working in a seated position oblivious to the consequences. According to research, doing a few exercises after work won't prevent lifestyle diseases from creeping in.
The only thing that could help is switching to standing desks. However, not just any type of these special desks is effective and suitable for every person. Here are some things to put into consideration to ensure that buyers get the right standing desk for their use.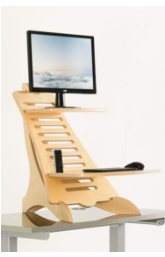 Height Range
The Business and Institutional Furniture Manufacturers Association (BIFMA) recommends a height range of between 22.6" to 48.7". However, the choice depends on the height and needs of individuals users. In the case of sharing between workers, then a large height range is preferable.
Depth
If people need to spread out their work, then the minimum advisable depth of a good desk should be 30". This is usually typical of office environments. However, for offices that are in homes or that belong to single individuals, the choice of depth is up to the user.
Adjustment Capabilities
Users can raise, and lower adjustable desks by either winding handles manually or by using pneumatic and electrical lifts. It all depends on the type of desk they have. Pneumatic and electrical standing desks are much easier to adjust as compared to manual ones. However, they are more costly.
Also, it is quicker to raise and lower some standing desks than others. Faster desks make it easier and more comfortable for users to adjust their heights as many times as they would like in a day. This leads to better experiences and less straining, which is good for maximum productivity at work.
Functionality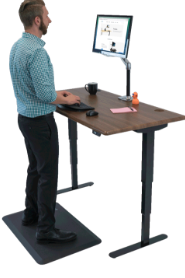 Before purchasing standing desks, buyers need to consider how functional they are going to be. Aesthetic fit, lighting, and the ability to accommodate privacy screens are important factors to think about. Also, those who would prefer maximum heights must buy longer power cables or install sockets within the proximity of the equipment.
Weight
Some desks have weight restrictions. For instance, some of them cannot handle the heavy things like desktop computers. Buyers should first make sure that the type of desk they are going to buy can handle the equipment they intend to put on before making purchases.
Tired Standing?
Standing for long periods is not easy for most people. When using standing desks, it is not advisable to wear high heels because they increase leg fatigue. Wearing supportive shoes and using anti-fatigue mats are some ways of improving the experience of using these desks.
Noise Levels
Very few people are mad enough to disrupt others by making noise. Most workers, however, fear using noisy standing desks because they don't want to disturb their colleagues. It is good to test how quiet equipment is before purchasing it. Otherwise, no one may utilize it.
It's Time to Buy
After making the above considerations, it is time to buy the right DeskView Products. Today, many companies offer a wide variety of standing desks. However, some of them may not work properly and fulfill the preferences of buyers. Choose wisely.
comments