Today the importance of design and architecture can be felt more than ever. It not only serves the utilitarian need of the individual, it also contributes to his/her identity. At a macro level this translates into the very way we lead our lives.
The Economic Times has always worked towards building the nation by culling out best practices across industries and thereby contributing to the national agenda. Keeping in mind the key role the architectural and design community plays in nation building, we had launched The Economic Times A&D Summit 2013 as a platform to share ideas, vision and concerns regarding this core industry.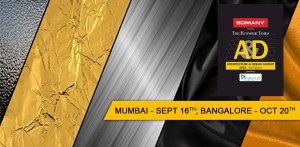 A&D has now developed into an established forum for the industry leaders over the last two years. The summit brings together 1000+ delegates, 100+ speakers, 50+ partners and media from all over the globe.
While earlier summits on Architecture & Design have focused on Architecture, this year's theme encapsulates the world of design, its trends and impact not just in India but across the globe.
The Economic Times Architecture & Design Summit 2016 starts with five regional rounds, highlighting works from top designers from the region. This impetus builds up into a crescendo at the grand finale to be held in Mumbai which showcases top designers from across the globe. The event comes to a close with a star studded evening hosting the who's who of the design fraternity.
Resister here http://www.et-ad.com/registration/
CONTACT DETAILS
comments