Making your God well-settled in your home is one of the dreams which are desired by all. But unfortunately few struggle with good space, few has to fight up with good designing, some of them are still struggling with storage of puja rooms or puja desk etc. Let's turn down our focus to pooja room to make it a well-designed, well-utilized area to give you a peaceful, relaxing and satisfying place for auspicious pooja area. Start your day with relaxing and satisfying prayers under the blessings of God in a private, sweet and designer pooja room. Choose your pooja room area or space according to vastu to carry forward the next step of design and décor of the room.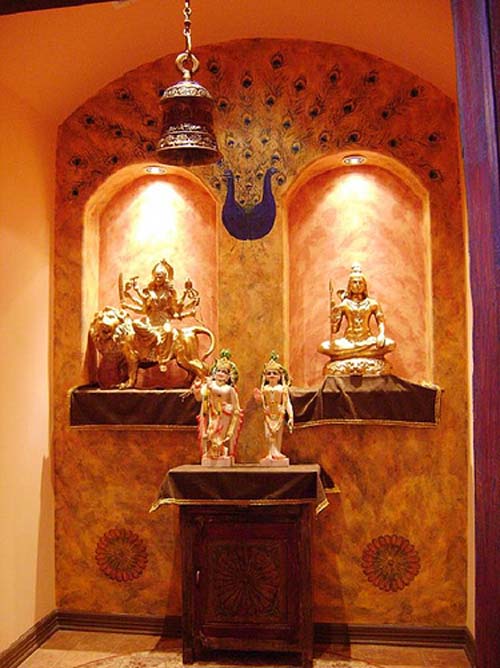 Traditionally pooja mandap's (pooja slab's) or the whole pooja structure was being made by wood and still is being preferred but with the changing time and design technique's few pooja rooms are converted into marble rooms, metal rooms etc. according to personal choice, preferences, budget and requirement. You may design up your pooja room mandap with marble, granite or metal for more of the durability adding a style statement and an ethnic look to it.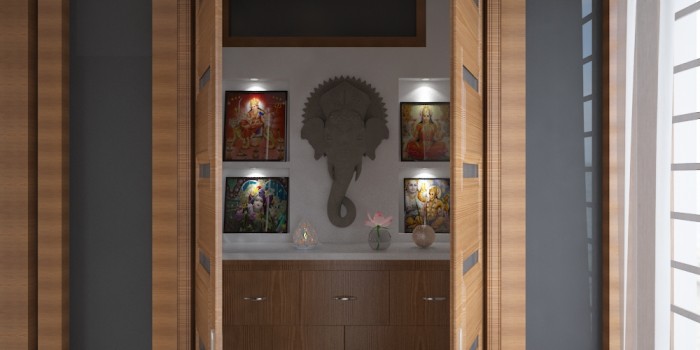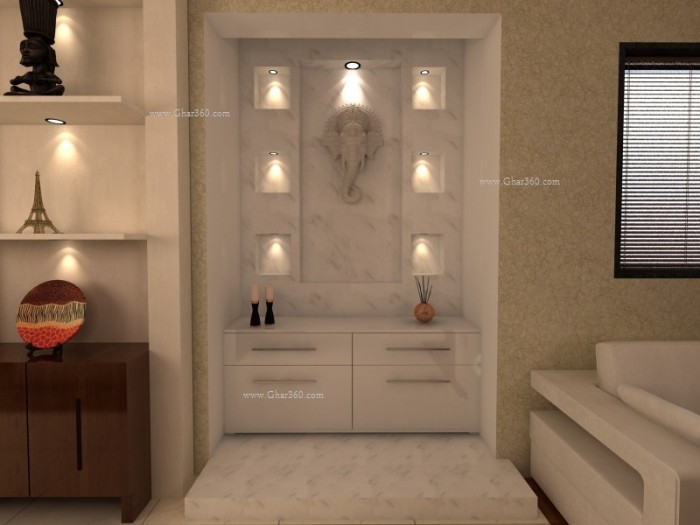 Design the mandap or the pooja slab according to the pooja room size, you required sitting area, storage area for keeping the pooja stuff etc. keeping in mind. Alone pooja mandap is not enough to design up your pooja room design and requirements. Try to put in shelves or cabinets with versatile storage system to keep your pooja area well-organized and clutter free.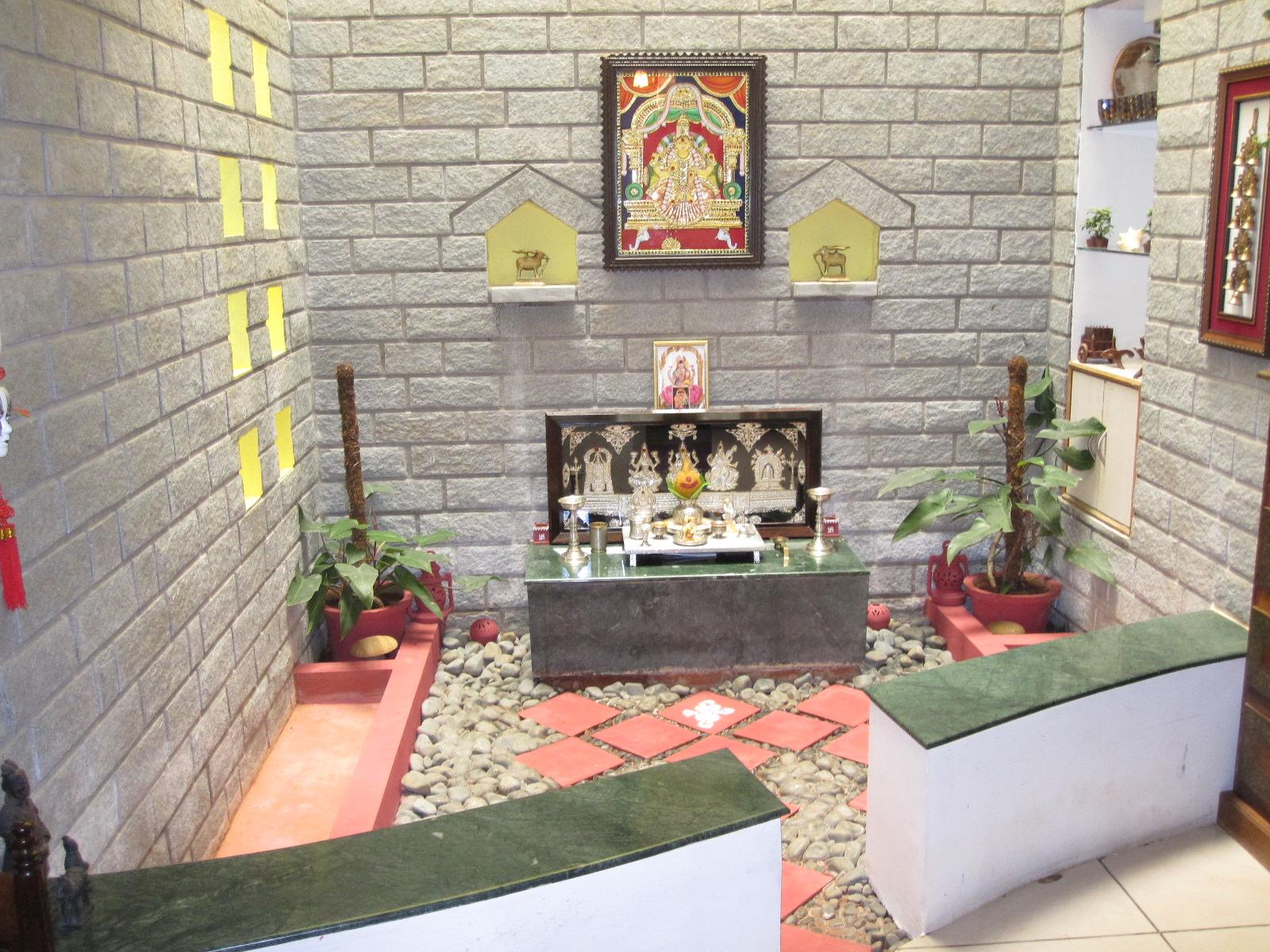 According to your selected material for the pooja mandap you may go for different kind of carving, stone work, metal work etc. according to your design style and requirement. Pooja room mandap without carving or traditional designs looks so incomplete. Enhance the beauty with little or intricate carving according to your choices. Make it more auspicious by adding the shades of yellow, orange, light green or pure white to the walls of the room. These colors are considered to be auspicious and one meant for pooja room designing. If you don't have enough of space to hang bells in the pooja room you may get it craved on the doors of pooja room. Make room for bells in the door designing and get an authentic traditional door designed for the space.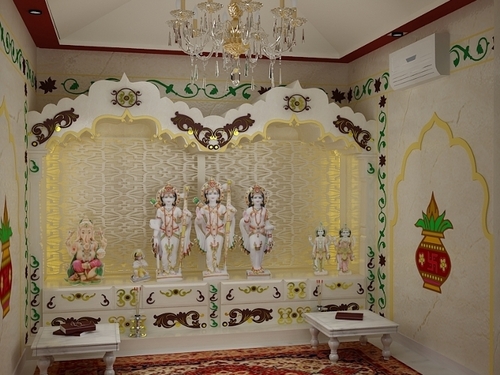 Create wall niches if you are lacking to accommodate any of slab, cabinet etc. They are very handy and they give a quite natural and authentic look to the pooja room. Adore the room with some handmade or handicraft decors harmonizing it well with the devotional factor. Some homes use beautifully painted clay idols that you could touch up on your own with some imagination! Alternatively, chrome, silver or wood framed photographs of deities could beautifully adorn the pooja room as well. Enhance the aesthetic factor of pooja room with these useful and powerful tools of beautifully painted idols or pictures with amazing frame work of chrome, silver, wood polish etc.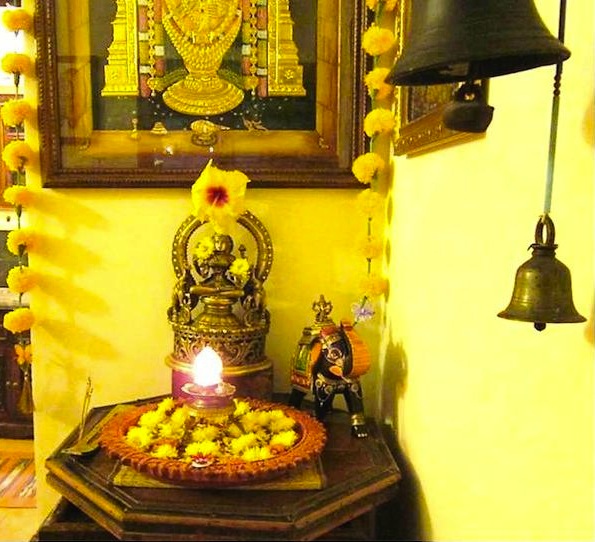 Light up each and every corner of pooja room with ceiling mounted light. Eliminate shadows; get an overall good lighting with ceiling lights. You may put up with some decorative lights or focus light to give a glowing and charming looks to your pooja mandap. Adore the walls with some flower hangings, auspicious hangings etc. to get the touch of purity of prayers and traditions. The décor of the pooja room must be one of harmony, peace and devotion. Choose the right kind of decoration for your own abode of Gods and do not forget to add fresh flowers each day to maintain its authenticity and freshness forever.

comments