There's only one place in the comfort of your home that keeps most of us off the maddening mayhem – the serene prayer room or worship corner. It's one of those spaces where you wish to be left alone for some precious moments of reflection. Irrespective of our religious orientation, each one of us pines for a space in the home that is untouched by the happenings around.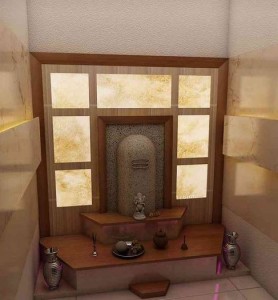 Here is a small pooja room with a Shiva ling themed wall. The elegant wall is made up of backlit onyx stone. The beige walls and light-colored wood panelling offers unmatched beauty and grace to the pooja room.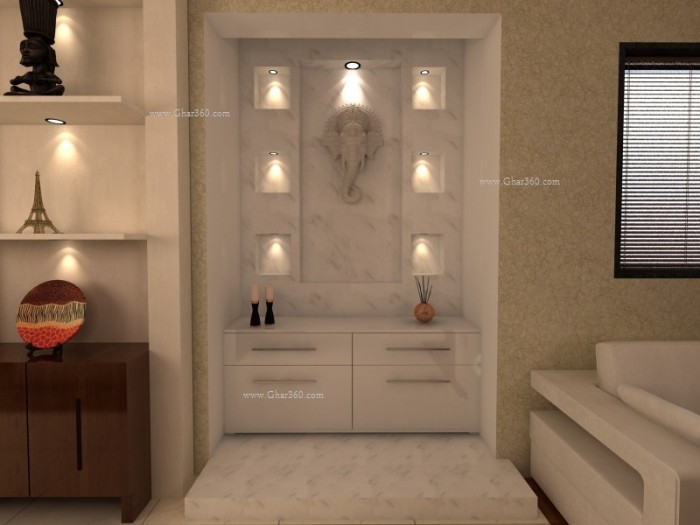 Modern prayer room designs are more in demand these days. People have started living in small homes and apartments and most of them don't have a separate pooja room. Hence, these compact, small, stylish, modern room designs are preferred today.
Place for the Divine Space+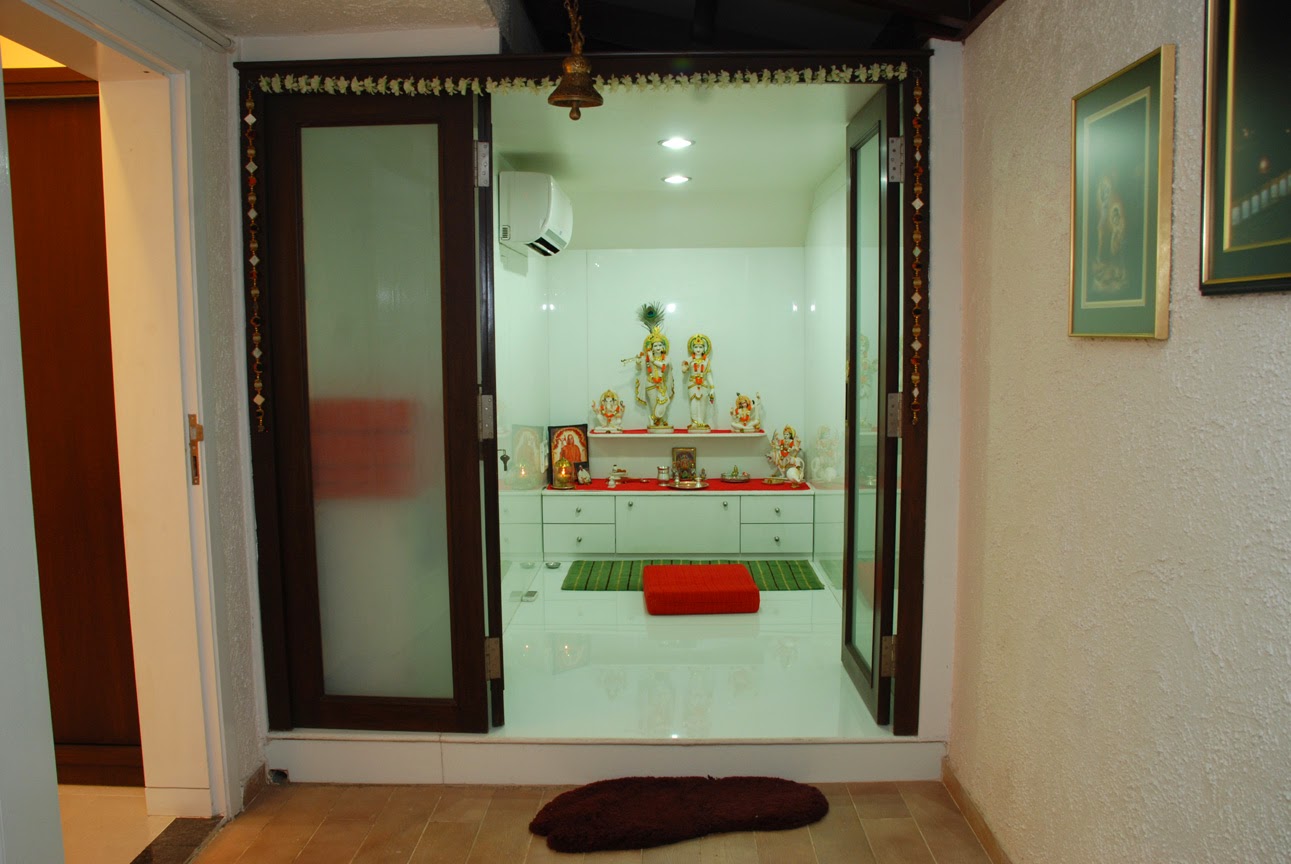 Traditional households in India had the luxury of space. A mandir in Hindu homes and miniature of church in Christian homes were quite a common sighting. Those were the days when a worship room was planned with the same vigour and detail as the rest of the home. But as the dwelling spaces became smaller, prayer rooms became prayer corners, wall mountings and cabinets. Nevertheless, worship spaces continue to occupy a sacred place in our dwellings.
This pooja room is apt for a modern apartment. It's has a nice design that is sure to create an atmosphere full of divinity and spirituality in your home. Have a look at the intricate design on the front panel and the door.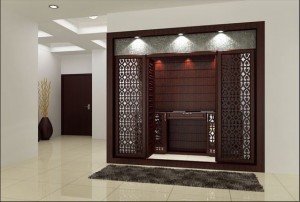 Vastu Shastra, the science of architecture and construction, continues to be the guiding principle in the designs of many Hindu homes. According to Vastu Shatra, Northeast direction is the best location for pooja room as it emanates positive energies. If that is not possible, North or East is also fine. The Brahmasthana or the centre of house is a good location to have the pooja room if the area is big enough.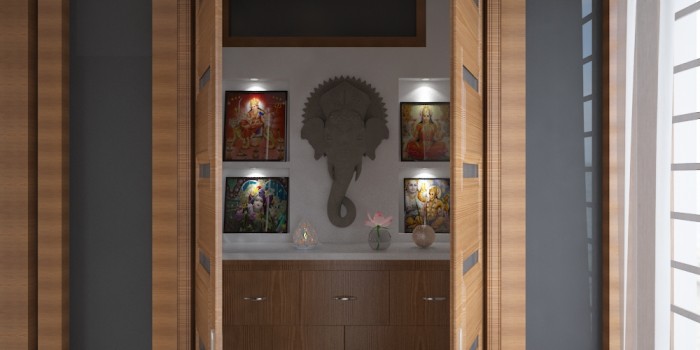 The Christian home altar is usually preferred in drawing room but it could differ from household to household. Parsis prefer to have their prayer corner in the kitchen for the aferghaniyu, diyo, flower vase and other symbols.
Look & Feel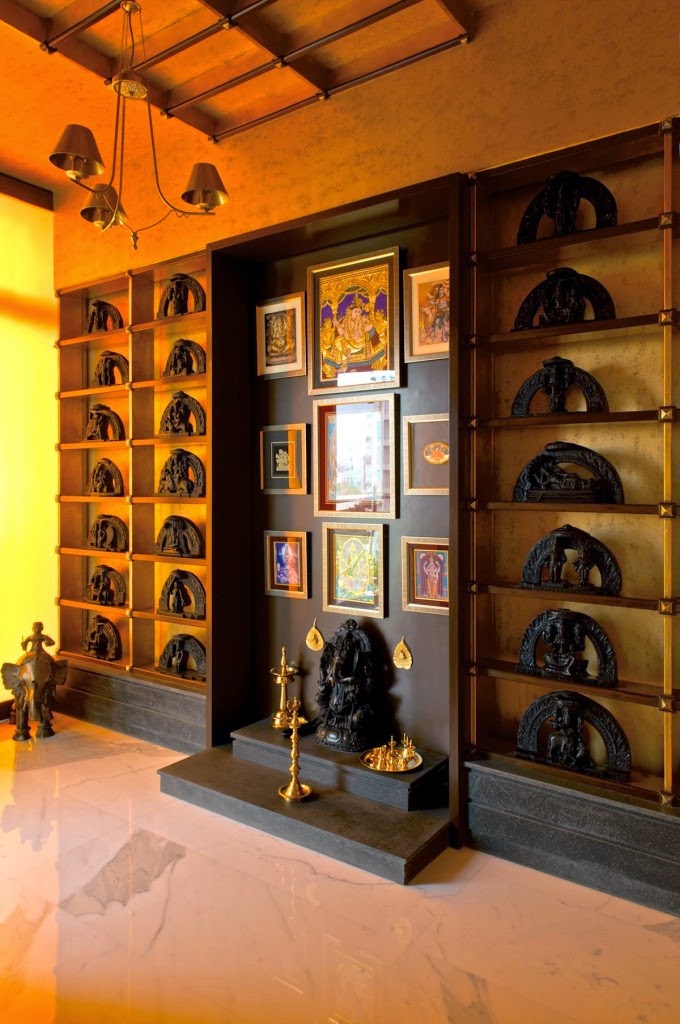 A well-lit area uplifts the spiritual mood of the place. With enough natural light, the space should be airy and open. If the corner or the room faces the sunrise, nothing like it! White, light yellow or orange and light blue or green are the best colours for the walls. The floor should be designed with white or off-white marble. The idea is to keep it as bright-looking and spacious as possible.
Design & Décor Ideas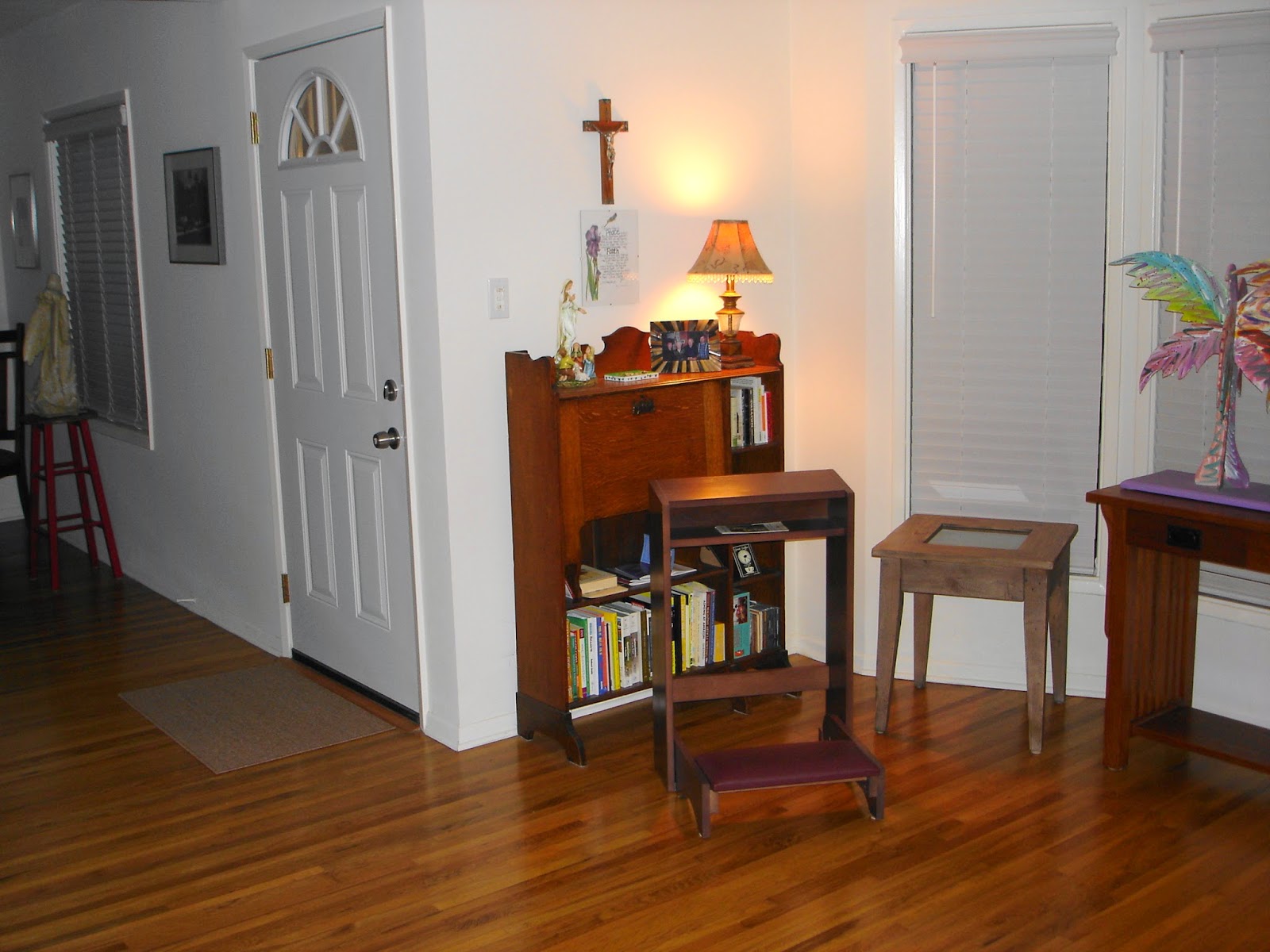 In many Christian homes in India, cladding stones or cladding tiles are used as a backdrop for Jesus Christ's statue or image. In traditional Hindu households, wood is predominantly used for the structure of the mandap or slab. But over the years, many other materials such as marble, granite and metal are also being explored.
Take a look at this small pooja room design. Decorate it with colourful rangoli design. The build-in platform design is used to place idols and photos of gods and goddesses.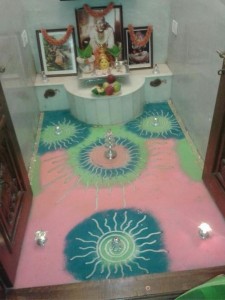 Make your worship space artistically interesting with intricate carvings in stone, wood, marble or metal. You could keep it fairly simple by having a carved marble panel on a raised/levelled semi-circular platform. Mount the images of deities on this panel and have it interestingly lit from behind. A few potted plants on the side will keep the place refreshing. A wooden showcase-cum-prayer alter mounted on the wall is also a great idea in space-deprived apartments of today.
Here is a pretty pooja room design in red. The cupboard provides space for keeping your deity. It comes complete with doors that have small bells on them. The modular pooja cabinet has lots of storage space too.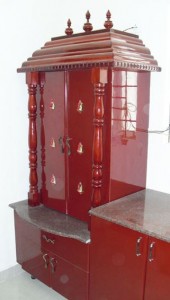 If you have the luxury of space and can afford a dedicated room for worship, go for a more exotic look with bricked walls, rock stones and mystique indirect light. According to Vaastu, the door to the pooja room should be of double-shutter so it doesn't cause inconvenience when it is open. An elaborately carved wooden door at the entrance with space for bells lends a truly elegant look. A Christian prayer room or area generally has no doors and is an open space.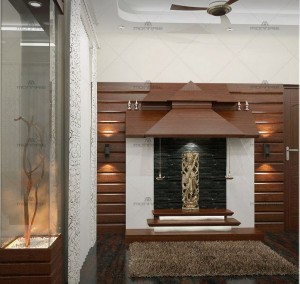 Dedicate a wall of your living room to build this classy pooja room. Go for the step concept design; add proper lights to keep it bright and visually appealing. Add black stones in the background and place metallic idols to get this look.
Wood-carved calligraphy and wall art with Quranic inscriptions have been the traditional paraphernalia of Islamic décor in Muslim households. Wall decals or vinyl stickers have emerged as the new décor idea for calligraphic art. Although there is no restriction on the place for offering prayer, setting aside a spot in a room that is away from the hustle and bustle may help in maintaining high standards of hygiene and also upholding the sanctity of prayers.
Idols, Images & Paraphernalia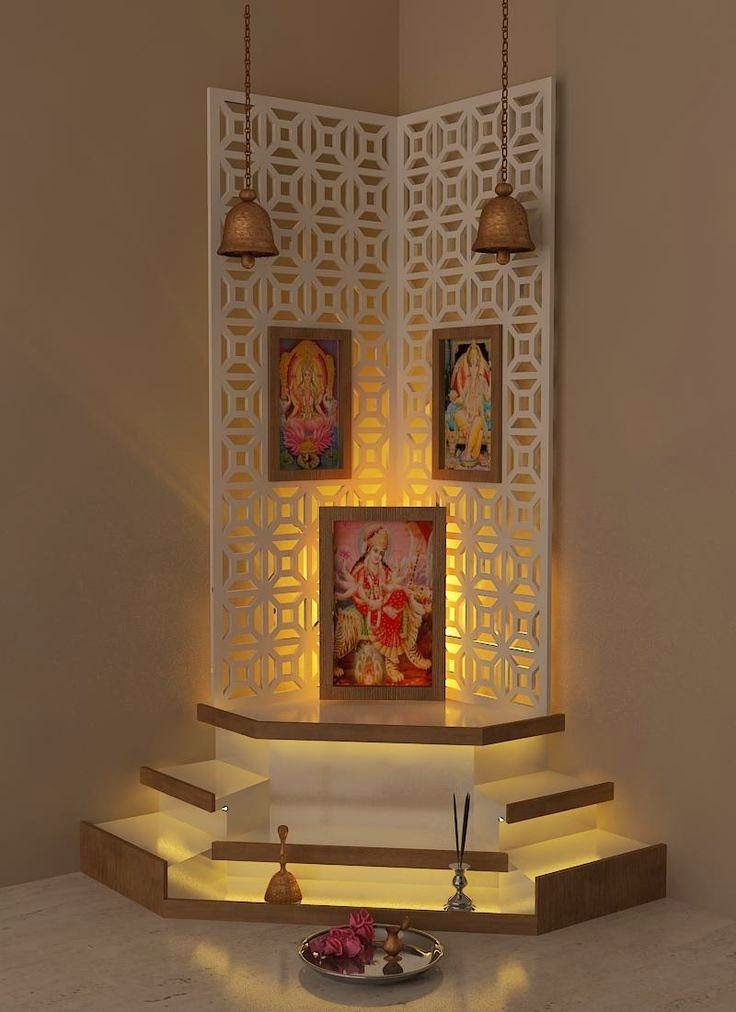 For idols, you have varied options available in the market — frames, artefacts, sculpture, murals and wall-art.
 Keep it Tidy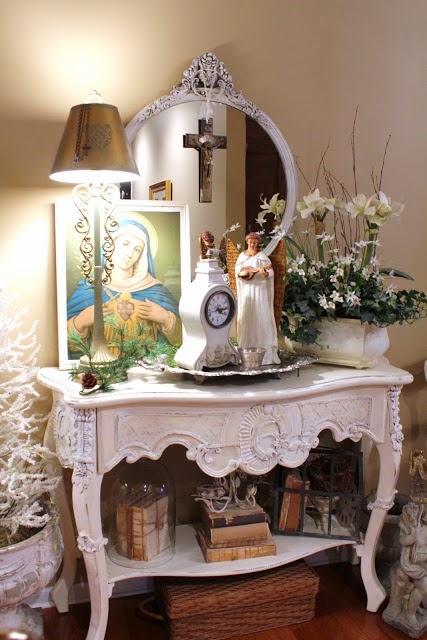 Make your prayer room look welcoming and inviting so you can revel in moments of solitude and reflection.

comments