Honeymoon suite is a room which should have a perfect design and decor, view, comfort and privacy for the very special and newlywed couple.  Perfection in the room design and decor can be simply achieved by smooth, romantic and soft color theme blended with furniture placement, furniture designs, dramatic and lavish lighting effects and soft touch of fabric material. Design the space with lots of warmth and fill it up with un-ending romantic flavor of décor and design like soft color cushions, silky bed sheets, bed covers, flowers, candle light, etc. Let each and every inch of the room get ornate with romance and love. After all, it's not just a simple bedroom it is a special honeymoon suite for the lovely couple to start their life with love, care and unending togetherness.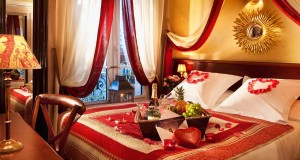 Not just the beautiful décor and design matters even the outside view can fill in the spark in their romantic stay. Simply just the room décor and four walls are not enough to create romance and chemistry between them. Nature and outside view plays an essential role in spicing up the love between both. Let their senses get comfort of outside world and touch them through a big full wall window or two windows in a room. Just a room decorated with romantic flavor can become monotonous for them.

A wall glazed up with full window connected to a wonderful garden view or a balcony view fills a bright and touchy sense of romance in the room. Dress the windows well with soft and silky curtain fabrics and they should be well matched up with the overall designing of the room.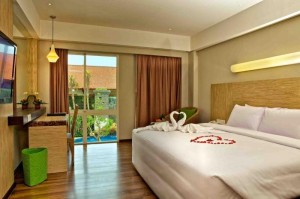 Let the design and décor get blend in perfectly with comfort.  It is one of the most important elements which should be taken care off. Do not forget they are just not on a holiday it is a romantic stay for the couple to start their life. Comfort them with king size bed, big pillows, place in a sofa or a couch with a center table or side tables. Provide them good space with proper and flexible accessibility, storage cabinets, hooks, few open shelves or racks or may be some artificial wall niche. Make the first impression of the room classy, romantic and well settled with perfect placement of furniture according to the room size, shape and design.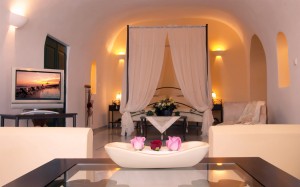 Last but not the least the most important and essential tool of the room is the privacy. Perfect sound insulation is required for a private and quality time. To add in the privacy terms do not forget to use such glass material which is translucent, frosted glass or itched glass. Avoid over use of glass at any door or window. Ornate the privacy factor with designer curtains and draperies. Draperies are successful to add in a touch of royal and classy looks to the room.
It is better to comfort and silent their footsteps with rugs or carpet according to the design idea and space of the room. Placement of some romantic and sweet accessories is advisable and important. Avoid any kind of negative impression by implementing over dark colors, negative paintings, wall arts, etc.

comments