Planning your home's interior design takes up a lot of time. This is understandable because your home is your sanctuary. Before you pick out all the furniture, you first need to decorate your walls, which is a crucial step because it will set the ambiance of the room.  If you're looking to increase the value of your home, this guide can help you get started; but, if you're just confused about whether to get paint or wallpaper, read on to know which one will work best for you.
Wallpaper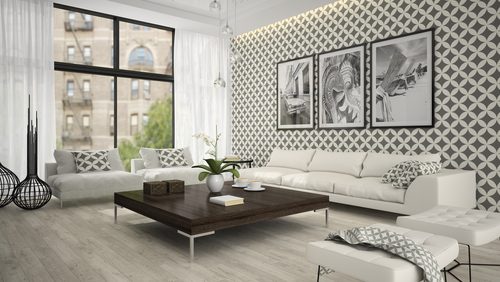 The Pros
1) Easily Covers Wall Imperfections – If your home is newly built, then there would be no problems with cracks and holes. However, over time, new homes will also develop those unsightly imperfections. Wallpaper can easily cover them up. You don't have to fix up the walls before installing the wallpaper. You only have to prep the wall and then paste the wallpaper. Then, those cracks and holes will no longer be in sight.
2) Comes in Variety– There are different kinds of wallpaper and various ways to install them. Wallpaper can come in plain or patterned types. You have a wide selection depending on your taste. You can choose plain styles if you like simplicity or a patterned look if you want more detail on your walls.
3) Long-lasting – Wallpaper typically last up to 15 years so it won't cost you too much in the long run. You won't have to buy replacements unless you want a change of design.
4) Washable – Some wallpapers are washable, which means when they accumulate dust or when children accidentally write or paint on them, you can clean it up. Just make sure that the wallpaper you chose is actually safe for washing.
The Cons
1) Initially Expensive – Though there is a wide range of wallpaper prices, they are expensive up front. You have to buy the rolls, paste, chemicals, and tools for the application. You can install the wallpaper yourself, but it requires actual skill and the right experience to do it. So, if you're not sure what you're doing it will cost you to hire a professional.
2) Time-Consuming Installation – Some prepping is required before installing wallpaper. If you choose patterned wallpaper, you'll have to make sure that the patterns are in the right order, especially if it's a continuous pattern. You will also have to peel off old wallpaper if there is any, which will require some chemicals to enable you to peel it off.
3) Not Ideal For High Moisture Areas – Using wallpaper in bathrooms and kitchens is not a good idea. Moisture can peel off wallpaper, which doesn't look good. If that happens, you'll have to reapply the paste to make sure everything is flat on the surface again.
Paint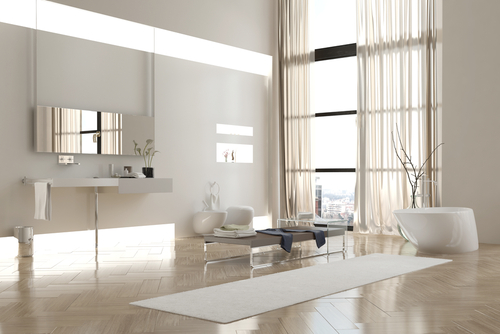 The Pros
1) Low Initial Cost – Paint is reasonably inexpensive. The brushes and other supplies needed are also affordable. You won't even need to hire someone else to do the job because it's really easy to paint over a wall.
2) Infinite Selection of Colors – Whatever color you may think of, you can have it. It may come readily available, or you can mix it up if you want a different shade. The options are limitless.
3) Can Be Used in Any Room – Unlike wallpaper, you can use paint in high moisture rooms around the house. Paint can withstand the water and steam from your bathroom and kitchen.
4) Easy to Paint Over – If you are getting tired of the current paint color of your walls, you can quickly change it up. Paint is quick and easy to apply, and if you make any mistakes, it's easy to paint it over.
The Cons
1) No Patterns – Paint only comes in solid colors. Your walls will be plain unless you create patterns yourself. You won't find any paint that has a pattern to apply to your bare wall. If you're looking for more depth and texture in your rooms, paint is not the one for you.
2) Cannot Cover Up Wall Damage – Your walls should be free of any cracks, bumps, or holes. Priming is required if you want your walls to look great after a paint job. You need to fill in the gaps and cracks which will take time and money.
3) Messy – Applying paint is messy. You have to cover up certain parts of the walls before doing a paint job. If you plan to hang anything on the walls, you have to let the paint dry first, so the paint doesn't get to any of your decorations.
4) Toxic – Paint contains chemicals that can be harmful to the human body. After applying paint with volatile organic compounds, it still needs curing so that it doesn't become a health hazard to you or any of your family members.
Now that you know the pros and cons of paint and wallpaper, you can decide which one will work best for your interior design. They both have their advantages and disadvantages, which means it will come down to your preferences. Consider your budget, your ideal home design, and how often you will redecorate.
comments