As an Interior Designer/ architect or even a layman the understanding of colors are rather important as it not only has visual impact but is also responsible for simulation. In terms of mood & feelings it has been established that colors have physiological effect on human beings and their mindset. Colors have the power to create as well as power to ruin your well planned and desired designs. All the colors – warm, cool, romantic, primary, secondary, etc. have their own impact (both positive and negative) in the spaces where they are applied and used to design up your dreams. It's very important to acquire most of the knowledge about colors and their effects as in to choose the most appropriate one for your home, office, showroom, restaurant, hotel etc.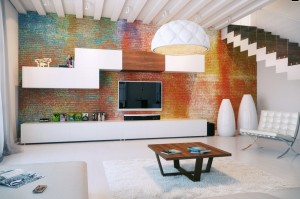 Every space has its unique requirement of color selection according to the following respective criteria. For effective and impressive implementation of colors one must consider few things before painting down the walls according to your desired choice and plans.
Size & Shape of the room
Exposure of light inside the room
Purpose of the room
Personal scheme
Occupants age (to choose the correct color scheme)
What's in the trend?
Mood required
Styling – Ethnic, Traditional, Modern etc.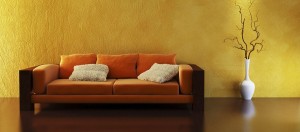 Colors and their themes do effect directly or indirectly to all the spaces. Colors when applied in attractive and appropriate scheme can bring on the amazing change and well created interiors for your spaces. On the other hand if colors being applied without any particular theme or scheme may end up with ruined results which will affect all your design ideas.

You may go for bold and beautiful combination of "black and white" colored theme for your interiors. It gives your interior's the super looks of luxurious and aesthetically born designs and decors which suits your lifestyle, status etc. Or you may go for most Hot & Sweet combination – "the red and white" color theme to get unique, powerful and sweet blend of interiors. This hot and sweet flavor of colors gives a great feeling of relaxation and purity. Adorable touch comes from white and red pokes the emotions in you to come out and reveal your desires, love, feelings etc.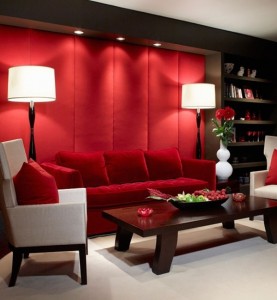 Such wild and sweet combination of color can bring up the lost charm of your interior and exteriors spaces. You may choose up well from different color schemes; Monochromatic, complementary, natural, analogous, split-complementary etc.
As I told you earlier every color has its own effect then why not to know about few common and most generally used colors in interiors to get more of the pleasant and well settled spaces.
White represents purity or innocence. It is bright and can create a sense of space or add highlights.
Red is a warm, bright color that evokes strong emotions. It is associated with love, warmth and comfort.
Blue calls to mind feelings of calmness or serenity. It is often described as peaceful, tranquil, secure and orderly.
Green is a cool color that symbolizes nature and the natural world. It also represents tranquility, good luck, health and jealousy.
Yellow is a bright color that is often described as cheery and warm. It is also the most fatiguing to the eye due to the high amount of light that is reflected on and by it.
Purple is the symbol of royalty and wealth. It also represents wisdom and spirituality.
Brown is a natural color that evokes a sense of strength and reliability.
Orange is a very energetic color and calls to mind feelings of excitement, enthusiasm and warmth.
Pink is essentially a light red and is usually associated with love and romance. It is thought to have a calming effect.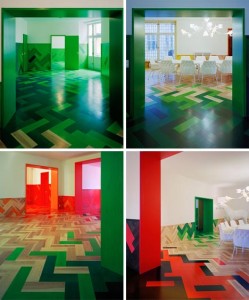 Play intelligently with the tints and shades of colors. Make in sophisticated and elegant combination to fetch in all the amazing spectacular looks to your design ideas and work. Colors are all set to beautify your world and you just need to apply the appropriate one for your spaces to get that desired looks and designs.
Image Credits: www.todossomosgeek.com

comments