Dining room is a place to get reunited after a long hectic day, personal space of the family, a place which is vacant during the day time but gets really busy during meal time, snacks time and family time. So, a space partly vacant and party super busy needs to have an impressive, low maintenance, easy to clean, cost effective and amazing floor design to serve easily and smoothly. At times we miss to put in a real good floor design in a dining room. Most of our focus is on dining rooms furniture, walls and other accessories. We forget the importance of matching floor design to complete the dining area design concept and get it well connected with everything present there. Or at times on the name of floor design we simply lay down marble or tiles without much of efforts and imagination. Now it's time to move ahead, time to spread  wide your narrow thinking to touch more of the designing roots, designing creations and be imaginative to pour in the best of floor designs for the dining room flooring.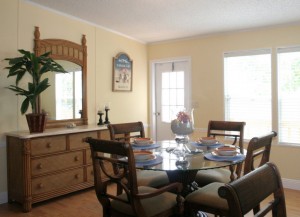 Impress your guests with the latest, trendy and stylish dining room floor design. Collaborate your overall designing, furniture and accessories etc. well with floor designing. With the range of style, patterns, colors, variety of material available in the market for floor design just put in a show stopper flooring and floor design. Make your dining area floor design classy and sophisticated with wooden floor pattern or wooden flooring. Available in different materials, like in pure wooden plunks, wood laminate sheets, vinyl wooden patterns, wooden PVC role, tiles with wooden pattern and texture, can easily be chosen according to your budget, style and other factors. Wood flooring impressions are one of the oldest yet most classy choices to go with. They have amazing quality to mix up well with every kind of furniture and over-all decors.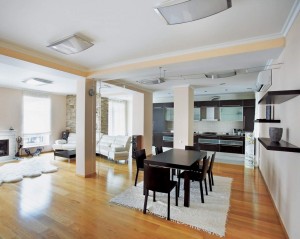 If you are looking for bit of reasonable, non-noisy, non-slippery and versatile floor designing for your dining room then simple vinyl flooring is the one stop solution for all the problems. They come in tremendous variety of colors, patterns, styling and design to accommodate your requirements in a very soft and sober manner. They tend to fit in your budget and designing concept very easily. They are easy to clean, no need of any particular high range maintenance and can make an amazing impact with its bold and beautiful designs. Dining room floor designs glam up more with simple, bold and clean designing. Messed up designs are considered to be an over-design for the flooring of dining area.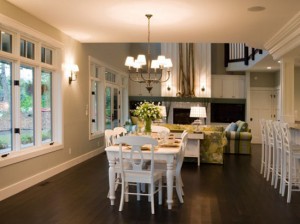 Chip in some marble with some granite blocks, or marble chips to get the royal touch of floor design for your dining area. They are one of the most durable and strong floor materials and designs. Because of heavy foot traffic at times floor design starves for some solid and durable floor material. Combination of marble and granite is authentically beautiful which gives a real original look of bungalow or a palace to your dining room area. Such design work is evergreen and is passed on to generation to generation. Not just the dining set of furniture and accessories do the talking; even let the floor mesmerize the area with its amazing presence and awesome fabrication.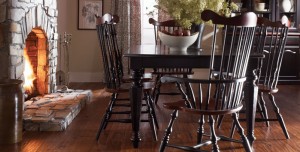 It is your dining area; you have to decide how to make it more beautiful and elegant with complete designing and styling. Impress your formal and informal guests with your home settings, customized dining room designing and floor designing. Dining room is a place where most of the floor space is engaged with furniture so opt for such material and design which shouldn't go unnoticed and wasted. Make your meals more delightful and yummy with the complete, mesmerizing and royal dining room designing and styling.

comments