With a little money and a lot of creativity, you can transform your child's room into something magical. For many, this area may seem simple by splashing colors, placing toys and games and basic furniture. However, if seen from a creative perspective, it's one of the most interesting and challenging space to design as it has to sustain well, be likeable during growing age of your child and look appealing.
Here are some popular themes you can go for a kid's theme room:
1. Smurfs: They are blue, they are white and they seem to really bring in a very sober and light color theme for us, naturally. Being considered as a popular character wagon, this theme is rare and exclusive in its existence but quite good to follow
2. Avengers: For many, superheroes have always been a motive of action and reaction and with growing times, children have moved out from just Batman and Spiderman to many more. A room based on avengers theme is a raging trend now.
3. Manchester united: If you're about to kick some balls, then kick some designing in your bedroom as well. Classic wallpaper, a flag and plain walls are a classic way to live up this theme. For all those who are fans of sports, this one is a very obvious choice
4. Mickey mouse and Barbie: Having the facility of lightings, fans, bed sheets being available of these characters in market by known brands, one can surely assume and be assertive of these themes being popular.
5. Frozen: A new woman is in the block to replace Barbie and other beauties. Rooms based upon this new movie seems to be raging everywhere and so much so that it has now reached your princess's bedroom.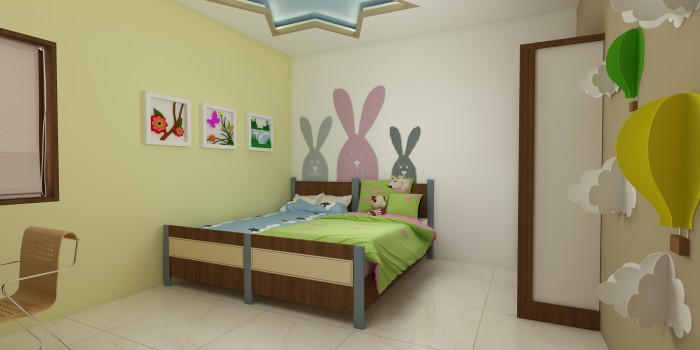 Here are some items you can use to easily decorate your kids room:
Wall stickers: They are easy to put, large on variety and cheaper than many other alternatives
Wallpapers: The concept of kids theme cannot be completed without a good background and to have that problem solved, we now have exclusive collections of wallpapers based on kids theme. Also, provisioning personalized wallpapers is making your kids dreams more true and real.
Fans and switches: Some leading brands now offer panels which are themed around cartoon characters and that adds to our styling quotient.
Personalized art: Nothing's better than your child's own creativity. You can frame paintings, certificates etc. of your children and decorate their rooms with their own accolades.
Simple tips to prepare you for a kid's theme room:
Choose flexible furnishings. Go with a style of furniture that has simple lines.
Give them room to grow. Children need plenty of space to move, play, store clothes and entertain friends. Design with your child in mind: A toddler requires lots of floor space for playing, while a teen needs seating for more adult activities such as visiting with friends.
Let the kids have a say. Allow them to be creative and express their own personality by allowing them to choose some of the furnishings and colors in their bedroom. Their private space will become a place that reflects their personality – and they might even keep it clean.
About the Author:
Sagar Datta heads and operates an interior design consultancy firm, Casa interio.  

comments