The layout, design and decoration of any space can create an impact to the mood and productivity for the individuals intended to use the area according to their age, interests, choice and surroundings. When it comes to kids class room it should be lively, childish cute, attractive with bold and clean designs which are easy to understand and child can get connected to the motive behind every design, sticker, poster etc. While designing a kid's classroom main goal in designing is to create space which should be full of comfort and positive environment. It is important to select a theme which is important and appealing both to the boys and the girls equally.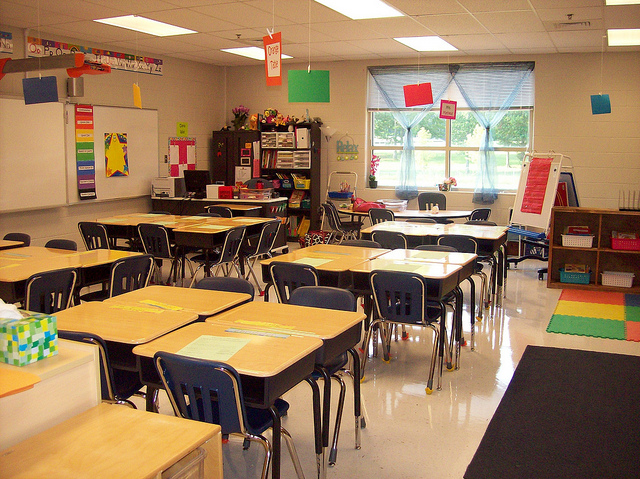 Muted colors of brown, green, red, and gold starts filling the space with charm, comfort and healthy environment. Since we have the small or medium size room to design as a classroom hence it is important to utilize each and every corner or section of the room. Cover the room with different kind of furniture, give them benches to sit by rectangular or square shaped tables, provide them with individual chairs for a personal and relaxing time. Accommodate few round tables in the class room for a group or team let. Let the kids enjoy their project work with their friends sitting around and having a good piece of time.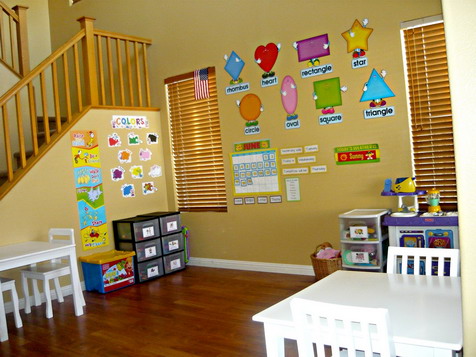 Make maximum and intelligent use of wall space just by adding up few different kind of shapes in different colors, fruit vegetable stickers, cartoon stickers, etc. so that it creates a direct positive and learning impact on the child's brain. Let wall help them recognize different shapes, colors, objects etc. with the help of proper placement of stickers, number and alphabets, charts, bulletin boards, white boards etc. Lower the height of such educational and fun sheets/ charts to give classroom a feel of educational environment and sweet designs. Outfit your reading area with different kind of benches, rocking chairs, horse chairs, patio style chairs etc. Bring in the variety under one roof to come out of any fatigue feel.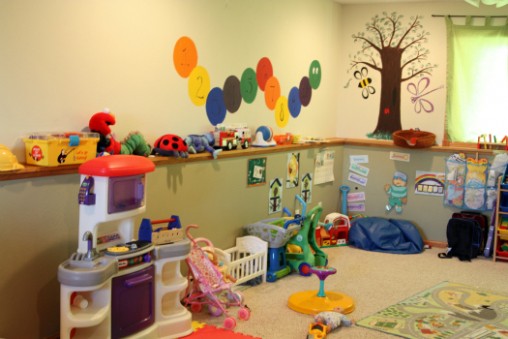 Adding a decorative rug to a small area helps to identify it as its own section like play corner, study corner or any other section. It defines the importance of the particular use of the respective area. Cuddle up well with incandescent lighting which actually softens the harshness of florescent lights. Stock up well with shelves around, racks, tables, etc. to keep in the child's stuff in a well-organized and proper manner. Adding real plants introduces nature to the room—kids love taking care of them. They love to have a small sort of garden types feel inside their study room. It brings in more of the positive energy and mixes up well with over all decors and design as well.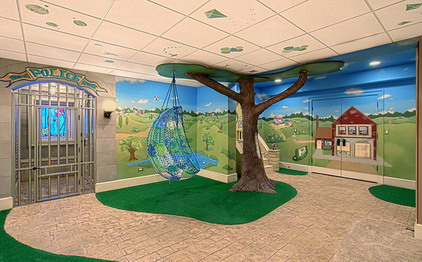 For some super excitement and fun you may jump upon any kind of amazingly cute and attractive theme which may also inspire the kids to take care of nature, their belongings, etc. You may hang up with some eco-friendly themes, nature themes, save water theme, save the earth etc. They are educational as well as can bring in the required design ideas for kids classroom. Create a small but effective media corner in each classroom to show the slides or videos of their book characters, stories, etc. It is fun as well as quick part of learning. Try to avoid teacher's desk. Let the teacher be part of their class according to their age group and choices.
Finding the 'just-right' piece of furniture can enhance a space so much. Just group in the furniture in proper and healthy way. Avoid any kind of sharp furniture's for the kid's classroom design. Adore the space with good soft and comfortable floor treatment with carpet or rugs according to different sections. Mark up well with general and decorative illumination. Utilize the wall space intelligently to convey your design idea as well as educational matter. You just need to put in these general efforts to bring up one of the best classy kids classroom with stylish design and awesome decors.

comments