A home is livelier when you have guests coming over every now and then. Of course, you want to give them the best hospitable experience possible. So, you make sure that your living room is comfy and welcoming. Having a soft cushion sofa in your living room is a great way to allow your guests to sit comfortably as you talk. While you're at it, you can enjoy a cup of tea or coffee, and for that, you're going to need a coffee table ready. If you don't have one yet, you should consider buying one now. To make that purchase worth it, you have to make sure you're buying the best coffee table that will make your living room more inviting.
To help you pick the right coffee table, here are some tips to remember:
Consider Your Living Room Space
Before you rush to the nearest furniture shop or online furniture store and go through all of their available coffee tables, you have to see if there's indeed a room for additional furniture in your living room. If you have a small space or an overcrowded living room, it'll be difficult to fit in a coffee table. But it's not impossible. You just have to learn how to organize your things and maybe consider selling your huge furniture and buying ones that occupy less space.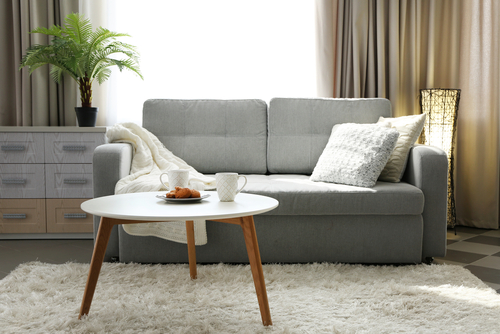 Size is Important
Once you're certain that you have enough living room space, it's time to determine the size of the coffee table you're going to buy. This will depend on the amount of space available. So take out your measuring tape start taking note of the possible size your coffee table should have. When you already have a concrete idea of the measurement, it'll be easier to choose among the available coffee tables in the store. check selly home for more furniture options 
Take Note of Its Height
When it comes to the coffee table's dimensions, aside from the size, it's the height that also counts. You have to make sure that the height of your coffee table is below or the same as that of your sofa. This is to maintain uniformity in your living room. You also wouldn't want your coffee table looking like misplaced furniture in the living room.
Choose the Right Shape
Coffee tables come in different shapes and forms, so you don't have to stick to the usual rectangular shape. Some coffee tables are round, some are oval, while others have multiple sides. Furniture designers who have a knack for the unusual would go beyond these shapes. For instance, you can find a guitar-shaped coffee table or one shaped like a four-leaf clover. Some of these are customized, which means they come with a hefty price.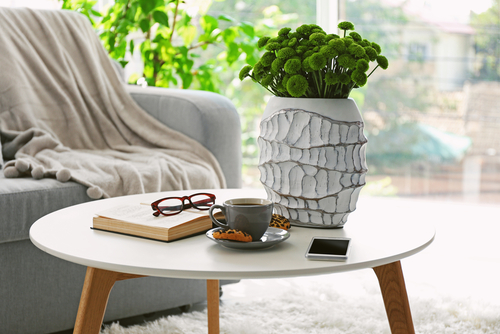 Type of Material Used
Another important thing to consider when buying a coffee table is the type of material it is made of. Your maintenance of the furniture will depend on this. Some of the common materials used to make affordable coffee tables are:
Wood – This is the traditional coffee table material, and it's also the most vulnerable to moisture damage. So, remember to use coasters for your cups and glasses because even the laminate could still wear off over time.
Glass – You won't have to worry about moisture damage on a glass coffee table, but you have to clean it up regularly because stains are more visible on glass.
Stone – Stone coffee tables are fancy, and they can be very heavy. Maintenance for this type of furniture will require the use of a stone cleaner and a sealer.
Metal – Metal coffee tables are susceptible to rust, so it's also best to use coasters on it as well.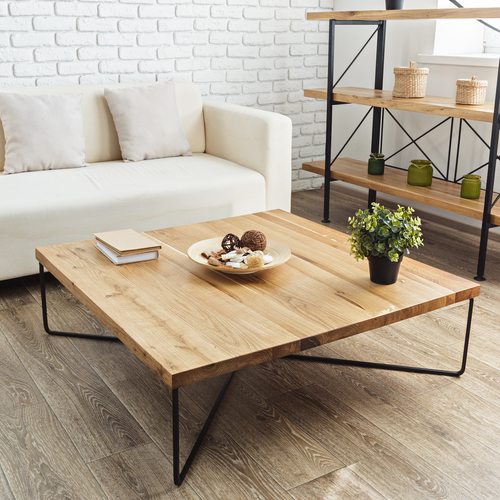 Design and Style
Aesthetics will also be important when choosing a coffee table. After all, you want your living room to look impeccable. Choose a coffee table that has a color that goes along well with your existing living room furniture. When it comes to the coffee table design, you can have one with intricately carved designs or one with plain and minimalistic style.
More Storage Space
A vase will look beautiful on your coffee table, but you'll be putting other things there as well. You can put magazines and books that your guests can read while waiting. You usually place things on top, but you can also buy one that has extra storage space below or one with drawers.
Check the Price Tag
A wise shopper will always consider the price. Unless if you're a millionaire, you have to set a reasonable budget for your coffee table and buy one that's within your budget. You can base your budget on the current price trends.
Extra Option: Buying in Sets
If you have more space and the budget, you also have the option to buy sets of two or three instead of just one coffee table. This is to accommodate more guests, especially if you love organizing events at home.
Final Thoughts
One thing to keep in mind when buying a coffee table is for it to blend in well with your other furniture. Once you've found the perfect coffee table, you have to be responsible enough for its upkeep so you can use it for a long time. You must also remember that no matter how nice your living room furniture is, what's going to matter the most is how you treat your guests.
comments