We all seek comfort and exceptional dining experience in our kitchen and dining areas at home. To achieve that, the presence of your loved ones during mealtime and the right kinds of furniture for the said rooms are a necessity. These so-called pieces of furniture include cupboards, chairs, and most importantly, the table sets. 
Frequently, we get torn between this and that style with all the choices available. While it's tempting to compromise quality over a well-designed table, you shouldn't commit that mistake. Experts suggest that opting to table sets with custom metal leg bases is the best choice since they are durable and versatile (they can match any material without giving up either quality or design). Have a look at these various tables to help you decide which complements your dining interior the best.
Glass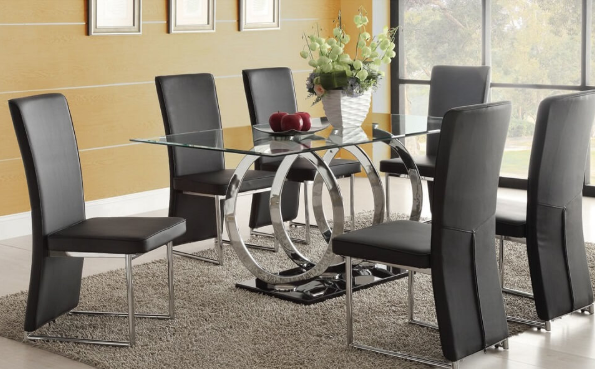 One of the most elegant table sets you can own for your house because it is easy to clean and doesn't require much maintenance. Likewise, it helps make your dining space appear larger compared to wooden furniture. If you want a more 'clean' and sleek table style in the dining area, then a customized glass table with custom metal table legs can do it. It brings sparkle and durability into your home without taking too much time and effort to keep it tidy.
Rustic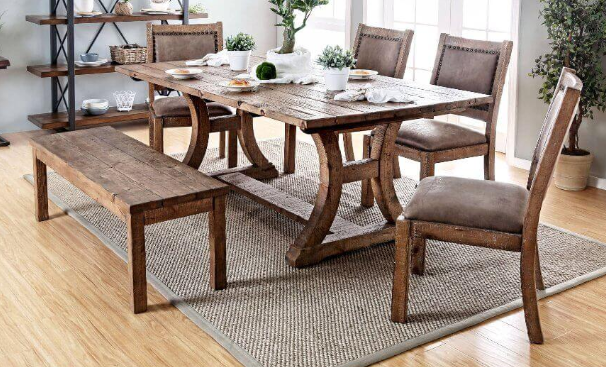 Do you want to embody Mother Nature in your dining space? The rustic table design offers an elemental and grounded ambiance while having your sumptuous meal regardless of the time. Enhancing its quality can be made through customizing its base with metal for a sturdy and long-lasting dining table set.
Marble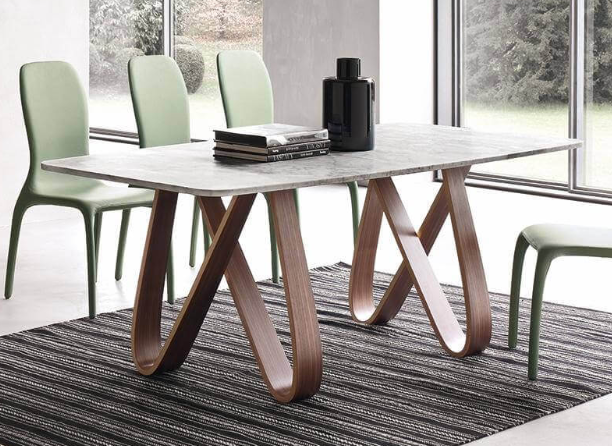 Aside from being the epitome of luxury for centuries, marble table sets are versatile as they can be shaped in any form or size. Its lavish appearance exudes elegance and grandiosity. This material has set the standard for the sophisticated and stylish approach of homeowners and interior designers when it comes to modern furniture.
Laminate Table Tops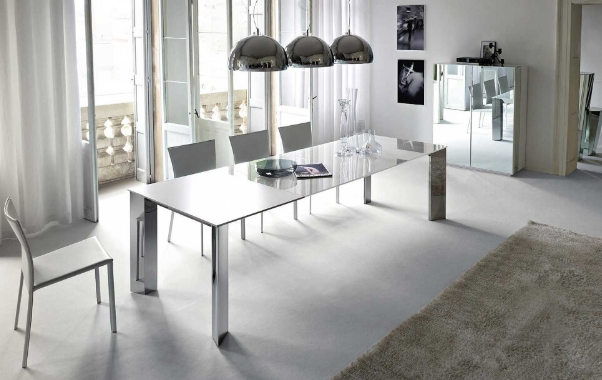 Commonly found in restaurants, laminate table tops are made by compressing layers of heavy-duty paper known as melamine and is then hardened into a resin. The properties of laminate tables include resistance to many substances such as flame, scratches, stains, and dirt. Furthermore, it is mostly preferred by food business owners as cleaning up grime coming from food particles would be more comfortable compared to others. 
Contemporary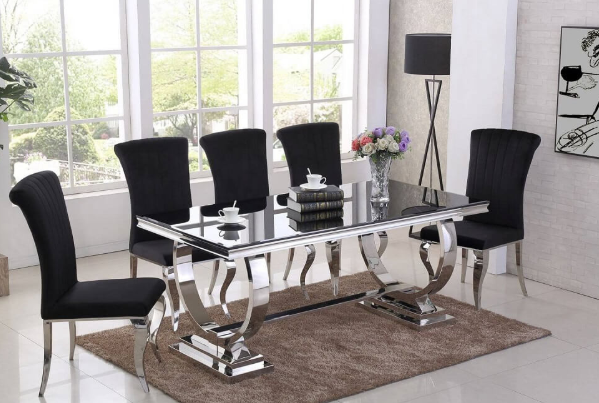 If you want to go for a futuristic look on your interior, contemporary table sets can provide you the right feel—the wide variety and diversity of materials available in the market complement the exquisite vibe. Modern furniture is continuous in its exploration of more innovative ideas to allow customers to personalize the appeal of their homes. A mixture of the old and new touches can undoubtedly surprise you.
Tile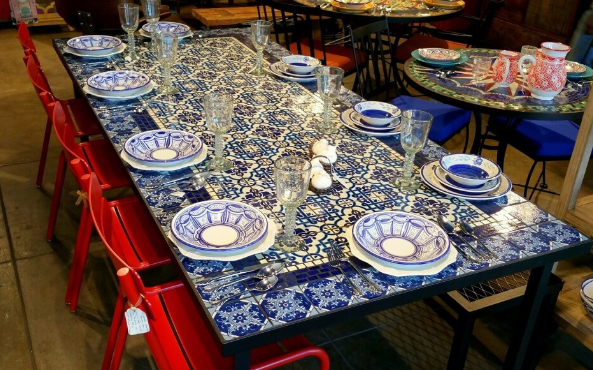 If your artistic style revolves around tile patterns, then this table design is for you. Tables don't have to be plain and blank; you can integrate those vibrant hues and abstract patterns into your dining area with the help of some colorful tiles. Generally, these are applicable for wooden tabletops since you can just simply fill them. Tile tabletops can also correspond with any type of chair and are ideal where places for outdoor recreational activities take place.
Square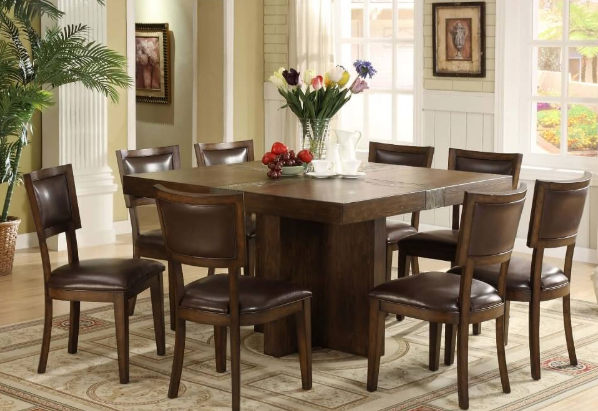 Square table sets are the best choice if you don't prefer a larger dining area. They also contribute to the balancing of the proportion of symmetrical rooms. Spaces between the seats are equal in the distance, which makes conversations lighter and more relaxing. Aside from that, this table design gives you the freedom to make combinations of chairs made of various materials.
Elongated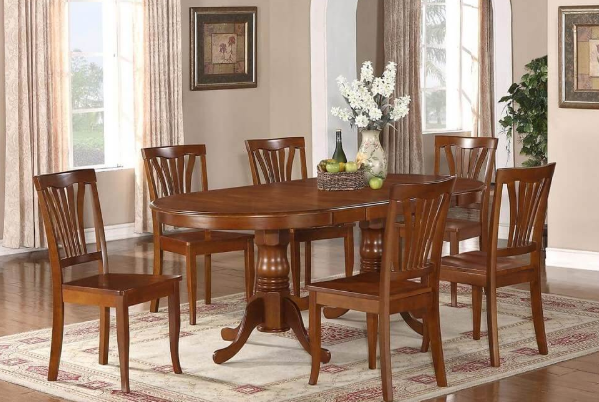 Elliptical-shaped tables are for you if you want it to have the capacity to accommodate more people into the dining area. This type of table provides more room for several chairs. Although smaller than the usual rectangular-shaped tables, oval tables don't occupy a lot of space because it has no corners. Another advantage is that it imposes less danger due to its round edges, which may hurt someone (especially the kids) when hit accidentally. This set design comes with either a narrow or a broad base and is best if customized with metal bases.
Traditional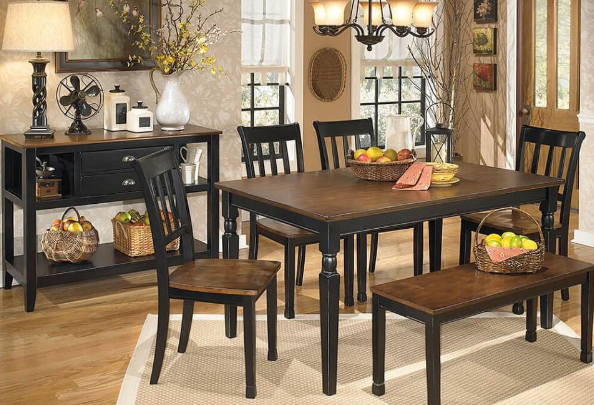 You can opt to stick for a traditional dining table set if you want to achieve the balance between the space and the modern feel of your dining area. Lesser burden and very simple, you can never go wrong with the traditional type. It is best to suggest customizing your table set with metal leg bases for a neat and durable finish.
Industrial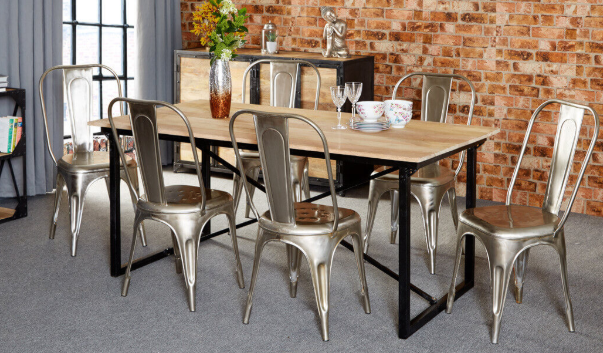 The least preferred by customers as it tends to appear very plain. However, if it customized with metal leg bases, it would appear sophisticated. When choosing this type of table, you need to be more specific on the size, design, and style to make sure it fits the size of your dining area, and it complements its entire look. Industrial table sets usually have wooden tops joined by steel bases and most recommended for external use.
Metal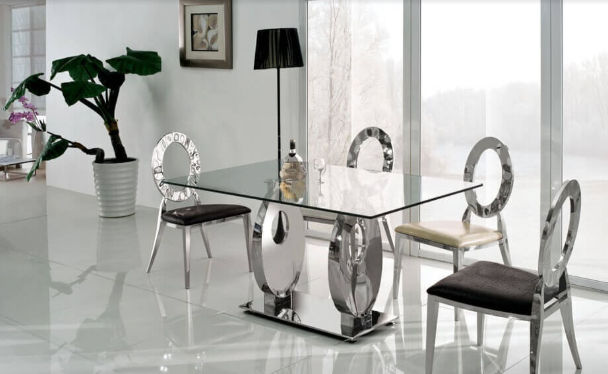 The metal table set is highly suggested if you aim for a serious, professional, and reserved environment. It is perfect for stylish homes and is very easy to clean up. Moreover, it is resistant to combustion and wear-and-tear concerns, so you'll have peace of mind while at home. Also, if you own pets at home, your fur babies won't be able to damage your furniture easily.
Freeform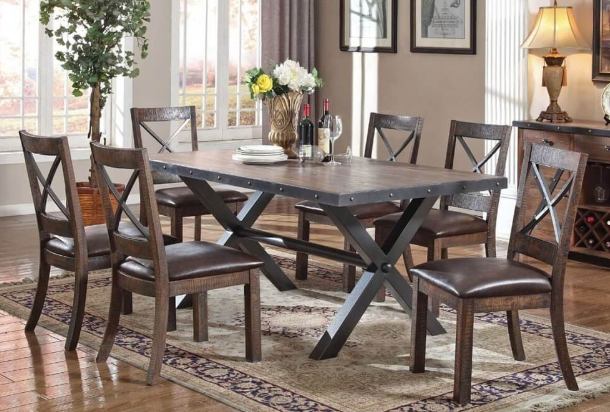 With this table design, your imagination is the limit because any form is applicable. With no exact shape to follow, you can experiment different concepts to achieve that table style that you desire while making sure that it will add beauty in your dining area. Mix and match various materials to produce a table design that's wholly original and unique.
Pedestal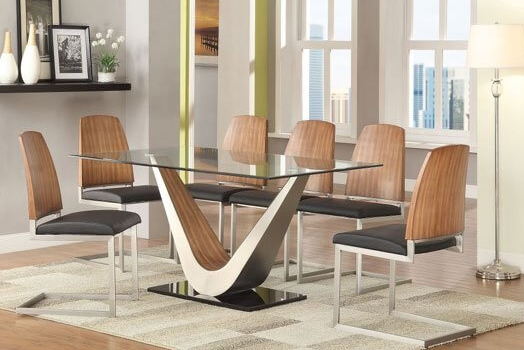 With this style, the table consists of a single base and can be mold into any shape. It is sturdy enough to hold the weight of any material used to create the tabletop. Its central support can also be customized to any type of design or pattern you wish for the base. Furthermore, it can accommodate more seats as its legs don't occupy more space than the typical 4-legged table. 
comments