Pets are said to be the companions of every human who stick with them through good and bad times. There are people who go out an extra mile to get the best things for their pets including pet pins. You can get some of the best pet pins from vivipins for your pet dogs, cats, and other pets. Apart from having the best pet pins, people also dedicate special rooms to their pets. And when there is room for pets then there is a completely different decor for the room as well. That decor should be changed from time to time.
Just like we want to have changed in our room decoration, our pets also want the same. Thus it is our responsibility that we take good care of our pets and give them proper decoration and makeover of their rooms from time to time. This particular thing will keep them happy because who doesn't love a new decoration or revamp of their room. But decorating the room of a pet may not be as easy as it looks like and it won't be similar to how we decorate our own rooms. We will take you through some of the best ideas that you can use in order to decorate or design your pet rooms.
Up-Size Tire Dog Bed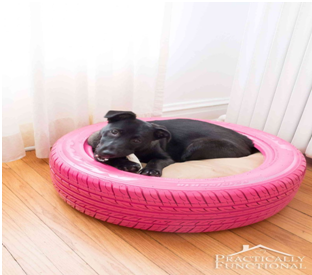 Having an up-sized tire in your pet room for your dog is one of the coolest things that you can do. And it is not that expensive as well. All you need to do is get an old tire and turn it into a dog bed with some small decoration stuff. One thing that needs to be noted here is that you will need a big tire so a tire that you can get off a truck or bus will be the most useful in this case. The best thing about having a tire bed is that your pet dog would easily fit into the space of a tire and you can have a small cushion in the vacant space so that your pet dog can enjoy a peaceful night of sleep. You can change the color of the tire according to the color of your pet room with the help of a spray paint if you want as the tire will look better with different color tone.
Dog/Cat Wooden Crate House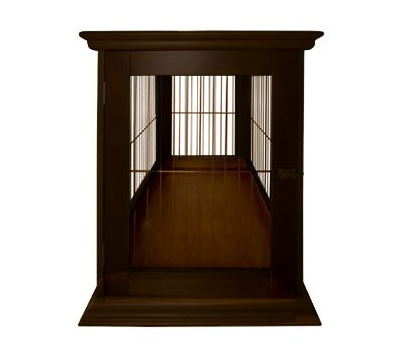 Another thing that you can have in your pet room is a dog/cat wooden crate that usually serves as a rest house or a playhouse for them. Usually, this type of house can be used for all pets and is easily available as well. You can find different wooden crate houses online on stores like eBay and Amazon. However, in order to save some money, you can easily build these houses on your own as you will only require wood in it apart from your toolbox. You can then make changes to the design by coloring the crate house or even putting brand new wallpaper on it in order to make it look beautiful. There can be a different number of things that can be done in order to make them attractive. Balls and discs with which the pets usually play can be put inside so that they can spend some good time playing in there.
Table Bed for Pets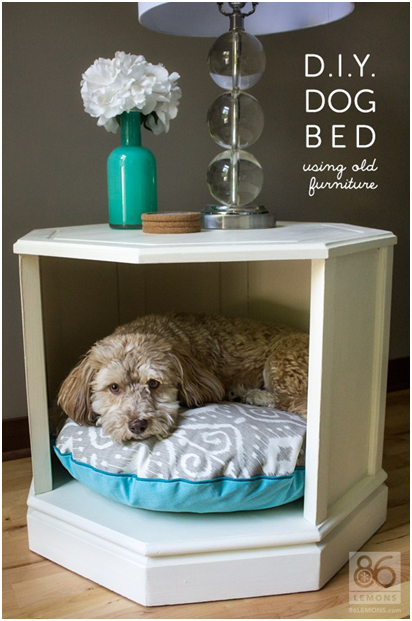 If you are thinking that we are dedicating a complete table to the pets than you are totally wrong. That is not what we will be doing. Rather it will be a table that will help us as well as the pets. A table can be designed in which the bottom part can be made as such where the pets can come and relax whenever they want. On the table we can keep our stuff on and under the table there will be space for the pets only. Cushions and other stuff for pets can be kept in that place so that the pets are all comfortable whenever they come to relax in the table bed. Serving both the purposes, this is another thing that you can have in your pet room with the elegant design of the table adding more beauty to the table.
Hanger Cat Tent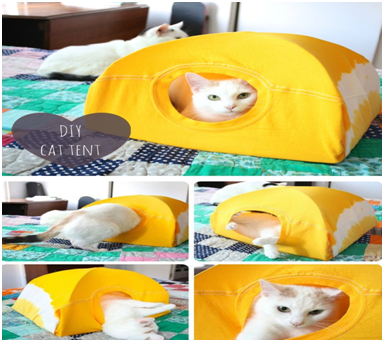 We all know how flexible and quick the cats are. This is why we need to have a similar playing space for them where they can play all day. A hanger tent with small openings is a perfect example of it. This tent can be placed anywhere in the house with four small openings from the four sides. The cat and kittens can jump in and out through those openings as well making it a fun thing to do. They can relax in these tents and play over there by going in from one of the openings and then getting out from the other opening. This way it will be all fun and play for the cat and the kittens. You can get these tents online or you can even make it yourselves by getting some funky looking tent clothing and making openings in it so that the cats can play.
Briefcase Bed for the Pets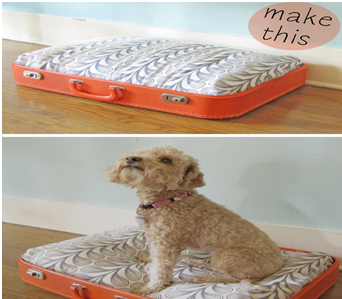 This is another easy to make and cheap bed option that you can have for your pets at home. Virtually there is no cost involved in making this bed but the only expense that you can incur is of getting a cushion of the size of a briefcase and some spray paints through which you want to give the briefcase a totally new look. You can use any old briefcase that is in your home and is not being used. Cut off the top part of the briefcase and use the one in which you dump all your clothes to make it a bed for the pet. Put a cushion in it and make some beautiful colorful designs so that it seems attractive. Put it in your pet room to add more color so that your pets can have another bed option as well.
comments