A pool alarm is one of the best investment a pool owner can make. A pool alarm will watch over your pool or spa and reduce the risk of children, pets or non-swimmers from accidentally drowning in your backyard. You can choose one from the several alarms available in the market. Some alarms include gate, door, voice, infrared and sensor, door, and floating/wave alarm.
Why Pool Alarms are important
If you do not have a pool alarm yet, here are the top reasons why you need to get one today.
      1. Protect Children. If you have babies or young children, you need a pool alarm. Your neighbor's children may also get curious, and since water is an attraction to children, they may find their way to your pool. A pool alarm is the best way to protect wandering children in your neighborhood who may think of playing in your pool. Look for an extra-loud alarm that can get the attention of your neighbors.
      2. Protect Pets and Animals. Cats, dogs, and other animals are also prone to pool accidents. An excellent way to protect pets is to get a floating alarm that goes off when anything more substantial than eight ponds falls into the pool and makes waves.
       3. It is a Law Requirement. Most states have pool safety laws that require every pool owner to get a pool alarm. You can use a pool gate or door alarm that sounds when someone opens the door leading to the pool area. The best thing about a pool gate alarm is that the pool owner can intervene before the intruder gets into the pool. Check your state laws to understand your pool laws.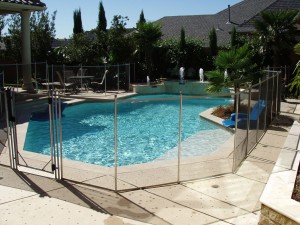 How pool Alarms Work
Pool alarms alert the owner when there is an unexpected breach of the swimming pool water. There are several types of pool alarm systems such as surface wave detection, sub-surface detection, pool immersion, and door and gate alarms. Each of these alarms works differently. The surface wave detection alarms work in two different ways. First, you can mount them on the deck of the swimming pool with a sensor that extends to the top of the water. Second, the unit can float on the surface of the water. When an animal or someone falls on the water, the waves trigger the alarm.
The sub-surface detection alarm utilizes sensors that are positioned below the water surface. Immediately there is a change in pressure, the alarm will go off. Pool immersion alarms consist of a base station and a bracelet. The alarm is equipped with a sensor and is perfect for small children and pets. Once the bracelet emerges in water, the alarm is triggered. Door and gate alarms work differently. You install the alarms on the door or gate the lead to the pool area. If the alarm goes off, someone is trying to access the pool. This alarm system is excellent for preventing possible intrusion into the pool.
Keep uninvited people and curious children off the pool by looking for the best pool alarms today
comments