If you're one of those lucky people who have a beautiful bedroom, but don't want it to be a boring place to sleep, there are some great tips to help you turn your bedroom into an oasis. Your bedroom is your personal space, and how it looks can affect your ability to relax and sleep.
There are many ways you can transform your bedroom into an utterly comfortable space, and most of these strategies are very easy to do and inexpensive. In fact, you can turn your bedroom into a brand new space as long as you're willing to roll your sleeves and do some work. 
Here's how you can turn your bedroom into an oasis that it ought to be:
Start With The Temperature
It'll be challenging for you to do anything in your bedroom if the space is too cold or too humid. Do you think you'll be able to sleep in your bedroom if you'll start to drip in sweat minutes after stepping in?  How would you relax if you see yourself shivering because it's too cold inside your bedroom?

For you to turn your bedroom into an oasis, start by making sure that the room has the right temperature. Your bedroom shouldn't be too humid or too cold; it should have the right temperature that will help you stay comfortable for hours.

There are many ways on how you can improve the temperature in your bedroom. You can start by adding some exhaust fans or investing in a PTAC air conditioning unit. You have plenty of options available in the market today, so make sure to choose based on your needs and budget.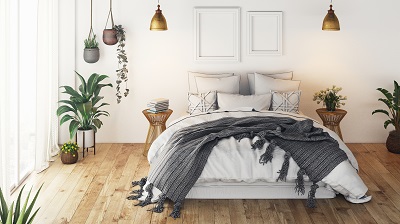 Buy The Right Mattress
Another way to turn your bedroom into an oasis is to invest in the right mattress. The mattress you'll use should suit your sleeping position and desired level of firmness. Your mattress is vital because it affects the quality of your sleep and your overall health, which is why you should try out several options before buying. 

You should also buy several pillows to match your mattress. Having a sufficient number of pillows in your bedroom is important because this can affect your comfort and ability to fall asleep. Some people find it hard to sleep even on a high-quality mattress if they don't have enough pillows to support their bodies.

Pay Attention To The Colors You Choose
One important thing to keep in mind when it comes to turning your bedroom into an oasis is the colors present in the area. Colors affect your mood, and picking the wrong ones will make it hard for you to relax in your bedroom. The wrong colors can even make your bedroom look cluttered and, in some cases, cause stress.

Some of the best colors you can use for your bedroom are green, sparkling silver, slate gray, and tan. Depending on your preferences, you can paint your bedroom walls in any of these colors or decorate the area using items that come in these colors.

Get Rid Of Noise

If you want to turn your bedroom into a truly relaxing space, get rid of the noise. This is one of the easiest things to do, but most people don't take it seriously enough. While you may not be able to turn your bedroom into an oasis of silence, you can still drastically reduce the amount of noise that enters the area.

Try getting some acoustic wall panels, which will take out the majority of the ambient noises that enter the room. You could also get soundproofing foam, which will keep your room quiet for the majority of the time.
Decorate According To Your Style
Another great way to turn your bedroom into a splendid oasis is to decorate the room with your own personal touches. You can use items such as rugs, paintings, pictures, and sculptures, which you may have collected over the years.

Make sure to use these items in harmony with one another because if not, then it will create the illusion that you have a smaller space in your bedroom and make your bedroom look like a mess. It's also a great idea to decorate the ceiling of your bedroom with printed wallpapers to achieve a romantic vibe.
Allow Natural Light In
When it comes to lighting the room, you should try to make it look natural rather than use bright lights. Natural light can really help you relax after a busy day, and can make your bedroom look bigger and brighter.

If you have enough space, then you can put up a window that would let more natural light in. You can also use more mirrors in your bedroom as these can effectively reflect the natural light coming from your windows. 
Show Off Your Creativity 
Regardless of the size of your bedroom and your definition of an 'oasis,' there will always be many ways on how you can achieve this kind of ambiance. Just don't forget to let your creativity shine as you're renovating your bedroom, plus you'll be surprised at how fun this task actually is!
comments