Getting eight hours of sleep every night can be very challenging, especially if your current mattress isn't as comfortable as you want it to be. Instead of dozing off after a stressful day at work, you'll see yourself twisting and turning in an attempt to find that perfect spot.
A comfortable and cozy mattress can affect the quality of your sleep. Moreover, the mattress you choose to use can also influence your health in the long run. These are the reasons why you should make sound decisions when choosing a mattress for your bedroom.
To make your next mattress buying experience fast and easy, here are some tips to consider:
1. Check the Firmness
A mattress that's too firm could lead to joint discomfort and may worsen one's pressure points. On the one hand, a bed that's softer than ideal might cause back pain. That being said, it's important to be on the lookout for a mattress with the kind of firmness that best suits you.
Feel the difference of various bed styles by sitting on them before choosing which one to buy. Press your hand against the mattress and assess if its firmness suits your preferences. Most retail stores allow their customers to do this.
In case you are shopping online, you won't be able to feel the firmness of the mattresses. So, feel free to browse the Internet for reviews. There are tons of online resources out there that could help you identify which ones are worth buying.
2. Know Your Budget
An expensive mattress doesn't always mean you're going to sleep on a high-quality bed. Conversely, a low-cost bed may help you save cash, but you might end up suffering during sleep because of the cheap materials used.
Your budget is an important factor to consider that your decision on which mattress to buy shouldn't depend on the price. Your goal when buying soft mattresses for your bedroom is to look for a high-quality yet reasonably-priced product.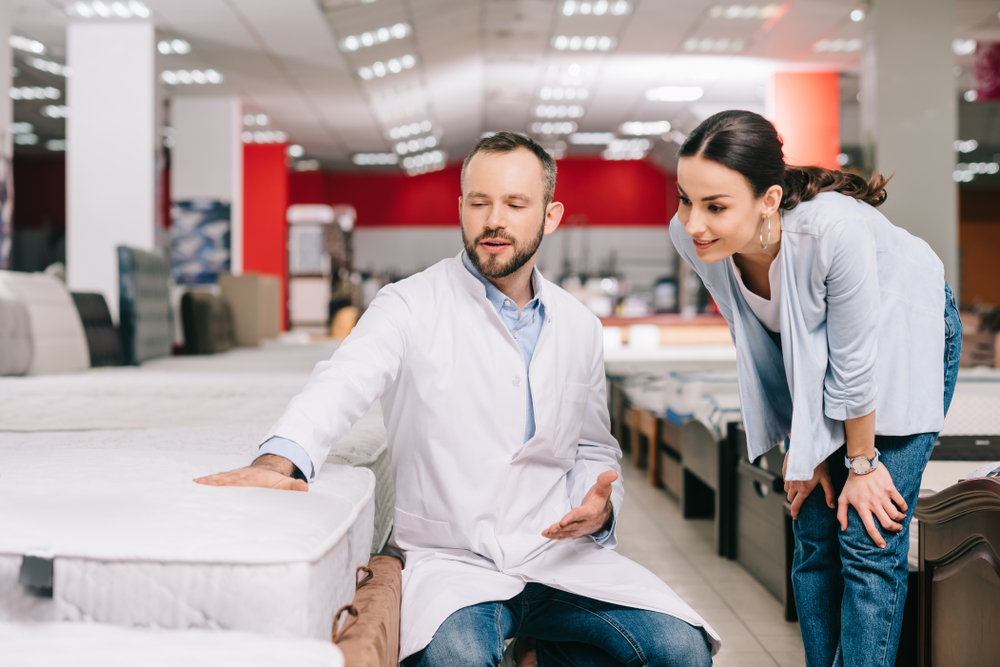 3. Consider the Size and Theme of the Bedroom
When allocating the budget for a new mattress, consider other factors like the dimensions of the bed frame and your bedroom. For example, if you want a bed for a minimalist bedroom, opt for a twin- or twin XL-size mattress. The bed shouldn't take up too much space in the bedroom, so it should fit well with the theme. 
Buying a mattress that's too big for the size of your bedroom will also make space feel and look cramped, making it hard for you to rest and relax when you're inside it. A bedroom that only fits a mattress can also disrupt the traffic flow and movement in the space. 
4. Match the Mattress with Your Sleeping Position
Your sleeping position should play a critical role when searching for the best soft mattress for your bedroom. 
Side Sleeper – A mattress with medium firmness should work well for side sleepers. Choose a bed that helps release pressure from your arms, shoulders, and hips.        
Back Sleeper – Many beds are great for back sleepers, however, consider your height when searching for the right mattress. Make sure it can accommodate the length of your entire body to give you excellent comfort and support. 
Stomach Sleeper – A fabric with medium or tough firmness should suffice. Mattresses with the said levels of firmness help support your hips and pelvis. 
Also, consider your weight when shopping for a mattress. A rule of thumb is to buy a bed that matches your weight. The heavier you weigh, the firmer the bed you would need. 
5. Choose an Ideal Material
Mattresses are created differently. They are created out of varying materials, and each kind has its pros and cons. The most common materials used in mattresses are the following:
Coils
Coil or innerspring mattresses are an ideal option for people on a tight budget. These beds are great options for individuals who don't have the time and effort to regularly clean their mattresses as coils require little care. Coils also offer firm support and excellent bounce. 
But, these mattresses may lose durability over time. The innerspring might deteriorate or accumulate rust. Also, the noise emitted by the springs might not be ideal for light sleepers.
Latex
This material offers excellent bounce and comfort. It's essential to know the two types of latex foam: natural and synthetic. Natural latex is a healthier option than its synthetic counterpart as the former is ideal for those with sensitive skin. However, it could be more expensive than the other one.
On the other hand, synthetic latex might be a less expensive selection, but may not be as health-friendly as the natural type.
Memory Foam
Memory foam has a unique property that sets it apart from all the other mattress materials. It conforms well to different body shapes and sizes. This characteristic translates to better sleep, especially for individuals who sleep with partners. 
Look For A Warranty
A soft mattress in your bedroom is essential for achieving the best sleep experience. But, make sure to gain value from your purchase. Don't always go for a cheap bed as you might regret it in the long run. Also, consider buying a mattress with a good warranty in case of unforeseen circumstances that might ruin the quality of the product.  
comments