Recliner chairs are probably the coolest and most comfortable chairs out there today. They come with lots of space and padding, and their reclining ability is unmatched. So, you'll always get the best relaxation in such chairs. 
Unfortunately, a majority of these comfy chairs are designed for short and average-height users. So, finding recliners for tall men may not be easy. However, the secret is to know what to look for, and below are just the things you need to consider:
Type of Chair
Recliner chairs for tall men come in different types, with some offering more features than others. So, you have to find your match. 
Here are the most familiar recliner categories:
   Basic recliners – These recliner chairs offer basic features like an extended leg rest, a padded headrest, and an adjustable back. They are usually the cheapest. 
   Power-lift recliners – These recliners are lifted by a button or a remote control device. You can gently recline these chairs to whatever position you want just by the touch of a button. 
   Classic recliners – These are timeless, user-friendly recline chairs that promise optimal comfort. They are a blend of traditional recliners and modern ones. 
   Massage recliners – These recliners come with a massage component that gives you a more luxurious experience. Because of the element, these recliner chairs are generally expensive. 
   Wallaway recliners – If you have limited space that you want to get the most out of, consider investing in a Wallaway recliner. It's flexible enough to be placed close to the wall without blocking your path.  
Chair Strength and Durability
A recliner chair is a huge investment that should be carefully considered. One way to do that is by buying an option that is strong and durable. So, you have to consider the material quality and its construction. 
When considering the upholstery material, go for top-grain leather on any other sturdy fabric. As for the construction, you should go for a solid frame, preferably metal. But in case you opt for wood, it should then be hardwood. 
Chair Size
Since you are tall, it makes sense to go for an equally tall recliner chair. You need a recliner that you can sit on comfortably. So, it should also be spacious. 
You should note, however, that there is more to the chair size than your body size. You also need to consider the room size. 
Where do you want to place the recliner chair? Will you still have enough space to move around after placing it? 
If your space is small, then you should first renovate it. If it's large, then you should go ahead and buy an equally large recliner chair. 
Chair Comfort
Recliners are naturally supposed to be super-comfortable. But still, you have to consider the chair's cushioning, its size, and fabric. 
The chair cushioning should be high-quality and adequate. Even the footrest needs to be well padded. 
You should also go for a recliner chair that matches your body size so that you can rest comfortably. You shouldn't squeeze yourself on these types of chairs. 
Some chairs come with leather wrapping, which is not just a durable and elegant fabric but also very comfortable.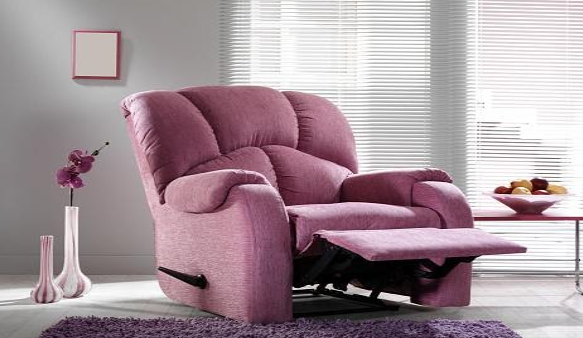 Chair Capacity
Every tall recliner chair has the capability of holding up to a specific weight limit. So, it's advisable first to confirm if the chair you like can support your body weight. 
You'll find some recliners for tall men with higher capacities than others. My advice is that you go for a recliner with a higher weight capacity than what you currently weigh. 
Recliner Base
Recliner chairs come in a swivel glider, lift, or rocker glider base. Overall, it depends on what you want. 
A swivel glider base allows the recliner to stretch out and rotate freely. A rocker glider, on the other hand, enables it to swing back and forth in a rocking manner. 
As for lift recliner bases, they allow you to get out of the chair with ease. 
Recliner Features
The recliner features are mostly the price determinants when buying a recliner chair. Overall, it depends on how you plan to use the chair and what you consider essential. 
Some rich features to consider are:
   Armrest/headrest – These features provide you with extra comfort so that you can relax well on a recliner. 
   Lumbar support – IT gives your spine extra cushioning when you take a seat. The feature is more critical for people with back problems. 
   Heating function – It offers you relief against pain and stress. The feature is recommended for users with muscle stiffness. 
   Wall hugger – It enables you to position the recliner close to the wall to save on space. 
   Anti-Crush – Prevents accidents, especially when kids and pets get beneath the chair when it's in use. 
   Built-in USB port – The feature lets you charge your smartphone or tablet from the comfort of your recliner chair. 
   Power lift button – Instead of using a lever to lift a recliner chair manually, you only need to press a button. 
  Lay-flat function – The feature allows you to lie down in a flat position. So, if you love taking a nap on the couch, this feature is perfect for you. 
   Leg rest – Allows you to rest your legs comfortably. 
Recliner Style
Are you planning to add a recliner chair to an existing style? Or are you just looking for a casual recliner? Answering such a question can help you find the ideal recliner chair. 
Some recliners have a modern touch, while others are just timeless. So, if you are stuck, just go for a timeless look. The recliner will appear trendy for many years to come.
It's also at this point that you should consider the chair's color keenly. It needs to blend well with your existing décor. 
But again, if you are stuck, go for a neutral tone. It makes it easy for your recliner to balance with your décor. 
Warranty
A warranty is proof of customer satisfaction, but more importantly, it covers you against manufacturer's defects. So, ensure you buy a recliner chair with a warranty. 
You should note, however, that the warranty can be voided if you use any harmful chemicals on the chair or if you purposely or accidentally damage the chair or modify it.
Conclusion
Given that a recliner is a huge investment, you should shop for it carefully. Above are the must-consider when shopping for recliners for tall men. So, use the tips as your guide. 
comments