If you live in a warmer climate then you need an outside pool. It will allow you to enjoy the weather and cool of when necessary. However, if you have a pool then you need to consider whether you should have a pool fence.
In fact, if you have a pool you may be required to have a pool fence, it's worth checking the regulations in your area to be sure.
Of course, choosing the right pool fence can be difficult, there are many different styles to choose from, including simple metal fencing to elegant and almost invisible glass balustrading.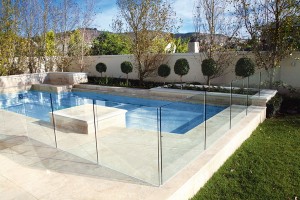 Here are the 5 benefits of pool fences:
1. Safety
Children love pools but it's essential that they are supervised when they are near them. If they're not they can easily drown without you being aware of it.
That's why you need a pool fence and one that is of reasonable height. This will stop children from getting into the pool without your consent, and potentially prevent a tragedy.
To ensure safety you need to comply with the pool fence regulations in your area but they should always be at least 4ft high.
2. Security
It's not just your children you have to worry about. An open pool can be attractive to others, especially if they don't have their own pool. Of course, they shouldn't be on your land but, if they are they'll find that they can't get into the pool because you have a good pool fence and a locked gate.
It's important to make sure you know who's enjoying your pool!
3. Peace Of Mind
Both the above points lead to one thing, your peace of mind. You don't have to be anxious every time your child is outside because you know the pool is off-limits unless you're there.
It may surprise you how much difference this peace of mind makes to your daily life.
4. Aesthetics
There is no doubt that the right pool fence can improve the aesthetic look of your yard, as well as the pool itself. 
Your choice will depend on where your pool is located and the types of view you have. However, glass balustrades are a particularly good choice as they allow you to monitor the pool from a distance and maintain the view, without compromising on safety.
You can even install two different types of pool fence, one allowing you to see the pool from the house and the other offering privacy at the end of your yard. The only real limit is your imagination.
5. Investment
Adding a pool fence actually increases the value of your property as it is one less job that a new buyer would need to do. It also shows you take safety and maintenance seriously. Of course, the value of your property, or selling, probably isn't on your mind when installing a pool for your own use. But, it is nice to know you're doing something that can help to increase the value of your property!
comments