Once that winter cold seeps into your bones, it can be hard to get rid of, but maintaining comfortable temperatures in your home can present some monetary challenges. Keeping costs low can be difficult during a chilly winter, but with these tips and strategies, you can keep your home comfortable without spending a fortune.
Thick Curtains
You lose plenty of heat through your windows, and apart from installing new ones, what's a homeowner to do? It's as easy as picking out some new window treatments. Hang thick curtains across your winters and watch the temperature raise bit by bit. Be sure to check out options with a thermal lining, because the thicker you can get, the better off you'll be. Even this thin layer of extra protection can make a big difference in your indoor temperature. Note: Be sure to keep those curtains open during the day, especially for sun-facing windows. Let the sunlight in as much as possible, then close up your curtains right as the sun begins to set. It'll help your home gather the heat throughout the day and retain it through the night. Check out the window treatments from The Shade Store and practice this habit every day to keep your home comfy.
Treat Your Feet
Running around a cold house barefoot in the middle of winter can feel like a cruel and unusual punishment, and sometimes even the coziest of socks aren't enough to ward off the chill of icy cold tile and wood floors. Invest in some stylish plush rugs that can treat your feet to a bit of added comfort and help insulate your floor. Aesthetically pleasing and cozy as can be, buying a new rug is an inexpensive yet effective way to give your home a bit of extra heat during the cold winter months.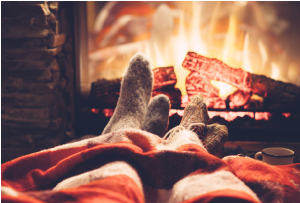 Reverse that Ceiling Fan
During the summer months, our ceiling fans rotate counterclockwise in order push the air downward and create a cool breeze that can provide a bit of relief from muggy heat. During the winter, turning your ceiling fans in the opposite direction can help you capture that rising heat your home so desperately needs to keep. Reversing the rotation will help push cold air up, helping it mix with rising heat and keeping an average temperature that's more comfortable than chilled.
Use a Programmable Thermostat
It can be hard to remember to turn off the heater, especially when that warmth makes you nod off a whole lot easier. Instead of depending on your memory or a timer, consider a programmable thermostat that can take the responsibility out of turning the heater on and off.
Close the Door On Your Guest Room
Do you have guest rooms? Perhaps a den or dining room that you spend limited time in? Shut the doors to these unused rooms. This will help contain the heat to the main living areas, and prevent cold drafts from windows and cracks.
Open Up the Oven
Winter calls for comfort foods, and you can let that oven do double duty by leaving it open after pulling out the evening's meal. Once you've pulled that roast out of the oven, turn it off and leave the door open. The heat and warm air will keep your kitchen nice and toasty; since that's the heart of the home, your family will be glad to stay and chat in the warmth long after they've finished what's on their plates.
Purchase a Draft Stopper
You'd be surprised at how easy it is for warm air to seep out and cold air to seep in the cracks underneath your door. An easy fix? Buy a door draft stopper. Simply place it on the ground up against the gap between the floor and your door and ta-da! No more cold drafts sneaking their way into your warm home.
Adding Insulation
There's no easier way to improve the comfortability of your home in any season than adding insulation to your walls. Unfortunately, insulation can be expensive. Luckily, there are new programs designed to help homeowners afford these types of fixes. With home improvement financing through HERO Program from Renovate America, you can install insulation to your attic, walls, and anywhere else you see fit without worrying about breaking the bank.
Put these unique tips to use and make sure your family stays warm all season long.
comments