Working from home can be very appealing and advantageous for numerous people, especially during the global Covid-19 pandemic where social distancing is heavily advised. However, you need a good and comfortable office to allow you to work properly at home. It's helpful to set up a home office so you can be productive and do your tasks without distractions. So, you need to think about the lighting, the type of chair, the desk, and a lot more. 
Read on to learn about the steps needed to set up a comfortable office that can help you focus and work better at home.
Choosing the Right Color for the Walls
The room's overall ambiance is the first thing you should decide when setting up a home office. After all, it'll affect your comfort and mood whenever you work. If you know the design you want, the next aspect you need to think long and hard about choosing the right color for your walls because you'll want to repaint your room. You can't underestimate the power and psychological impact of the room's color on your mood and focus. Most people believe that green is a great choice for an office because it's calming and keeps you energized at the same time. This is very convenient when you're working from home and have several deadlines to meet. You may also choose other cool and light colors like cream or white since they're pleasing to the eye. Furthermore, they can help brighten up your office space. 
Overall, the right choice of color can increase your productivity levels tremendously. 
Getting a Comfortable Chair
Another way to properly set up your office is by getting a comfortable chair. You need to think about chairs that have ergonomic features and excellent material that can withstand countless hours without wearing down. Because sitting on an uncomfortable chair for long hours can cause back problems, it's essential you find one that would provide support for your body. For instance, products like Herman Miller chairs have various designs that suit any body type. It's also important to note that comfy chairs should have adjustable features where you can set the height correctly depending on your body, reclining options to give you more freedom, neck support, and lumbar support. A chair that has all of these features and options will minimize any body aches, allowing you to work better, longer, and harder every day. If you are having back problems, you have to be more conscious before selecting an office chair. This way, you can avoid straining your spine and back when you work. Here you can check out a detailed guide on the best office chair for back pain.
You Need Enough Natural Light
You should make sure that you have enough natural light in your home office. Hence, it's ideal to set up your office near a window. It will make you feel better and you can get more tasks done per day. You need to understand the benefits of natural lighting for your body and mind. Having a cost-effective LED lighting system is great, but designing your office to give you a significant amount of natural lighting will keep you motivated, improve your mood, minimize depression, and boosts your Vitamin D. Having access to enough sunlight will always keep you productive, focused, and motivated to work. 
If it gets too hot in your home office during the daytime, you can control the illumination in the room by installing blinds or curtains. These items would ensure you still get sunlight in your room while keeping you comfortable. 
Increase Your Convenience Levels
It would be wise to increase your convenience levels in your new home office. This means that you need to get access to high-speed internet, making your work better. You should arrange your table with your work essentials like your desktop to ensure you're comfortable. Additionally, you need a printer, a scanner, and a fax machine if your work requires it. Also, you need a mini-fridge close to your desk, making you hydrate or get a snack if you're working too hard on any given day. 
Since it's your personal space, you have the liberty to choose which items you want to include in your office. However, it's helpful to avoid putting too many things to ensure you can move around without any problems. After all, too many items may make your office look cluttered.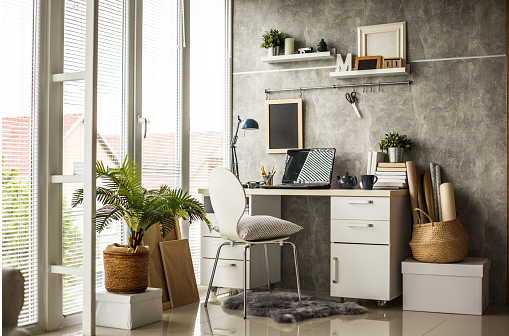 When you're in the process of setting up your office at home, you will realize that you have several good choices that can be excellent for your new office design. Also, you need to think about comfort levels and features in your furniture that will help you stay healthy and not lose focus. You have complete freedom when it comes to decorating, designing, and furnishing your home office. A conveniently-designed office with excellent perks will increase your success when you work from home.
comments