Often when we are clearing our home and getting rid of old, bulky items, the question that arises is "can I fit that in a skip bin?". In this section you will find out how to make sure you can safely dispose of any large items and whether you need to dismantle anything or pay for more space.
The answer is yes, you can put large items such as old washing machine, sofa or furniture in a skip bin.
A few things to consider before you hire your skip bin.
A skip bin is a container for disposing of rubbish. It can be hired for temporary use from skip hire companies. Skip hire companies will deliver and collect your skip bin at an agreed time. The size of the skip you need will depend on the size and nature of the items you are disposing. Before you put anything in a skip, it is advised that you find out if it will fit in there by taking measurements and seeing what kind of volume being offered by skip companies. 
A small skip can hold up to 2 cubic metres of waste while a medium one could 9 cubic metres. If you need space for larger items, then a large skip is the best option.
Size and weight can matter
The size of the item is not the only factor to consider when it comes to disposing of items. The weight and volume are also important factors. A modern washing machine can be bulky and heavy since nowadays they have multiple features in one such as dryer capability too, so you might need a proper estimation for this. Customers need to remember that most skips (even those for heavy waste) only have a certain capacity and not all of them are the same size. There might be restrictions on how much space is available at the site, such as ones around height restrictions since the skip truck may need to pass through certain bridge limit on the way to a landfill site.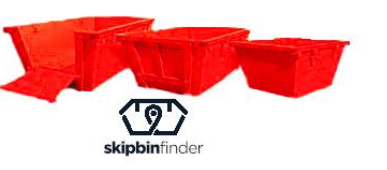 The answer to this question is a definite yes. You can put any large item such as old washing machines, sofas and broken furniture in a skip. If a large item will not fit in the skip that you preferred within your budget, it is best to dismantle them into the smallest possible pieces and then fit into the skip as they can be very difficult to move. For example, you can remove the legs of the sofa and put it on top of other small pieces of furniture in a bag. 
This will save you time and money since you can create some available space and put other items into the skip bin too. And if it only for one item, this will make it easier for you to fit them in the skip bin and save you money from hiring a bigger skip that would be too big for your needs. However, you should always ask your skip provider if they can take bulky items or not before booking a skip for your bulky waste disposal needs to see what size will be appropriate for your needs.
And for things that cannot be dismantle easily, skip bin companies usually have large skips for this kind of disposal, which are used to dispose of bulky items such as old washing machines and dispose of them responsibly.
Takeaway: Skip hire the way to go
Skip hire is a great way to dispose of items you no longer need. It is also the cheapest and most cost-effective option. Any skip hire customers need to make sure that they are not wasting space in the skip and that they are not going over budget by using bigger skip volume to dispose of only one item.
It is not always straightforward to determine whether a given item can be put in a skip or not. To avoid any conflict or confusion and make the process easier, it is advisable to know about the size of the skip, measure and know about the rules and regulations. Skip hire companies have different policies when it comes to what they will take, so always check before you book one with them. 
You can also sell or donate these items if possible and if you are unable to do so, then you can use your local landfill service for rubbish disposal.
For latest information about what heavy or light items can be placed into a skip bin please visit skipbinfinder.com.au.
comments