Waste pipes are installed to associate kitchen and restroom appliances, like, showers, bowls, and sinks to a soil pipe which is further connected to the underground drainage system. These soil pipes are available in a wide range of variety depending on their color, material, size, making process, etc. Solvent and push fit soil pipes are some of the examples of such pipes. This article aims to clear the differences between Solvent and push fit soil pipe so that you can easily make a choice of choosing any one of them.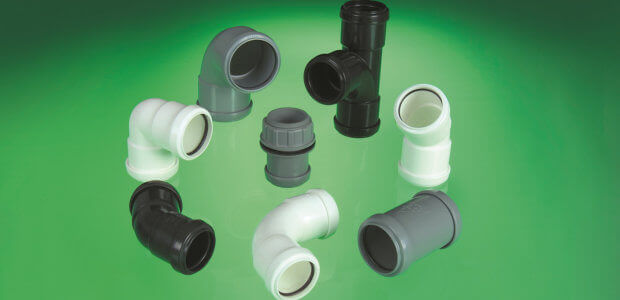 1. The Basic Difference: The basic difference lies in the name. Push Fit pipes needn't bother with any sealant or some sticky glue as all the joints are fixed by a little elastic ring that is placed inside the periphery of each pipe. All we need to do is cut the pipe squarely, clean it and then simply push it into the joint. On the other hand, solvent weld pipes require some solvent cement or glue to get settled into the joint. The process is quite simple. The solvent cement is applied on the outside of the pipe and inside of the fitting. The pipe is then inserted into the fitting by pushing it and is then twisted slightly. The primary contrast in both the joints is that push-fit joints can be dismantled again though solvent weld joints are changeless. Also, solvent weld fittings are somewhat more slimline than push fit joints.
2. Manufacturing Differences: Push fit is produced using polypropylene and the solvent weld is produced using ABS plastic or PVC in some cases. Both are tough and durable. Also, while using them externally, the durability is maintained by coating the surface with some protection (paint).
3. The Better One: Well, the choice depends upon the area of application as both of them have their own merits. Push-fit joints are demountable and fast, though as solvent weld joints are permanent. So to pack it up, use push fit at places where further modifications can be done and permanent joints are not required.
4. Color Options: all these fitting pipes are available in 3 basic colors, black, grey, and white. But you can paint them (Chrome Plated Effect) if required.
5. Connectivity: a question may arise in your mind that can these pipes be connected with other pipes such as copper waste pipes or other manufacturers' pipes. The answer to this question is not general, as the connection depends upon the situation. However, many such combinations are possible like we can make a connection between a push fit pipe and a solvent weld system.
These were the major differences between the push fit pipes and the solvent weld pipes.  The selection of any such pipe depends on many factors including the trend in your region. For instance, it can be seen that people may choose push fit waste systems over solvent weld because of them being more popular in their region. However, you can make a wise decision by knowing the differences between them.
comments