There is something very nice and comforting about a wool carpet. It is not just the look that matters but all of the other qualities of a carpet that need to be taken into consideration. And by looking at all of the important aspects of a carpet, it is easy to quickly choose a wool carpet to be the best option. Here are a few advantages and outstanding qualities of wool that make it the most suitable material for use in carpets. It would be a good idea to know about this before you make your choice of carpets.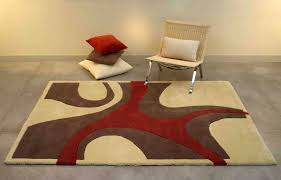 Extremely Flame Retardant
As a material with the highest levels of flame retardant qualities, wool becomes a natural choice for use in homes. This is especially true in the case of homes where a durable carpet may adorn the living room which has a fireplace. Due to the closely compacted microscopic fibers of wool, it is difficult to burn it down. While it is true that it may char, it will not burn, and this improves the safety aspect of homes where children are around. Flame retardant carpets are also a great option to help fight flames, and this is why it is a good option to have one at home.
Great Insulation
Wool is a natural insulator. The wool that is used in carpets come from a special species of sheep and this species enjoy the protection of high levels of insulation. It is this same high level of insulation that you will find in your living room and bedrooms when you opt for a wool carpet. Effectively this means that during summers the carpet will help to keep the place slightly cooler while during winters the carpet will help to keep the place slightly warmer.
Cutting Down On Noise Levels
While it is true that a noisy atmosphere maybe good for the outdoors, in certain activities and during get together, it may not be the ideal atmosphere in your bedroom. You may want to have your bedroom that is free from high noise levels. A good carpet made of wool will considerably bring down the noise levels by absorbing the sound. Choose a carpet with a large number of fibers in every square inch if you are looking for a carpet that reduces noise levels.
Controlling The Humidity In Rooms
Another outstanding quality of carpets made of wool is the humidifying aspect. You can easily maintain the humidity level in your room with a natural wool carpet. The carpet will absorb the excess moisture in the air and keep the room dry, or it will release moisture into the air when the moisture levels are low. This is an automatic process which effectively means that your humidity levels will be controlled without any kind of intervention.
Naturally Soft, For A Comfortable And Luxurious Feel
By being soft fiber wool gives a carpet a very comfortable and luxurious feel. This effectively means that when you step out of your bed on to the carpet in your bedroom, you will enjoy a kind of warmth and softness that will make your day. The same experience may not be possible with a synthetic carpet. In addition to this, a natural wool carpet comes with the options of stunning designs and patterns. This gives it better aesthetics than any other material.
Tricks To Improve The Life Of Carpets
Simple maintenance options can greatly improve the life of a carpet. For instance, the carpet needs to be rotated turned over so that they wear and tear is equal and distributed over all portions. It needs to be frequently dusted to remove the dust that connects and get embedded into the fibers. Very heavy weights should not be directly placed on the carpet as it will create impressions despite the high resilience of the material. A carpet also needs to be frequently cleaned with a mild detergent or by professional carpet cleaners.
A carpet can transform the appearance of your living room or bedroom through amazing patterns and designs. With the right kind of color combination and choice of carpet, you can give your living room and bedroom a fabulous look.
comments