If you're one of the lucky people who have the luxury of having outdoor space in your home, then you must make the most of it. Not everyone is blessed with such an area where you can breathe and unwind when things get a little overwhelming inside the house or at work. It's also a great place to have friends and family together, enjoying your little piece of heaven right at your home.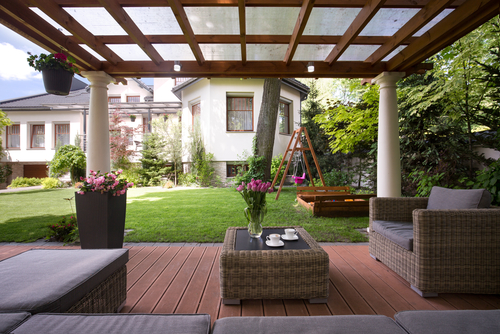 However, some outdoor space becomes useless when you have so much stuff in it and you don't know what to do with them. Good thing there are service providers that you can hire to take care of your rubbish, such as 1300 Rubbish Removal Sydney, who can take whatever you want to throw away off your hands and make remodeling a breeze.
Here are five design tips to make the most of your outdoor space.
1. Extend your interiors to your outdoors
If you have a verandah, patio, lanai, deck, garden or any open space, you can make it an extension of your home so you don't have to squeeze everything in your house. Here's how you can do it:
     Have furniture with fabric that matches with the interiors of your home to create a continuous flow from the indoors to the outdoors.
     Choose furniture that is durable and can withstand any type of weather.
     Create a great garden design that will serve as an excellent backdrop or foreground for your home.
Take some home decors outside for a homey feel in your outdoor space.
2. Illuminate your outdoor space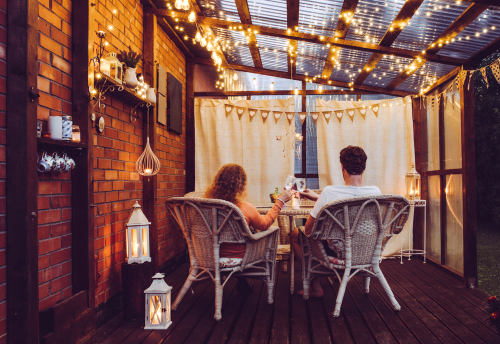 A cold night could be better with a nice warm glow from mood lighting. Warm yellow lights set a relaxed and comfortable tone in any room, including your outdoor space. Use solar-powered lights that you can hang anywhere without worrying about extension cords that look ugly and out of place.
Outdoor lights have a dual purpose; they can set the mood and can be your security lighting, too. Choose lighting fixtures that can adequately illuminate your outdoor space. There are many wall-mounted lights or hanging lights available on the market that you can choose from. They come in different shapes and designs that will compliment your outdoor design.
3. Liven up your outdoors
Wouldn't it be nice if you can take parts of your house outside for a more convenient and entertaining outdoor experience? You can add amenities such as an outdoor kitchen, a pool table, and a bar. This is especially exciting if you have a swimming pool. Imagine a weekend with your friends having a barbeque and a few beers while playing a game of pool, right outside your home!
You don't have to go all out with having barbecue parties all the time if this is not your style. A simple couch or lounger with soft cushions and pillows, a bookshelf in the corner, and little coffee table can also do the trick. You can go crazy about what you can do with your space, as long as you're comfortable with it.
4. Create a fire pit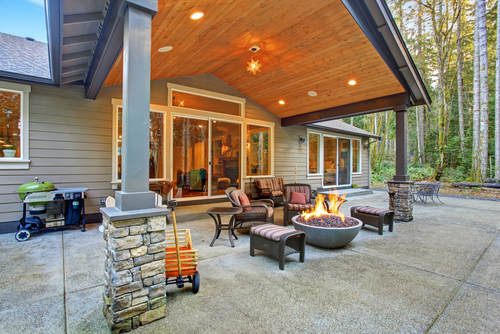 If the cold is stopping you from spending time outdoors, then create a fire pit that can keep you warm while you are having conversations with your friends and family. Here are simple ways to make a backyard fire pit:
     Make a ring using garden stones stacked on top of each other where you can put pieces of firewood or charcoal at the center.
    Dig a hole in the ground and surround the rim with concrete bricks.
    Use a large cauldron or metal pan and fill it with firewood.
    Put gravel on the ground and build a bonfire in the middle.
After making your pit, surround it with chairs and some pillows and enjoy a night of s'mores and great conversations.
5. Create a space if there isn't one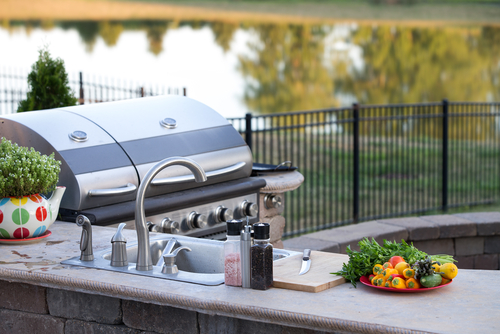 A lot of homes don't have a garden or a lawn. Many people live in apartments or condominiums and are not as privileged to have a nice patch of greens at the backyard. That doesn't mean you can't have an outdoor space. Be creative and look for any space that you can turn into your little piece of heaven. It could be a small terrace, the garage, or even the pathway. Anything can be converted into something nice with a bit of creativity.
Here are some tips:
Declutter and clean an area where you dump your old stuff to create a useful space.
Convert a small terrace into a little garden.
Take out a breakfast table and chairs and find a nice spot on the pathway.
Convert extra space in the garage to make an entertainment area or build a mini bar.
Even a cozy window seat could make a great outdoor space if there really isn't any.
Outdoor space is where you can get a breather. It doesn't matter if it's a big space or not – what matters is it should be a space where you can get comfortable. You can make the most of even a tiny space by simply putting furniture where you can put your feet up. The goal is to connect with nature after a long day inside the walls of your workplace.
comments