Smartphones have brought about a quiet revolution in daily life. You can use them to connect with people more easily than ever, get entertainment in an instant, and even redesign your home. Call up a decorator or contractor to discuss what type of finish or material can go into a space, have a live video chat and get tips on what can go where, or use an app that lets you design a room from start to finish. Your smartphone can serve as a great tool to help you get your home remodeling project done quickly and easily. Here are four tips for using your phone to make your remodel go smoothly.
Video Chat With Pros
Using the video feature on your phone lets you get access to a decorator, designer, or contractor without waiting for them to show up. Whether you use Skype or the native video chat app on your smartphone, you can reach them quickly, show them what you want to change, and get their input. A smartphone like the Samsung Galaxy S7 has a great camera that reveals everything in the room and prevents important areas from getting overlooked. It's an efficient way to get the information you need for your project before you head to the stores and warehouses.
Redesign Your Home With an App
Room designing software has been around a while for desktop computers. You can take a picture with a digital camera, upload it to your computer, and use the software to add in or take away elements from the room. You can also pull it off with an app on your smartphone. The process for the smartphone is the same as the computer except you don't have to deal with uploading the picture. Simply go into the app, pull up the picture you just took, and create various layouts by placing pictures of furniture into the room.
The main advantage to this type of app is that you don't have to run to the computer, so you can design on the go instead. Take the picture, head to the furniture store, and look around at what's available. Open the app while in the store and find an image that corresponds to the physical item you're looking at. Place it in your room to get an idea of how well it will fit into your room.
Hunt for Leaks and Damaged Spots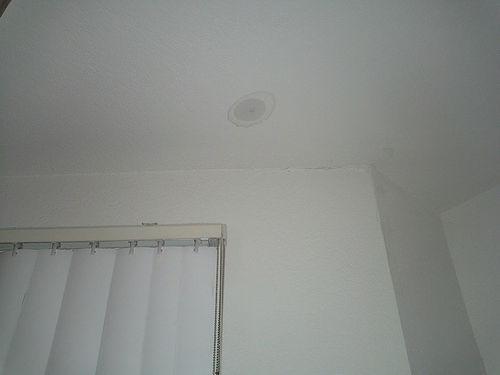 Image via Flickr by globalreset
Sneaky leaks and quiet damage are hallmarks of owning a home. Water and settling of the foundation do subtle damage to the structure and interiors. The problem is that the damage isn't always obvious. Cracks can show up due to windows that don't rest squarely in their openings or where walls meet the floor or ceiling. Leaks can pool and grow over time in places you can't easily access. And when you're remodeling your home, you may find an unexpected surprise when you open up a wall or floor. The best solution is a thermal camera to detect the changes in temperature that these issues cause.
There's a handy gadget available for the smartphone in the form of a thermal imaging camera. Connect it to your phone, fire up the app, and walk around your home in search of trouble. A precise repair of a hot or cold spot is made more effectively when you can pinpoint it with the camera. You'll be able to discern whether you can fix it yourself or should call in a specialist.
Measure Twice, Cut Once
The ruler is the most valuable piece of equipment when doing a remodel. But what if your tape measure isn't handy? There's an app for that! Measuring apps help you get your dimensions down to the smallest fraction of an inch. You can also use them to level a surface or plumb bob for a straight vertical line. Make sure to check that the app is properly calibrated before using to get the most accurate results.
These are some of the ways you can use your smartphone to do your own home remodeling. They can all help simplify your projects and give accuracy in your measurements. You'll feel like a pro with these handy tools in your back pocket.
comments