Money & Space Saving Garden Design Tips
If you're struggling to spruce up your small garden, take a look at these thrifty gardening tips for insights into how to make the most of your outdoor space.
Do you have a small garden? If so, you might think you're limited in terms of what you can do to it – but actually, there's no reason why it can't look just as showstopping as a yard that's two or three times its size! The key to improving the look of a small garden is using materials and accessories that are appropriate for the space.  Here, you'll find five of the cheapest, most effective ways to transform your small garden into your own little corner of paradise.
Slate paving
Adding new slate paving may not seem like the cheapest way to overhaul your garden, but if you have a small space you won't need to buy a lot of materials to make an impact. Slate works well with a variety of different garden styles, making it a safe choice for both traditional and modern properties.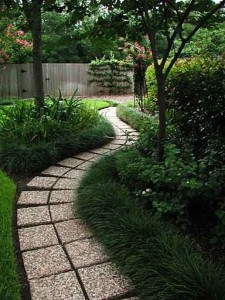 You should always source your slate paving from a trusted supplier so you can be sure that you are getting a truly superior product.
Grow your own food
You may not have room for flowerbeds, but so many plants can be grown in pots instead! It's a good idea to buy pots of varying sizes, colours and shapes to add as much interest to the landscape as possible. If you want to slash money off your food bills in the future, growing herbs and vegetables in pots will help you to save cash in the long run; not only will you be left with a gorgeous array of greenery, but you'll get something back from your green-fingered ventures, too!
Upcycle furniture
Before you splash out on a new patio dining set or a bench, see if you can upcycle your existing garden furniture instead. Armed with some sandpaper, paint and varnish, you can give even the most tired patio furniture a new lease of life. If you're feeling particularly creative, you could even have a go at re-upholstering any chairs or floor cushions with some salvaged fabric. You will be keeping your old furniture out of landfill too, boosting your green credentials.
Use hanging baskets & window boxes
If you are lacking in floor space, take to the walls instead! Hanging baskets and window boxes will allow you to add lots of plants to even the tiniest gardens. There's no limit to the number of things that you can grow in them either – everything from tomatoes to pelargoniums will flourish in wall-mounted containers. With so many budget stores now stocking a wide range of garden accessories, this is an approach that certainly won't break the bank.
Opt for solar lighting
Want to bring some light to your outdoor space but don't want to run up a large electricity bill? Then put the spotlights away and buy some solar lights instead! Solar technology has come on in leaps and bounds in recent years, and you can buy fairy lights, lanterns, wall lights and so much more. You don't need a huge amount of sunlight to charge these lights either, so there's no need to worry about the great British weather hampering your aesthetics!
How will you transform your garden?
With an open mind, there is no limit to what you can achieve with a small garden. Whether you use your miniature landscape for growing, entertaining or just relaxing, there's no reason why its size should make it any less enjoyable to spend time in. Why not get your transformation started today, just in time for the summer?
comments