Dressing up your widows and thinking to choose between curtains or blinds then let me tell you opt for curtains. Curtains are the soft, silky and inviting entrance for the air. It's to welcome sunny notes, to filter sun light and provide peaceful gesture to entertain moonlight. A fancy, royal, trendy and stylish way to dress up your window openings or simply to pamper the windows and interiors to get the most graceful and elegant look.  You may keep it simple give in the soft fabrics and wonderful designs and use favorable soft honey colors to enrich the beauty of dwelling or a space. After all, it's the matter of showing up the lifestyle and pampering windows to get the best of décors and matching up with your overall design and interiors.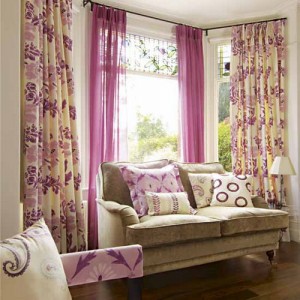 Curtains are the perfect way to dress up window of any room in your home, adding color and style to windows and providing you a colorful, amazing and sweet privacy at the same time. So, selection of the most appropriate fabric according to room size, window size, room requirement, and purpose and wall colors is very important.  Light weight fabrics, such as lace, linen and sheer cotton, are good choices for curtains. They are light weighted, easy to use, allow good amount of light to enter in and nice in looks. They are best suited for home décors especially to enhance the beauty of living room, family room, hall etc. Fabrics with patterns are great for making curtains. The styles of various decorative fabric prints can add a lot to your living room, bedroom or bathroom, particularly if other decor in these rooms is minimalistic. Glam up your room settings with such patterns and soft fabrics forever.  Let your window breath refreshing, new and stylish with such curtain dressing on them.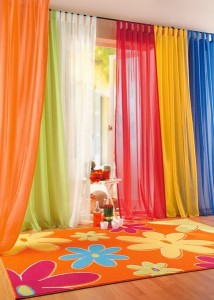 For highly functional and for protection from cold and light you may opt for medium weighted curtain materials. They can be sew formal, contemporary, cottage , country or in traditional way whatever you want them to be  to enhance the beauty of your interior's. Perfectly suitable for rooms which has more of the window openings and is always annoyed with sun glare and shine. They tend to be protective as well as stylish as they have the freedom to be meant as wanted according to your needs, furniture styling and over all decors of the particular space.
Heavyweight fabrics, such as suede, denim, tapestry, tweed and velvet are used often in commercial curtains, such as those found in hotels, guest house, public accommodation rooms etc. They are good for home as well.. after all they add on texture to a room and can be the focal point of room's decor if desired. But it takes high maintenance and care to use them. They have the quality to shine but on the other hand they tend to catch dirt and pollution too quickly and fast.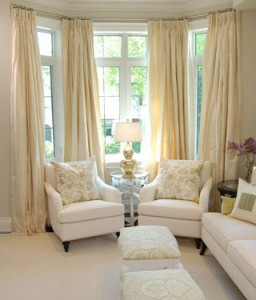 Window dressing or curtains should be selected on room basis as well. Selection of fabric is not enough to get the perfect window dressing. Floral prints, polka dots, cartoon prints, star prints, etc. are perfect for the residential purpose. Whereas, single color curtains with presence of bold blue, pure white, creamy yellow, warm orange goes perfectly for commercial use.
Formal and informal curtains share few prints in common and which can be used both in residential as well as commercial world. Yes I am talking about vertical strips prints and horizontal strip prints. Such prints on curtains are flexible to dress up any window of any space or room. They equally work good in both the spaces.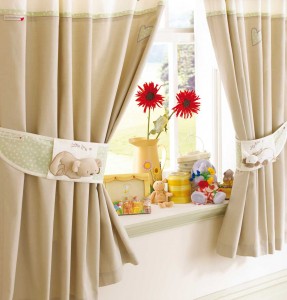 Now as you know so much about curtains, their fabrics, designs, etc. it would be bit easier to choose upon and apply the one to the respective place or window. So, the choice is entirely yours how would you like to dress up your windows and adore them with great fabric and amazing designs. For add on beauty, you may go for draperies on curtains to get the royal touch of decors for your interiors. It will be like adding a pinch of salt to the delicious recipe of design and decors.
Image Credits: www.l7za.com

comments