When it comes to finding the best Kitchen remodeling ideas, many people find it a challenge. For instance, these projects may cost you significant amounts of money and are time-consuming. Remember that if you plan on going on with these projects, you need to ensure you complete them well. Fortunately, in this informative post, we'll look at 5 ideas to remodel your kitchen.
They are:
1. Understand Your Kitchen
It's essential you understand how you use your kitchen before deciding to make changes. For instance, you should check if you prefer using high-end appliances when cooking. Another thing to check is if you use gas or electric devices to prepare your meals. If you love cooking meals using strong spices, one tip to use when remodeling the kitchen is to install adequate ventilation.
Ensuring you follow these steps will enable you to come up with the new kitchen that suits your needs. Before starting the project, ask yourself questions about how you want the new place to serve you. Any current issues you have with the kitchen should be noted down since they will help you in the design plan.
2. Consider Leaving the Current Layout As It Is
Keep the plumbing and kitchen appliances when they are. Remember that you should add around $5000 if you intend to move a section of appliances or any plumbing. It means if you're on a budget, leaving the current layout intact will save you money. Many kitchen remodel television shows make the effort of improving your kitchen look easy.
However, when it comes to carrying out the actual job, the process becomes a challenge. Your budget is what will dictate how the layout will be, meaning you should avoid making the mistake of underestimating kitchen remodeling costs.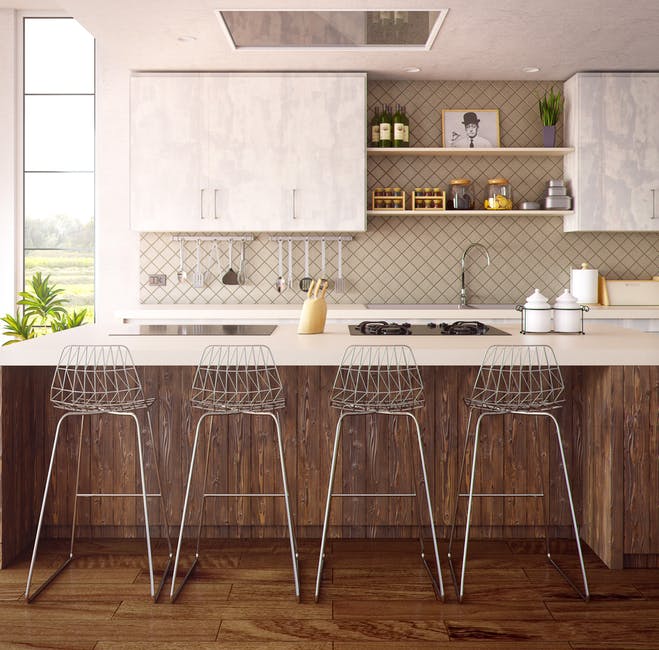 3. Use Contrasting Colors
Using contrasting colors on the counters, floors and walls help to provide clear sight lines and create a perception. Remember that your kitchen's working sections involve lots of traffic, which means you want to create the best visual interest.
4. Make Smaller Changes
You may be debating whether to make a full remodel or have a quick update. The question you should ask yourself is whether you're interested in aesthetics or function. If you want function, you should consider having a full kitchen remodeling project. On the other hand, you can opt to change design elements with other picks. For example, you can decide to remove pendant lights and bar stools. You should then replace them with a cabinet with open shelving.
5. Consult the Best Interior Designers
If you're finding it a challenge to implement the best styles, one thing you should consider doing is asking for some input from the best interior designers. It may cost you some money but will bring you some of the best results. Make sure you ask for written estimates about the cost of the project. It will avoid instances of spending beyond your budget.
The above kitchen remodeling ideas should make your work easier. Make sure you find out how much you plan to spend before embarking on this valuable project.
comments