Opening a food business requires preparation. It will involve documentation on the operation legalities and marketing your business to build brand awareness. But one thing you need to take seriously is the necessary kitchen equipment you'll need to make your products. You must note that competition is fierce in the food industry, with high demand and limited supply. Therefore, you need to invest in high-quality equipment to facilitate the production of various dishes in bulk. 
That said, to succeed in your culinary endeavor, here's a list of the essential kitchen equipment you'll need for your food business:  
Commercial Deep Fryers 
If you plan on serving fried foods, you'll need a commercial fryer in your restaurant kitchen. Deep fryers can be used to cook various foods, including French fries, churros, fried chicken, funnel cakes, and more. For convenience, most deep fryers have a mesh basket that can be carried by hand. The raw ingredients are placed in the basket and then submerged in the heated oil.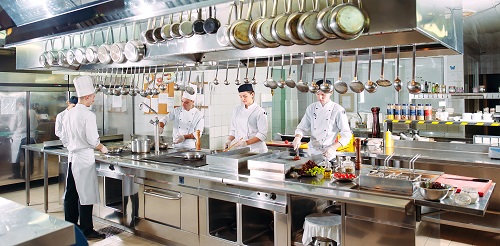 There are several types of commercial deep fryers to choose from, such as open-pot fryers, tube-types, ribbon fryers, flat-bottoms, and more. For instance, businesses like bakeries and concession food stalls often require specialized commercial fryers. Typically, these fryers can be powered by electricity, natural gas, and liquid propane.  
Commercial Refrigerator 
In the food business, fresh ingredients are vital to your success. Some foods require refrigeration to last long, such as meats, dairy, condiments, and specific types of fruits like bananas and avocados.  
Even if you don't require commercial refrigeration as a start-up business, having a place to keep your perishable ingredients fresh is a primary requirement. You can get them in various sizes, from compact to walk-in types. Businesses as diverse as snack shops, private kitchens, and the companies that provide cooking services to hospitals and schools have all benefited from extra cold storage.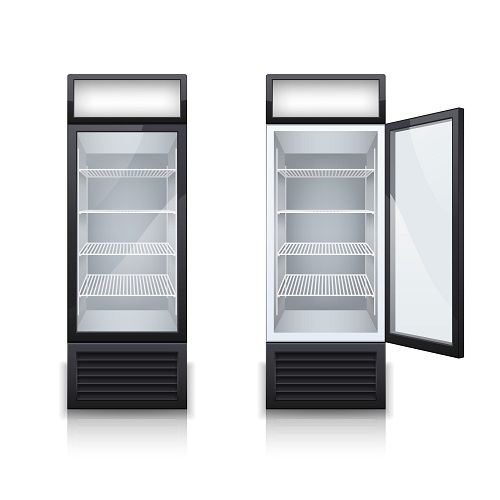 Generally, commercial refrigerators are specifically designed to withstand the changes in temperature caused by the frequent opening and closing in a commercial kitchen. They are equipped with powerful compressors capable of reducing temperatures faster when the door is closed. Also, the system's fans distribute cool air throughout the structure, guaranteeing that the area just outside the cooling vent is kept at a constant temperature. 
Commercial Oven  
As one of the essential pieces of cooking equipment, an oven is a must-have for any commercial kitchen. Like the refrigerator, you must have an oven range built for commercial purposes as they are equipped with larger capacities for daily cooking.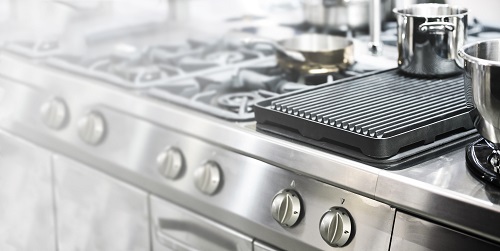 Commercial ovens can handle the demands of frequent use. They can reach a higher temperature more quickly, provide better insulation, and include steam absorbents to keep food fresher for longer. Since additional cooking space is required to prepare larger quantities of food, some models also include expanded cooktops.  
There are different kinds of commercial ovens that you can add to your kitchen depending on the products you're offering. Some of these are convection ovens, conveyor ovens, pizza ovens, deck ovens, and high-speed ovens. 
Commercial Food Processor 
Unlike knives, food processors can quickly chop and combine various ingredients. It can quickly knead the dough, blend ingredients for sauces, and chop and dice vegetables. In the food business, you can also acquire commercial food processors that are more durable than their domestic counterparts. Remember that cooking can be a time-consuming process, especially in a busy restaurant where customers are continually placing orders, that's why having a reliable commercial food processor is a great help.
Furthermore, a food processor made especially for commercial purposes is used for the whole day for high volumes of food preparation. So, if you're offering a wide range of meals on your menu, having a commercial food processor in your kitchen can be highly valuable for its heavy-duty performance.  
Commercial Grill 
Grilled items are always a hit, so it makes sense to have at least one or two, depending on the size of your business. You can grill meat, pizza, seafood, burgers, vegetables, hotdogs, kebabs, and more. When looking for a commercial grill, aim for durability because of the continuous usage of the grill. In addition, avoid using cast stainless steel burners, which can't handle high temperatures, and ensure the igniter is clear.  
These are just a few examples of the types of equipment that you should have in a commercial kitchen. Depending on what you're selling, you may need to learn how to use different types of knives, pots, and pans to prepare and cook other meals.  
Takeaway 
Commercial models of a deep fryer, oven, refrigerator, food processor and grill are among the must-have equipment for every commercial kitchen. As you will be cooking all the time, investing in equipment designed for commercial kitchens is crucial. Remember that your chosen equipment must be designed to resist the daily stress of long hours in the hot kitchen. It's worth noting that getting the best commercial-grade equipment is crucial to the growth and profitability of any food business. 
comments