The overall popularity of outdoor renovations among homeowners remains strong – taking a 43% share of all home renovation plans, according to the Lightstream blog. More homeowners are planning to transform their backyards and outdoor areas, and nothing enhances a yard like a well-designed and accessorized patio. While there are many outdoor improvement ideas you can try like adding outdoor hanging lights, creating beautiful vertical gardens or adding some cozy outdoor reading furniture, it's a good idea to start with the basics – adding some style to your patio for the ultimate backyard makeover.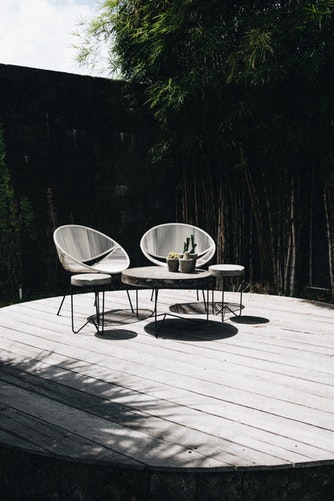 Invite the Indoors Outside
Sometimes, finding that extra space you need to transform your outdoor space can be challenging. In such cases, you can create additional space by adding fabulous folding glass walls in your patio. This extra living space offers some gorgeous outdoor views all year round and a peaceful area to lounge as cool evening breezes flow through your house. To make your patio more stylish, consider adding durable outdoor furniture.
Built-in seating is a perfect option considering that it can withstand outdoor elements. Adding some decorative pillows will add a touch of softness, color and warmth. Of course, these additions will cost you money, so you'll need to save up and take advantage of offers like credit card promotions to save on your purchases and meet your spending requirements.
Add Some Interesting Accessories
Your outdoor patio will feel more lively and welcoming if you add a few interesting accessories like a small or medium-sized fire pit. This is perfect when you want to relax with your guests on a cool evening. It acts as a functional and central focal point that invites conversation and relaxation among your visitors. You can also turn your patio into a peaceful oasis by adding some shade with a pergola to achieve a sense of enclosure. Complete this addition with subtle bistro lights, a grill station and some cozy sofas to relax in comfort on sunny days.
To make your patio renovation more interesting, don't settle for dull decor. Add some artistic flair with some simple metal crafts like plant holders and vintage pieces from local artisans. Just make sure that anything you consider adding to your patio complements your personal design style. What you want is to achieve a sleek design that enhances your outdoor experience.
Decorate With Greenery
Next, consider sprucing up your patio space with some of your favorite potted plant and flowers. The good thing about outdoor greenery is the fact that you can mix different varieties and heights of plants in each of your planters to maximize the "wow" effect. You can also add some hanging planters if you have enough vertical space. For limited patio spaces, plant a vine like an evergreen ivy or perennial rose up a side wall. These plants usually spread quickly and easily add a lush and dramatic look to your outdoor space.
Patios have become one of the most popular outdoor areas in homes. While most homeowners focus on interior renovations, the tips discussed above offer you some simple ideas on how you can add instant style to your patio without spending too much.
comments