Talk to any interior decoration, and they will tell you that there is a lot that goes into transforming a home. While people concentrate on furniture and the color of the walls, many overlook drapes. How you use curtains in your home can make a difference in the overall look of the house. There are so many patterns, colors, and textures that you could never get bored. Combine this with the right furniture, Flooring Direct and mirrors, and your house will become a conversation piece.
We will explore how the use of different colors of drapes can make your house stand out.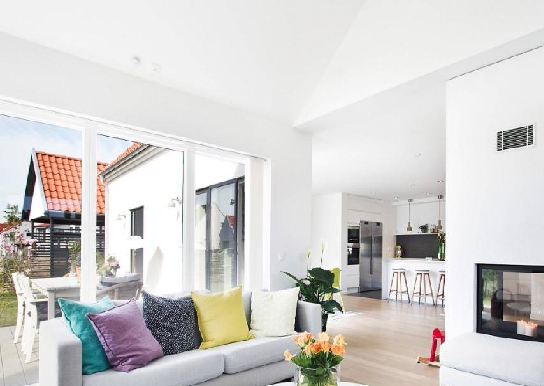 White drapes
The colors black and white are very safe to use d most people will use them for their decor ideas. White is a perfect color because, not only is it classic, but will blend in with almost everything.  While some may find the color white a bit stark, you will love how cozy your house looks when you use it against the windows. The color also allows a lot of variety in terms of the knit. Try white sheers and see how your house instantly transforms.
If you're not very sure about white, try grey.  Being a neutral color, it will blend in very well with your decor, and you have the option of choosing two different scales of grey to give the room a better look.
Dark curtains
While you may think that this will give your house a dark interior, dark curtains are great, because they are not apparent at first glance.  They also blend in very well with a wide range of colors making your room feel pleasant and cozy. If you do not want to go black, you may want to consider the darker shades of blue or green. The best thing about dark curtains is they will keep out the light when you want to sleep, especially during summer when the sun is out for a long time.
Color blocking
If you do not want to have one neutral color, you can get a fabric that has different tones. The top part can have a neutral color while the bottom should have a mix allowing you to bring a pop of color into the room. The best part about it is that you can change the decor as you please, for example, use pillows that match the tones on the curtains.
Shades
While you might think that is this is more suitable for an office, the right kind of shades can look very elegant in the house. They also allow you to have a bare window look because some people do not like curtains and would prefer to stay without. Just roll them up during the day and bring them down at night when you require the privacy.
Final thoughts
Do not be afraid to experiment with different colors of curtains. You could always switch up the look of your house by having many sets of drapes. It is cheaper to change the drapes than it is to replace furniture.
comments