Your Brooklyn apartment can turn into a beautiful and functional place with great interior design concepts.
Whether you're a bachelor, a working college student, a professional, or you're living with your small family in a Brooklyn apartment, you can make it look more spacious, well organized, and more comfortable.
This article brings you these unique interior design concepts that will transform your Brooklyn apartment.  
1. Choosing Bone Ivory White Wall Paint Color
Whether you just moved into a new studio type apartment or is looking for an apartment near a shopping center, supermarket, or a restaurant like this site in Brooklyn, you need to choose the right wall paint color for your apartment. A cohesive color scheme is essential, avoiding overly-complicated ones who can make your small apartment feels choppy.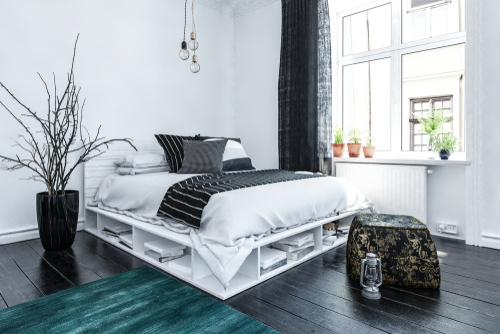 One of the classic favorites is bone ivory white wall paint color, which is between white and cream. You may pair it with the white or brown crowns of ceilings and door or window moldings.
Here are some tips when choosing the perfect paint colors for your apartment.
Choose two or three paint colors.
Incorporate these colors throughout your apartment.
The overall design provides a more cohesive look with 60% dominant shade as neutral color (e.g., bone ivory white) to open more space, 30% mild shade as a secondary color, and 10% accent color (e.g., coral red) for a bolder look.
2. Using Functional Dividers
Dividers come in different materials like plastic, hardwood, rattan, MDF, plywood, bamboo, and fabric among others. When you search online, you'll see overwhelming sizes, designs, and styles of dividers.
These are used to divide the space in your apartment. Here are some considerations when buying and installing it:
Determine where, how, and why you need dividers.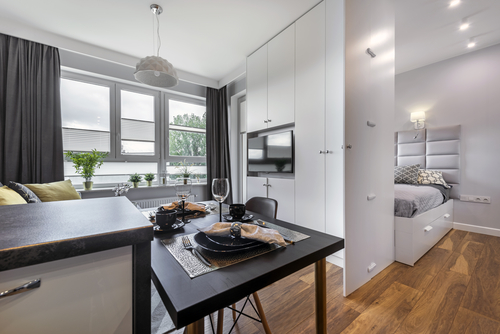 Use dividers that allow natural light to shine through around your bed to avoid making a space appear too separated.
Open shelving dividers are an excellent option that also provides additional storage for your books, picture frames, and home decors.
Folding glass ones are perfect to create a more spacious look unlike the hard and solid look of typical wood dividers.
You can use your sofa, cabinet, or entertainment center as dividers. Choosing lower pieces brings a more sense of depth to your room.
3. Defining the Functional Areas
Even if it doesn't have any doors or walls to separate the bedroom, kitchen, and dining areas, working on the layout can help you make a space look like a room.
Here's how:
Add a few accessories such as hanging home decors (e.g., seashells, faux flowers, faux butterflies) or throw rugs to define each area.
Invest in a good quality carpet with elegant design to define your small living room space.
Use narrow-legged tables or chairs and other furniture items to define your dining and kitchen space.
4. Create a Visual Height Illusion
To make your small space look more spacious, you can draw the eyes upwards to the ceiling so everyone can see your home as a whole.

Here's how:  
Installing a sizable wall art
Hanging a vertical mirror
Use hanging light fixture as a statement piece
Putting a family portrait on walls
5. Invest in Multipurpose Furniture Pieces
Instead of buying a single bed frame and a couch, you can invest in a durable sofa bed. You can use it for sitting purposes at daytime and use as a bed at night time.
Leather sofas and sofa beds are easy to clean because the surface can be easily wiped, which is perfect for apartment use. It will save you so much space as well as time and effort in cleaning as compared to fabric ones.
Other perfect furniture designs for a small apartment include the following:
Portable or foldable tables and chairs
Coffee table with storage for keeping old newspapers
Ottoman seats with storage to keep your magazines or pocket size books
6. Elevate Your Bed
Elevating your bed concept is a unique strategy to use the lower space as a functional area or storage compartment for your shoes, books, clothes, or tools. At the side, you can install a full sized closet that also serves as a divider to define your bedroom space.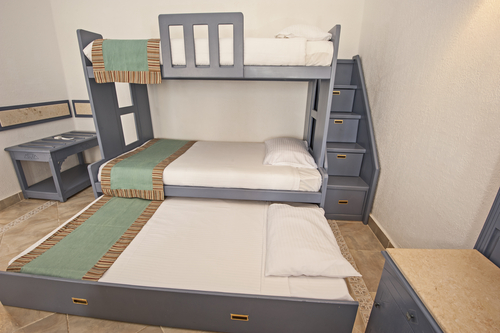 Conclusion
With all of these unique design concepts, you can make your Brooklyn apartment more functional, comfortable, and beautiful. It's a perfect home to stay whether you're alone, with your partner, or small family.
While you're saving to buy a bigger house in the future, you can enjoy your stay in your apartment with ease and comfort. Just be creative, resourceful, and think out of the box, and you'll achieve the perfect look and functionality of your apartment.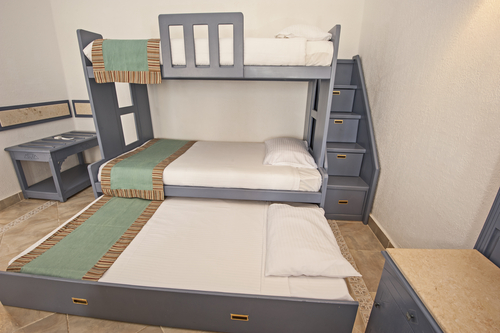 comments