Most often when we are repainting our rooms or choosing colors for the whole house, rooms, architectural structure we do forget the ceiling part to be painted rather than white, cream or off white. Most of the rooms have the white, off white or cream ceiling. Why can't we apply any other color the fifth wall of our rooms?  After all it is an essential part of every room and it gives in the complete architectural structure to the room. White and off-white have been the default choices for ceilings for so long that most homeowners never give them a second thought while deciding colors for the ceiling. It's time to get out of this monotonous choice and bring in the required change for the fifth wall and an essential part of the room.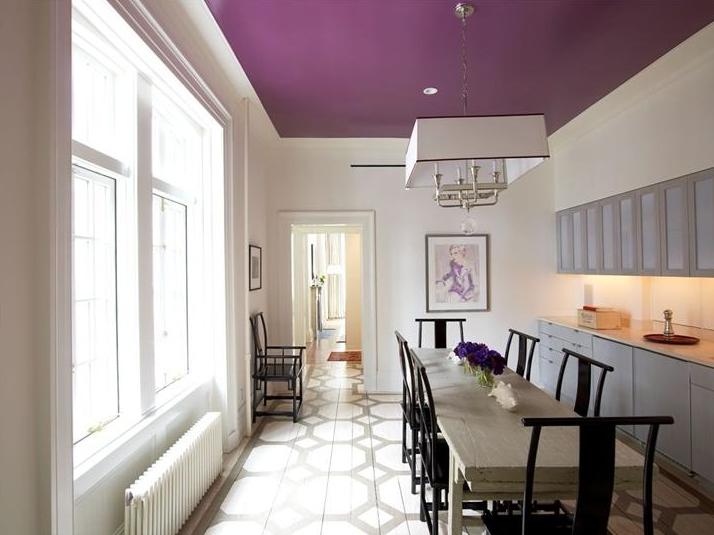 Interior designing your home is all about giving a different, interesting and appreciating looks to your spaces or rooms. Ceiling are part of it and trust me ceiling can look much better than just being dressed up in white or off white or cream shade.  Make your ceiling feel pampered, noticed and amazing with some of the different colors, themes and textures. Colorful ceiling aren't new, they have been a part of architecture since ages, Victorian period, old era; remember ceiling with different paintings, mural work, craving and intricate work on it. Why are we forgetting to bring back the charm by simply applying different color to the ceiling area? Try out for different deep shades of purple, red, brown, blue, orange, yellow etc. in contrast with four white or light colored walls.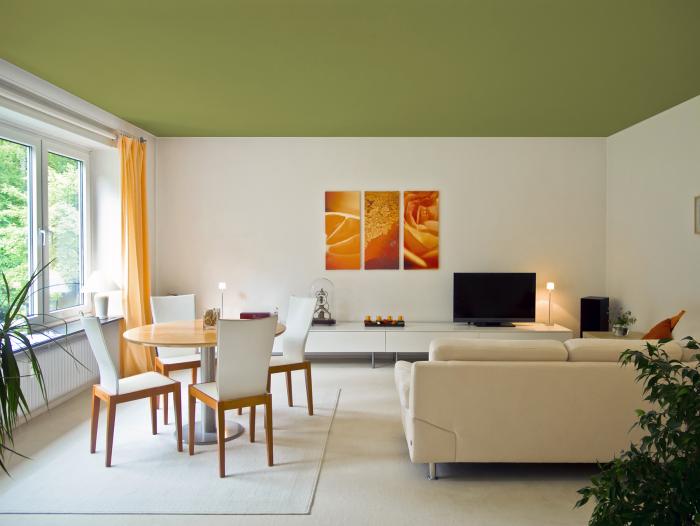 Let walls go off the bright colors and textures and bring in the magic of deep colors or textures at the ceiling area to achieve a different yet unique and dramatic looks. For a real warmish and cozy looks paint the walls with light yellow and dress up the ceiling with deep orange or bright orange. Try the flavor of white and red for the ceiling and wall combination. Dress up your walls with the purity of white adding few art work or paintings on it and pamper the ceiling area with hot and spicy red to get the flavor of hot and sweet for the respective room.  Make a difference with such combinations and knock the change you want to get for your residential or commercial area.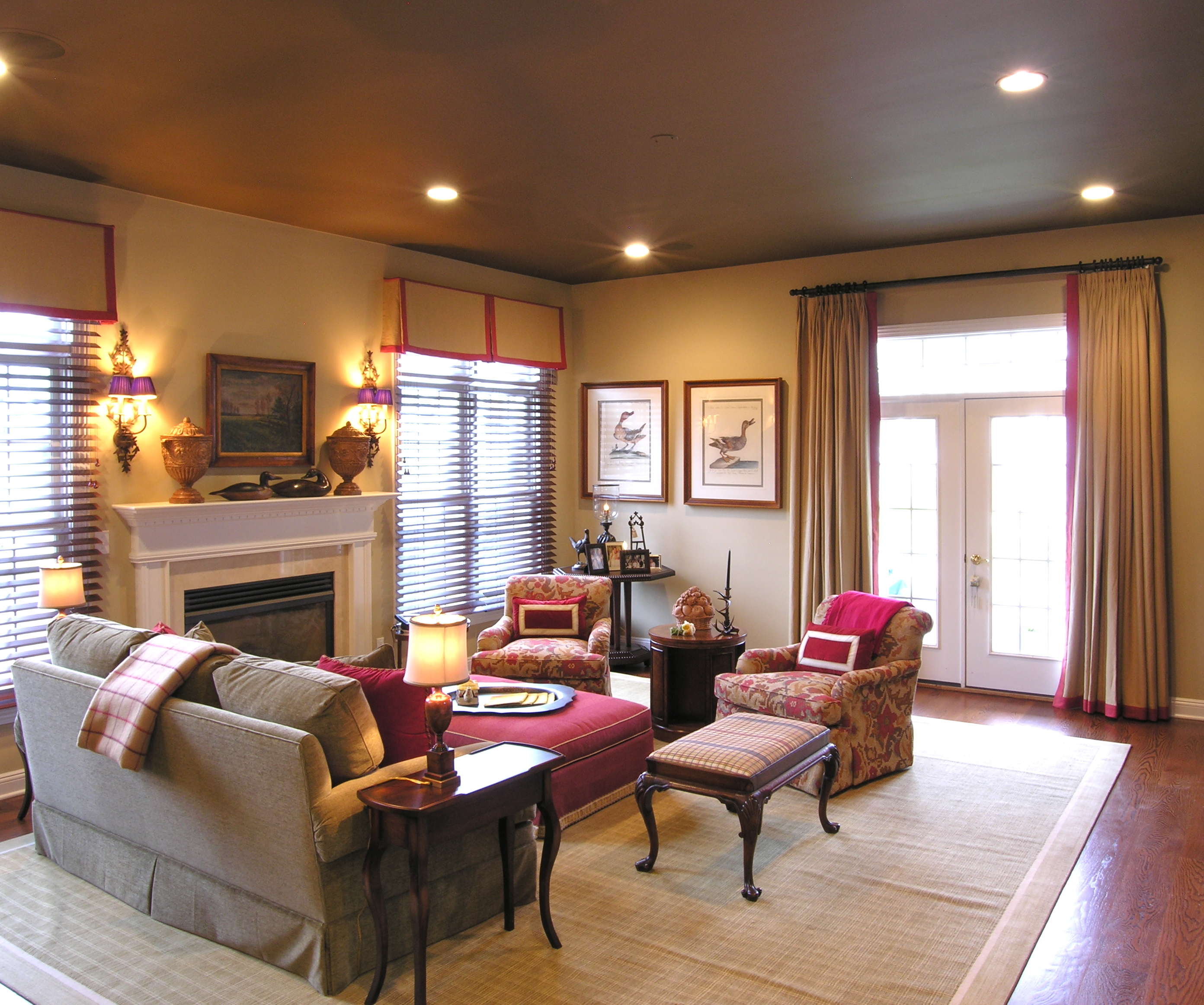 Look at your ceilings from a new perspective. Color, sheen, pattern, and texture on the ceiling can transform the entire look and feel of a room. A large room with high ceilings can feel impersonal or unbalanced when furnishings, floor coverings and accessories visually occupy the bottom half of a room, leaving the top bare and vacant. In this case, experiment with a ceiling color in a deeper shade. For example, a rich cocoa (brown) in a soft sheen, such as eggshell or pearl (yellowish white/ pearl white) will cozy up and balance a large open space. Giving your ceiling different looks with different deep shades is not at all a difficult task to go with. At times even you can consider experimenting with glazes on your ceiling, including metallic and pearlescent effects.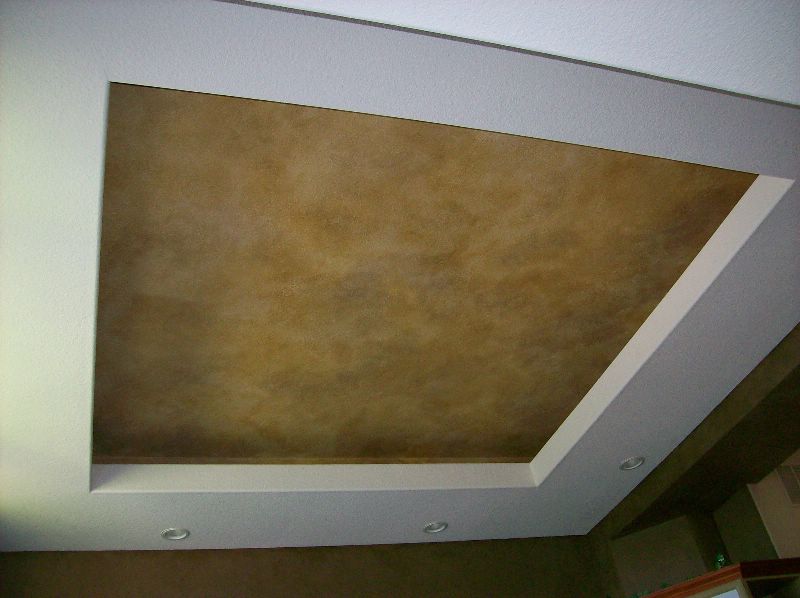 Ceiling with a texture paint or texture effects looks equally good and impressive as textured wall or an textured area. Give your ceiling a boom and lift up its appearance with some of the illuminative effects which will be helpful to highlight the visual ingredients of the work done. So, consider your ceiling design, ceiling color, before you conclude your "mission to be accomplished". Or the next time you're ready to refresh the look of a room and don't know where to begin with —look up!

comments